Removing Bitdefender Antivirus for Mac
Being a complex application, Bitdefender Antivirus for Mac cannot be removed in the normal way, by dragging the application icon from the Applications folder to the Trash.
To remove Bitdefender Antivirus for Mac, you need the bitdefender.dmg installation file (either the original or a new one).
Follow these steps:
1. Log in to your Mac as an administrator.
2. Locate the bitdefender.dmg file and double-click it. The following window will appear.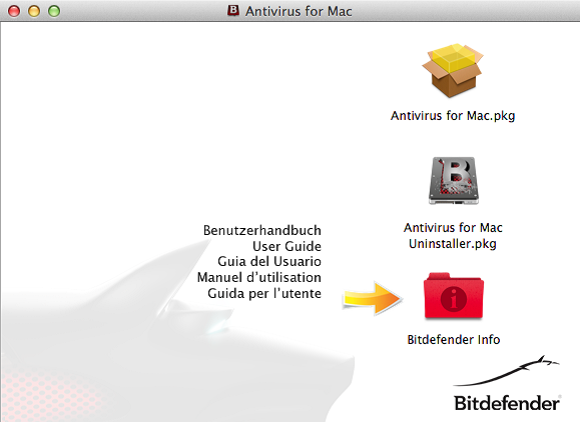 3. Click Antivirus for Mac Uninstaller.pkg. The installer will help you run the uninstall script of Bitdefender Antivirus for Mac.
4. Click Continue.
5. Click Install to run the uninstall script.
6. You can see if the uninstall script was run successfully. Click Close to close the installer window.
If there is an error, you can contact the Bitdefender Customer Care using this Contact form.