How to fix "Bitdefender installation has failed" issue
If you receive the above mentioned error message while trying to install the Bitdefender 2012 products please follow the guidelines below:

A. Make sure your computer meets the minimal system requirements install Bitdefender. Right clicking on the My Computer/Computer icon and compare the system specifications with the ones below:

Minimal system requirements:
Operating system: Microsoft Windows XP SP3 (32 bit) , Vista (SP2), Microsoft Windows 7 (SP1)
CPU: 800MHz processor
Memory (RAM): 1 GB
B. Right click on the Bitdefender installation kit and choose Properties. If you are seeing the Unblock button in the bottom right corner please click on it, then click Apply and OK and try again to install Bitdefender.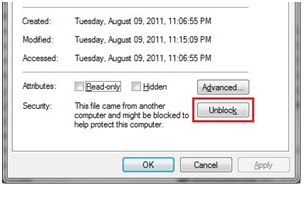 C. Use our dedicated uninstall tool to remove any previous Bitdefender related files.

NOTE: The tool might not function correctly on systems with UAC enabled. Make sure you disable UAC if you experience any issues. To find step-by-step directions on how to turn off UAC, click the appropriate link below:

For Windows Vista users, click here

For Windows 7 users, click here

Access this link and when the window with the Bitdefender file appears, choose the Save to disk option. Save the tool on the PC, run it (For Windows Vista or 7 right-click on the Bitdefender Uninstall Tool and select Run as Administrator), click on the Uninstall button and restart the computer when prompted.

After using the uninstall tool, please reinstall Bitdefender.