How to install the Windows updates
Author: Ioana Bistriceanu

Ever wondered why it's important to install the Windows Updates?
Most of them include security updates. Security issues are the worst possible errors – as they may be exploited by malware or hackers. These types of situations are regularly identified in various parts of Windows – ActiveX, Internet Explorer and .Net Framework are just examples.
Other updates address other bugs and issues in Windows. Even though they are not responsible for security vulnerabilities, they might impact the stability of your Operating System, or just be annoying.
Last, but not least, Windows Updates sometimes come with new features, while patching some known issues – and the best example for this is Internet Explorer.
Most computers have Windows Updates set up to "Install Updates Automatically", which is the recommended setting. However, you also have the option of manually checking for updates. Here's how:
Open Control Panel
Type Windows Updates in the search bar
Click on "Check for Updates".
To check the settings, click on "Change settings", while in the Windows Update module.
Sometimes, you might encounter an error while checking for updates, like the one below: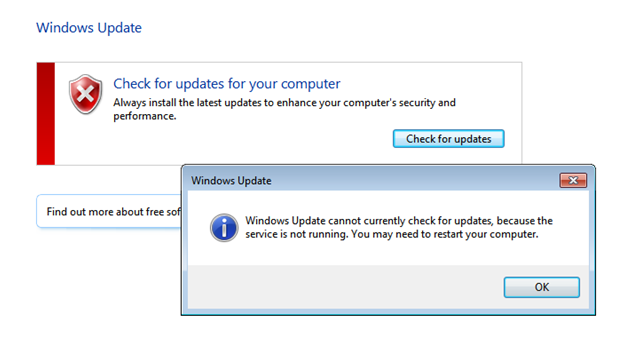 The situation is more common than you'd think. It does have a very effective fix, which can be found in the Microsoft Knowledge Base article here: //support.microsoft.com/kb/2730071
If you've applied the Fix it and you still have the issue, you might try to give us a call, and we'll handle it for you.
Check out: //www.bitdefender.com/premium-services/system-repair.html for more information!