How to upgrade to Win 8
Author: Cristina Nica

Now that you have established that your computer is suitable and that you want to upgrade to Windows 8 as per our recommendation, where do you start?
Well first of all, it depends on your current operating system. The upgrade process and what is lost and what is kept depends among systems and is not the same for all. However, regardless of the system, we recommend that you back up your important files on an external source until the upgrade is completed.
For Windows XP: you can upgrade directly without a clean installation to Windows 8 from Windows XP only if you have Service Pack 3 installed. However, the upgrade process only keeps personal files - any documents and other files that are stored in the Users folder (C:\Documents and Settings by default);
For Windows Vista: you can also keep your Windows settings and personal files if you have at least Service Pack 1 installed. If you are running Vista with no Service Pack, only the personal files will be available for upgrade to Windows 8
For Windows 7: you can perform an in-place upgrade that will keep all personal files, system settings and any compatible applications that are found on your system.
You also have the option to perform a clean install no matter of the operating system. Should this be the case, Windows 8 will install itself on your machine and there will be no other traces of your previous operating system on it.
Before getting started, make sure you have your product key for activating Windows 8. You receive that once you purchase the Windows 8 operating system.
However, there is also the option that before all this, you can help yourself to the knowledge of the Windows 8 Upgrade Assistant. This tool will do the math for you and it will tell you if your computer will be able to run Windows 8, it will tell you a compatibility report for your programs if you are running Windows 7, it will tell you what features might not work with the new operating system as well as provide you with an interface for the Microsoft store from where to purchase the Windows 8 operating system if you have not done so yet.
Alright, so you are all set for this part. Let's get to actually upgrading to Windows 8:
1. Insert the Windows 8 DVD in the DVD-ROM
Place the Windows 8 DVD in the DVD-ROM and restart your computer. You will be asked to press any key to boot from DVD so make sure that you do that.
The following Setup screen will appear which is the first step in the Windows 8 upgrade process. You are asked to select your language, time and keyboard method. Once you are done selecting from the drop down lists, click on Next. On the next screen, choose Install Now.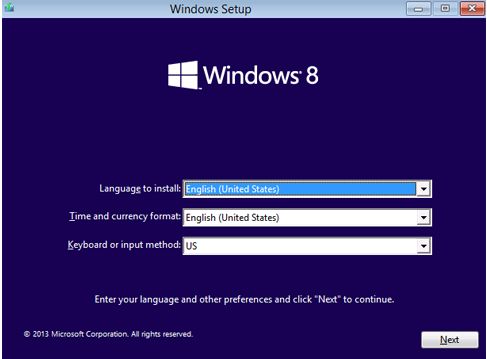 2. Agree with the License terms of Microsoft.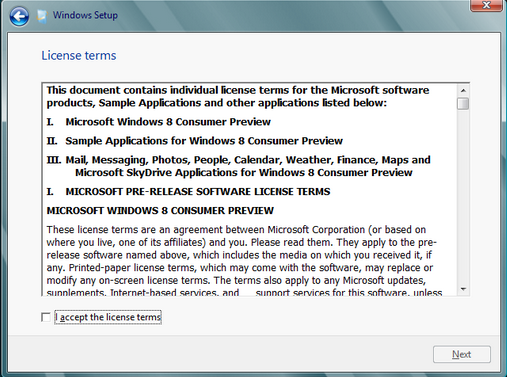 3. Select Installation type
Here we can choose if we want to keep the files that we can according to the Windows operating system from which you are upgrading to 8 as per the instruction from the beginning of the article.
If you want to upgrade as per the limitations for each operating system, choose the Upgrade: Install Windows and keep files, settings and applications. However, if you want to perform a clean installation of Windows 8, choose the Custom: Install Windows only (advanced).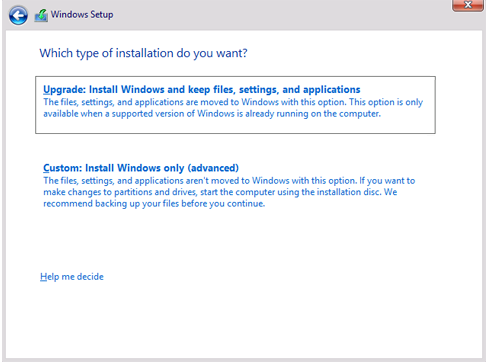 If you choose Upgrade the setup will begin gathering the data you want to save and upgrading you to Windows 8.
If you choose Custom, you will be taken to a new screen where you will be able to remove all data from the current partition in order to perform the clean installation.
After the installation is done you will see a wizard that will help you get acquainted to the new features in Windows 8 but also personalize it as you like.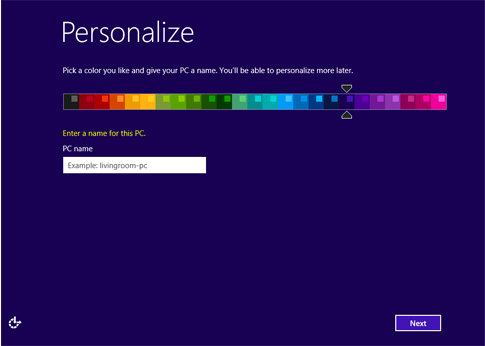 Once you are all set, the Metro User Interface will start up and you are up and running Windows 8. Enjoy!