What are the Bitdefender subscriptions
Besides offering the best protection for your systems, we want you to have the smoothest experience managing and using your Bitdefender products on all of your systems (Windows based, MAC systems and Android Mobile devices).
Having this in mind, we put a brand new subscription based system in place for you.
What does this mean for you?
1. No hassle with license keys
2. A smoother experience when installing and registering Bitdefender on your home devices
3. Better management of all your Bitdefender enrolled devices (Windows based, MAC systems and Android Mobile devices).
Having a license key for each of your products is rather bothersome. You have to keep those license keys, don't lose them and in case you need to reinstall your product you'll have to reenter them each time.
With the new subscription model, once it's attached to your account, the subscription will remain there and every time you install Bitdefender on a new system, using your account, it is automatically logged in and the number of days the product is valid for is recognized by the product
Once the subscription is attached to your account, when you install Bitdefender and log in with your account in the product, it will automatically retrieve all the information from your subscription:
• the exact type of the product you have on that subscription (eg. Bitdefender Antivirus Plus 2017, Bitdefender Internet Security 2017, Bitdefender Total Security 2017, Bitdefender Antivirus for MAC, Bitdefender Mobile Security, Bitdefender Packs – Bitdefender Family Pack, Bitdefender Total Security, etc.)
• the exact Bitdefender Tech Assist service you have
• the number of days you have left on your subscription
• the number of users you can install the product on (the number of systems you can install Bitdefender on)
With the new subscription model, you can manage all your installed Bitdefender programs from your Bitdefender Central account – no matter the operating system the product is installed on – Windows, MAC OS, Android.
From your Bitdefender Central account you can:
• see all your subscriptions for your Bitdefender products or your Bitdefender Tech Assist services
• choose what system you want to install Bitdefender on based on your subscription
• perform actions on any of the devices the subscription is used on: Scan, Optimize, Vulnerability scan, Fix issues of the Bitdefender products, etc.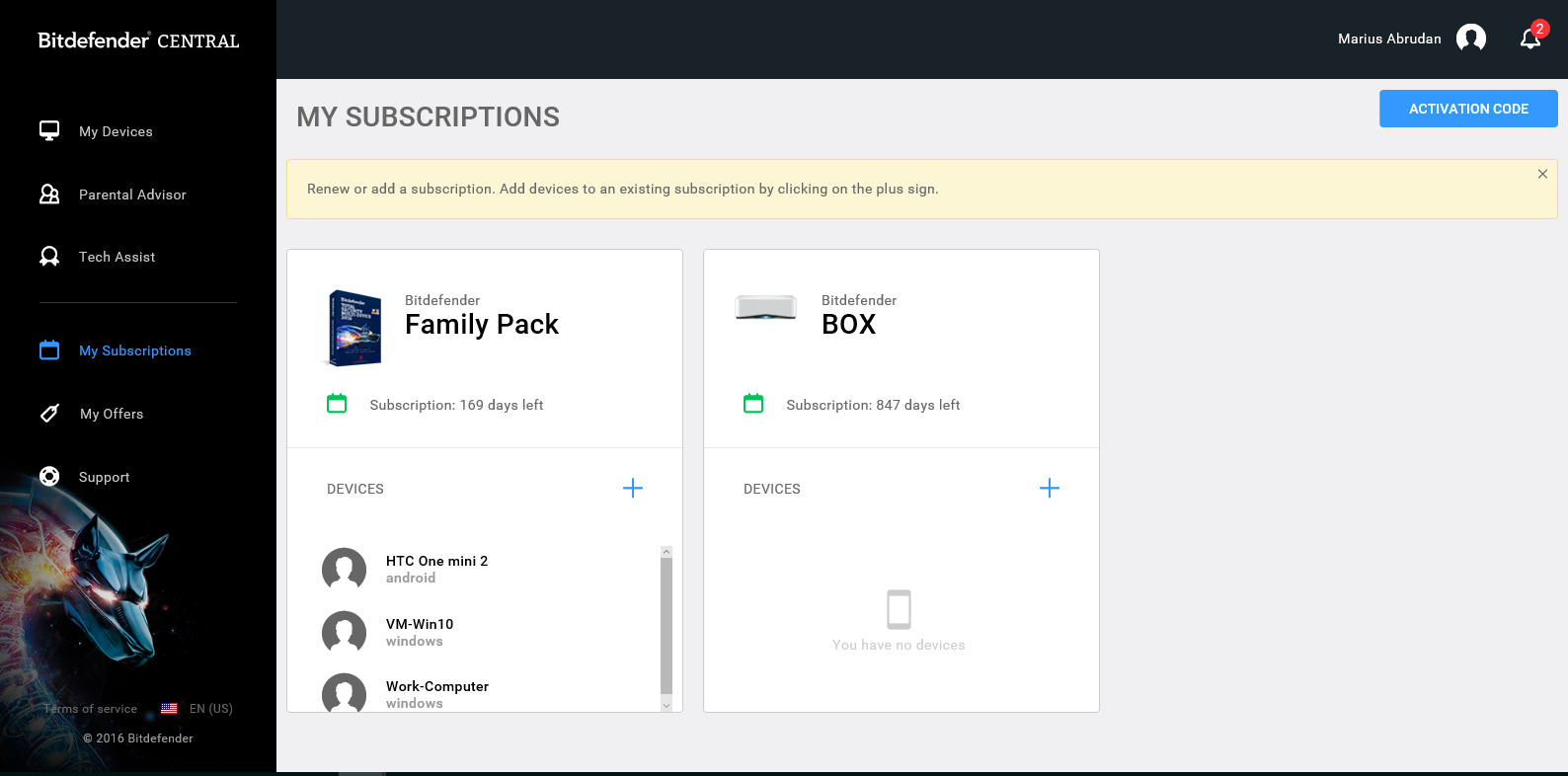 Can't find a solution for your problem?
Open an email ticket
and we will answer the question or concern in the shortest time possible.