How to generate a support tool log when Bitdefender is installed
In very rare cases, you might encounter situations when Bitdefender doesn't run flawlessly.
In order to troubleshoot and solve any issues that may appear with Bitdefender on your system (running Windows 7 or above), please provide us with the following when submitting a request to the Customer Care Department:
• a summary of the issue you are encountering;
• if applicable, a screenshot displaying the error you are receiving
• a support tool log.
If you wish to generate a support tool log, follow these instructions:
1. Access This PC by holding the Windows key and pressing E.
2. Open the Bitdefender installation folder (the default path is C:\ Program Files\ Bitdefender\ Bitdefender Security).
3. Open the executable file supporttool.
4. Start by selecting the issue category.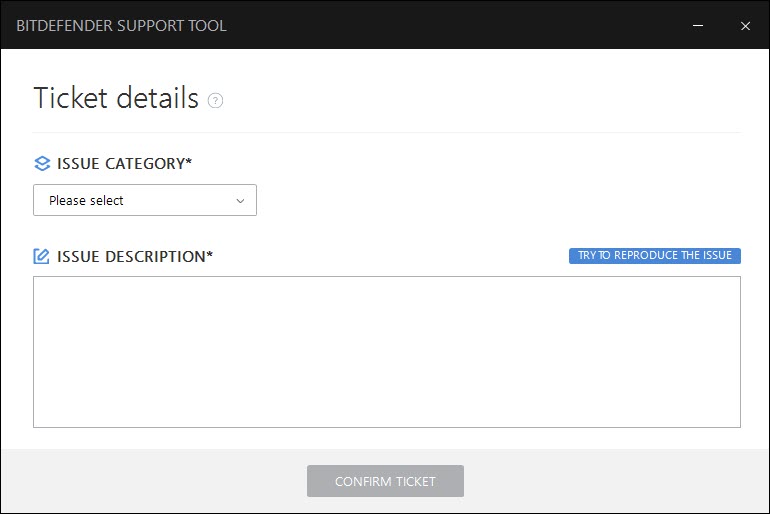 5. After that, provide us with a description of the issue. You can type it in the box located under ISSUE DESCRIPTION.
6. You can provide us with more information by reproducing the issue. To do this, you will have to:
• Click on TRY TO REPRODUCE THE ISSUE.
• In the new window, click on START.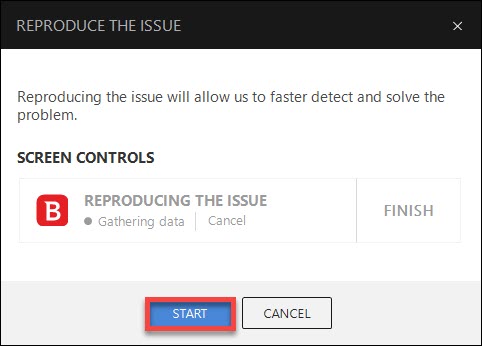 • After you reproduce the issue, you can click on the FINISH button, located in the upper part of the screen.
NOTE: If you do not wish to reproduce the issue, you can just click on CONFIRM TICKET.
7. In the next screen, make sure the name and e-mail address provided are the correct ones.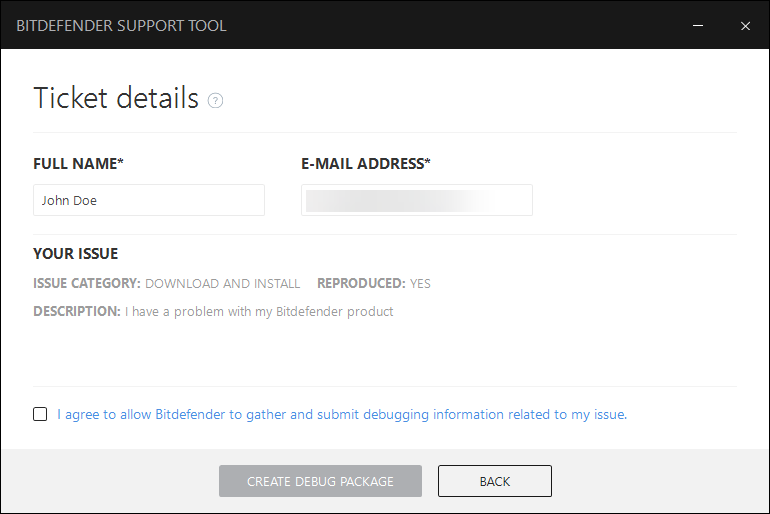 8. Before you can send us your request, you will have to check the box in lower part of the screen, and agree to allow Bitdefender to gather and submit debugging information related to your issue.
9. Next, you can click on CREATE DEBUG PACKAGE.
10. A file will be created on your desktop (BDSP_*). Please send us that file via the support ticket you have opened so we can analyze the situation.
Was this article helpful?