The Account Privacy feature in Bitdefender Mobile Security for iOS detects if any data leaks have occurred in the accounts you use for making online payments, shopping, or signing in to different apps or websites. The data that may be stored in an account can be passwords, credit card information, or bank account information, and, if not properly secured, identity theft or invasion of privacy may occur.
The privacy status of an account is displayed right after validation.

To check if any of the accounts have been leaked, tap Scan for leaks.
To start keeping personal information safe: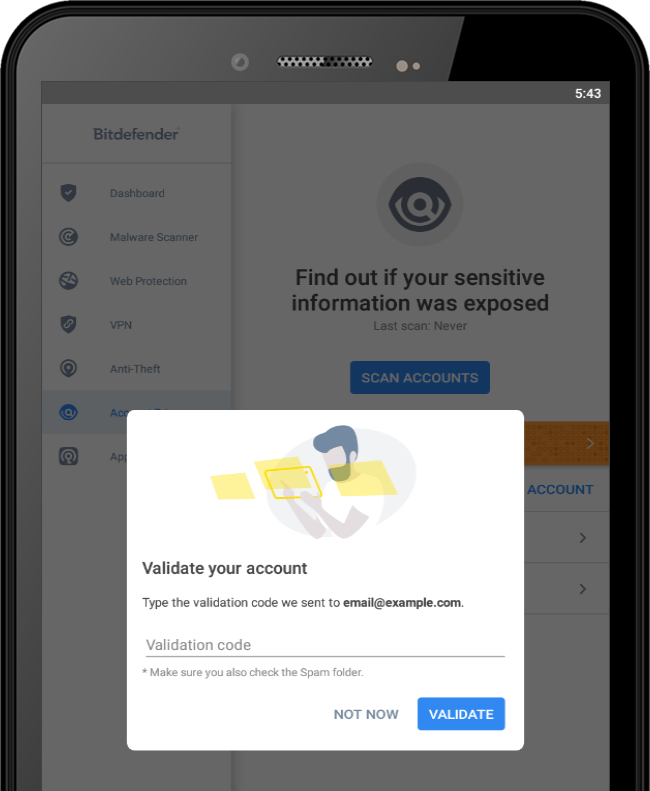 1. Tap Account Privacy from the bottom of the screen.
2. Tap Add account.
3. Type your email address in the corresponding field, and then tap Next.
4. Bitdefender needs to validate the account before displaying private information. Therefore, an email with a validation code is sent to the provided email address.
5. Check your inbox, and then type the received code in the Account Privacy area of your app. If you cannot find the validation email in the Inbox folder, check the Spam folder too.
6. To check if your personal data is secure, tap the Get started button in the main Account privacy window.
The privacy status of the validated accounts is displayed.
If leaks are found in any of your accounts, we recommend you change their password as soon as possible. To create a strong and secure password, take into consideration these tips:
Make it at least eight characters long.

Include lower and upper case characters.

Add at least one number or symbol, such as #, @, %, or !