Block senders based on email header in
GravityZone
In some situations, even though some senders are blocked, you may still receive emails from them if they are using multiple email addresses. This happens if the emails are originating from addresses different from the ones you have added to the blacklist in policy settings.
To solve this issue:
Open the email sample (in .eml or .msg format) and go to File > Properties.

Check the Internet headers section to see from what address the email has been sent.

Add the email address to the blacklist in GravityZone policy settings.
Also, make sure the Realtime Blackhole List (RBL) is properly configured. For details, refer to Configuring the Exchange RBL filter.
Troubleshooting error message -1 during an Exchange scan
Error -1 is usually received when Bitdefender tries to scan the Microsoft Exchange Public Folders and it doesn't have access.
Error -1 may appear because the Public Folders are either not configured or there are errors in their configuration.
The best way to verify that the situation is indeed caused by Public Folder is to run a Bitdefender Exchange scan without this option enabled.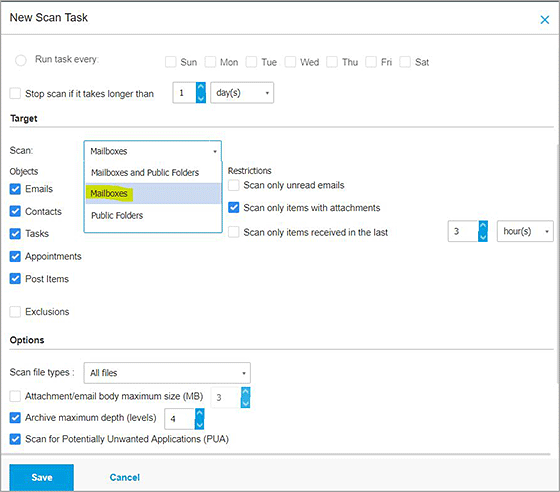 If you are not using Public Folders in your organization, start the Bitdefender Exchange scan without Public Folders.
If you are using Public Folders and the error persists, make sure they are configured correctly, and there are no errors. If the issue persists, contact Bitdefender support for further assistance.
Restoring emails from the Exchange quarantine - error 1001
Emails and files quarantined by the Exchange Protection module from GravityZone are stored locally on the server as encrypted files. Using Control Center you have the option to restore quarantined emails, as well as delete or save any quarantined files or emails.
In some cases, when trying to restore emails from the Exchange quarantine, you may receive the error -1001.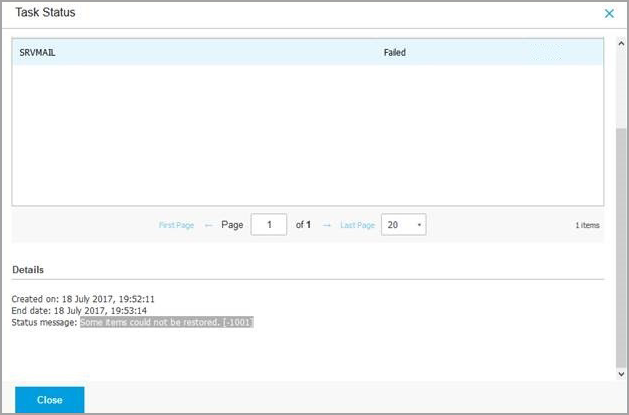 To solve this issue, follow the steps below:
Open Exchange Management Shell on Microsoft Exchange Server.

Find the EWS URL by running the following command:

Get-WebServicesVirtualDirectory | fl identity,internalurl,externalurl

In GravityZone Control Center, edit the policy assigned to the Exchange Server, as follows:

Go to Exchange Protection > Antimalware.

Next to Scan Tasks, click Edit credentials.

Complete Username, Password, Email and EWS Url.

Save the changes and the policy.