The Bitdefender GravityZone tab from the Location screen allows you to perform several tasks and view security events information:
Manage automatic deployment settings for the location

Manage manual deployment or removal of the Bitdefender agent for one or more devices

Configure deployment exclusions

View deployment history

Create scan tasks and take certain actions on multiple devices

Manage the quarantine for the client

View security events
By clicking the Deploying Settings button in the upper right-hand side of theBitdefender GravityZone tab on the Location screen, you are able to control how the Automatic Deployment settings are applied to this location.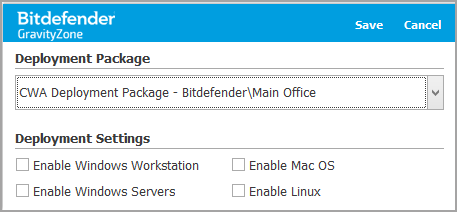 To configure the deployment settings:
Specify the deployment package for installing the Bitdefender agent.

Select the targets for deployment:

Windows workstations

Windows servers

macOS machines

Linux machines.

Click Save.