The Bitdefender GravityZone Email Security is a cloud-driven email security gateway able to protect any type of email service against various types of email-centric threat vectors.
The BitdefenderGravityZone Security for Email provides the following features:
Policy Engine is an out of the box system to control email delivery and filter messages through a comprehensive rule builder.

Connection Rules monitors connection attempt to and from mailboxes.

Email Authentication supports SPF, DKIM, and DMARC.

User Synchronization manages Active Directory users and groups.

Mailbox Synchronization synchronizes Microsoft Azure Active Directory.

Antispam technologies detect spam and sophisticated targeted phishing attacks.

Antimalware uses security content and behaviour to detect malware.

Quarantine uses a company-wide policy.

Safe and Deny Lists configures individual and company-wide lists.

Executive Tracking List detects users' real names within the header and envelope address fields to protect against impersonation attacks.

Disclaimer adds an HTML text disclaimer to outbound emails.

Reports and Charts provide detailed visibility of mail flow, triggered rules, and taken actions.

Scheduled Reports link reports to schedules and sends alerts to recipients.

SecureMail adds an additional layer of security to emails by only allowing access to the contents of said email through an end user portal.

AD connect provides automatic integration and synchronization with Active Directory groups.
Email Security

documentation
For more information on Email Security follow one of the links below:
GravityZone Security for Email

mail flow
GravityZone Security for Email uses MX record redirect and outbound "Smart Host" configuration to control the mail flow.
The following diagram shows the relationships among the GravityZone Security for Email components.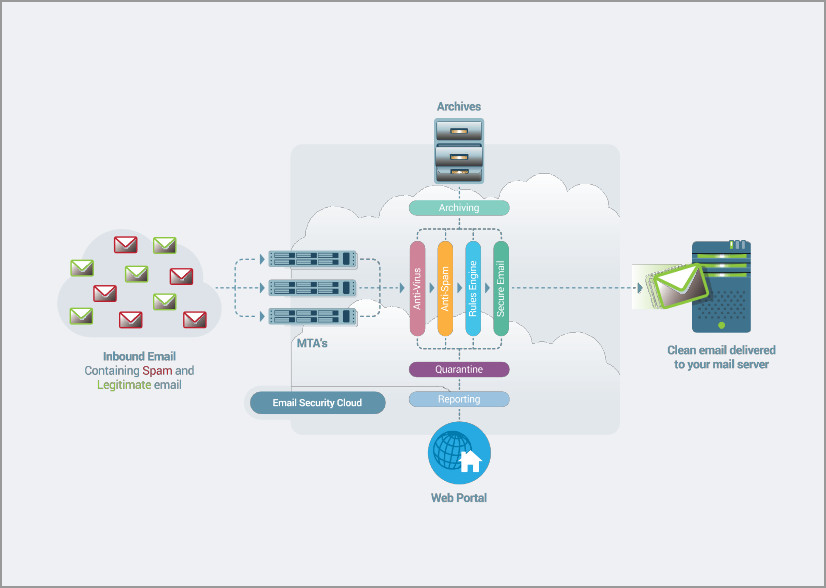 BitdefenderGravityZone Security for Email is available in the following languages:
Bulk Emails and Fair Usage
if you wish to send bulk emails using Email Security, you must comply with these terms and conditions:
By default, you can send up to 600 emails per hour cross all your mailboxes, which is in line with industry standards. To change your limit, please contact support.
When the limit is reached, sending emails will be temporarily suspended for your account. This will impact all your mailboxes.
You can send emails up to 300 recipients at a time. If your mailing list is larger, you need to split it into multiple lists, each smaller than 300.
When sending bulk e-mails the following requirements must be met:
Email size must be under 150kb when sending to less than 100 recipients.

Email size must be under 30kb when sending to between 100 and 1000 recipients.

Email size must be under 20kb when sending to more than than 1000 recipients.

Email attachments should be posted to a web server, and a link included.
Delivery and Service Level
Delivery and Service Level agreements do not apply to bulk emails. In the event of busy periods we reserve the right to delay the delivery of bulk emails as well as reroute them to alternative data centers. Support is not provided for undelivered emails.
Approval - prior to sending
For large campaigns with over 200 recipients submit a sample email to bulk@bitdefender.info at least 24 hours in advance. For smaller campaigns add bulk@bitdefender.info to your BCC list.
Note
Failure to do so may result in emails being stopped.
Your email must be relevant to the customer business and not contain illicit, illegal or any other immoral content. We reserve the right to make judgement on the content of the email for the purposes of approval.