This section is intended to guide Datto RMM administrators to integrate BitdefenderGravityZonewith Datto RMM. You will learn how to install the Bitdefendercomponents, configure the integration, followed by the security agent deployment.
How the integration works
The integration maps Datto RMM sites to BitdefenderGravityZonecompanies. Bitdefenderhosts GravityZoneControl Center, a multi-tenant console where MSPs can manage their customers and apply security protection for specific companies.
The mapping is done at the site level by defining the following variables:
The security installation package specifies the security agent that you want to deploy. You can configure this in Control Center. The security agent refers to Bitdefender Endpoint Security Tools(BEST) on Windows and Linux, and to Bitdefender Endpoint Security Toolson macOS.

The API key identifies the specific APIs called by the component. You can generate it in Control Center.

The Access URL provides access to Control Center. You can find this information in Control Center.
Through this integration, you can deploy the Bitdefendersecurity agent to individual or multiple targets. The deployment is done through jobs and monitoring policies running the Bitdefendercomponent.
Running the Bitdefendercomponents with accurate site variables ensures a correct security agent deployment. Consequently, your Datto RMM targets are correctly grouped and managed in Control Center.
The Bitdefendercomponents provide automated security services compatible with Windows, macOS and Linux devices.
The Datto RMM integration includes the following Bitdefendercomponents:
| Component | Type | Use case |
| --- | --- | --- |
| BitdefenderGravityZone- Device Management | Script | Use this component to deploy the Bitdefenderagent security across sites and devices through the Web Portal and to configure response details for monitoring policies. Through the available response actions, you can deploy or update the security agent. |
| BitdefenderGravityZone- Device Monitor | Monitor | Use this component to configure component monitors as monitoring policies. |

In the new UI, Bitdefendercomponents are listed in the Automation > Components section.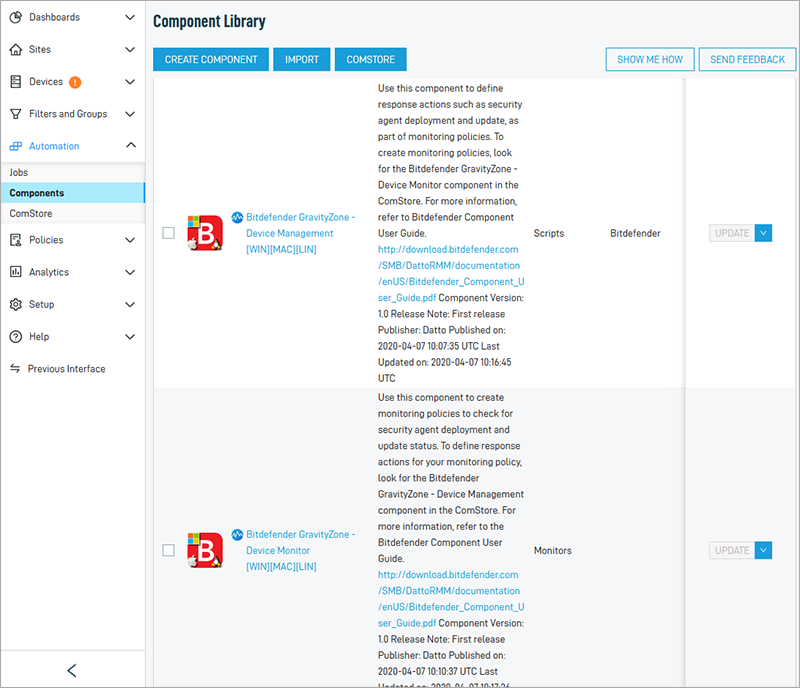 Bitdefender

GravityZone

technology
BitdefenderGravityZoneprovides multiple security layers for your devices, such as Antimalware, Content Control, Firewall, Device Control, Full Disk Encryption, Patch Managementand advanced technologies like tunable machine learning, sandbox or Endpoint Detection and Response.
The architecture of this solution includes the following components:
Control Center, a web console to manage, monitor and deploy device protection.

Security agents with protection layers configurable through Control Center.
To get essential information about new features, refer to this topic.