Bitdefender
Windows 8 Security
Product help and information wiki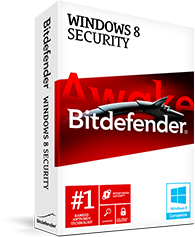 Note: The links below are for removing other security solutions prior to installing Bitdefender on your system. If you experience issues using any of the tools below, please contact ...
Read more
---
We have gathered all our products in the Bitdefender toolbox. It's right here: http://www.bitdefender.com/Downloads/ If you have a Bitdefender license key, just download ...
Read more
---
Installing your Bitdefender product You can install Bitdefender from the Bitdefender installation disc or using a web installer ...
Read more
---
The main reason for using a security solution is to provide protection and safety for your data. But what happens when you have more than one security product on the same system? When ...
Read more
---
In some situations, you may need to reinstall your Bitdefender product. Typical situations when you would need to reinstall Bitdefender include the following: you ...
Read more
---
In case you need to use the repair feature in Bitdefender 2013 you can proceed as follows: 1. You can repair Bitdefender directly from your MetroApp. Note: if you are already ...
Read more
---
<br /> For a better viewing experience, please change the video settings. If you have purchased a license key for more than one computer, you can use ...
Read more
---