Bitdefender
Total Security 2015
Product help and information wiki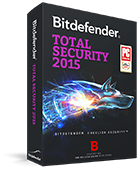 If you're running one of the 2012, 2013, 2014 or 2015 versions of Bitdefender on your computer and you decide to upgrade your Operating System to Windows 10, you will be able ...
Read more
---
To find out the remaining number of days from your license key, follow these steps: Open the Bitdefender window. A link that indicates the number ...
Read more
---
When your Bitdefender protection is about to expire, you must renew your license key. Follow these steps to visit a website where you can renew your Bitdefender license key: Open ...
Read more
---