Bitdefender
Sphere 2013
Product help and information wiki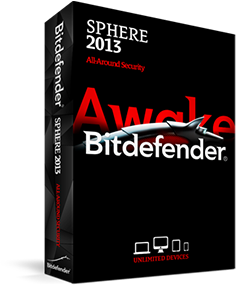 If you have purchased a license key for more than one computer, you can use the same license key to register a second PC. To install Bitdefender correctly on a second computer, ...
Read more
---
To make sure that your Bitdefender product is properly running, we recommend you using the Eicar test. The Eicar test allows you to check your antivirus protection using ...
Read more
---
The easiest way to scan a file or folder is to right-click the object you want to scan, point to Bitdefender and select Scan with Bitdefender from the menu. To complete ...
Read more
---
Here's how to use Bitdefender Rescue CD to quickly scan and disinfect an infected operating system that cannot start normally: 1. First, you need to boot the computer from ...
Read more
---
This article shows how to use Bitdefender Rescue CD to recover files from an infected system that fails to start To copy files on a removable device: 1. Start Bitdefender ...
Read more
---
10.7 Lion Without Growl - open the application's Preferences and under the "General" tab, disable the "Enable notifications"option With ...
Read more
---
Bitdefender Classic Line products: Bitdefender Antivirus Plus, Bitdefender Internet Security, Bitdefender Total Security Bitdefender2015 can be installed on: Windows ...
Read more
---
Bitdefender Anti-Theft allows you not only to locate and lock the stolen laptop, but also wipe all data to ensure that it will not be used by the thief. To access the Anti-Theft ...
Read more
---
Safe mode is a diagnostic operating mode, used mainly to troubleshoot problems affecting normal operation of Windows. Such problems range from conflicting drivers to viruses preventing ...
Read more
---
If you cannot start the computer in normal mode, you can boot up in Safe Mode and use System Restore to restore to a time when you could start the computer without errors. To ...
Read more
---
The system performance depends not only on the hardware configuration, such as the CPU load, memory usage and hard disk space. It is also directly connected to your software configuration ...
Read more
---
Each time a scan is performed, a scan log is created and Bitdefender records the detected issues. The scan log contains detailed information about the logged scanning process, ...
Read more
---
Safepay is a secured browser designed for online banking. By default, Bitdefender detects when you navigate to an online banking site or online shop in any browser on your computer ...
Read more
---
Bitdefender Rescue CD is a free tool that scans and cleans your computer whenever you suspect a malware threat is affecting its operation. Bitdefender Rescue CD works without ...
Read more
---