Bitdefender
Antivirus for Mac
Product help and information wiki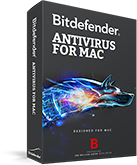 1. Open your Bitdefender Antivirus for MAC product 2.After opening the main window, in order to scan the whole system, click on the Full System Scan button 3. ...
Read more
---
When going online, if you get pop-ups on the pages of your browser, you probably got on your system some intrusive applications/toolbars. Even MACs can pick up annoying ...
Read more
---
You can scan your Mac or specific files anytime you want. The easiest way to scan a file, a folder or a volume is to drag&drop it over the Bitdefender Antivirus for Mac ...
Read more
---