Bitdefender
Antivirus for Mac
Product help and information wiki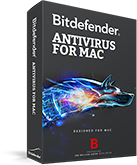 1. Open your Bitdefender Antivirus for MAC product 2.After opening the main window, in order to scan the whole system, click on the Full System Scan button 3. ...
Read more
---
10.7 Lion Without Growl - open the application's Preferences and under the "General" tab, disable the "Enable notifications"option With ...
Read more
---
Bitdefender Classic Line products: Bitdefender Antivirus Plus, Bitdefender Internet Security, Bitdefender Total Security Bitdefender2015 can be installed on: Windows ...
Read more
---