Bitdefender
Antivirus Plus 2015
Product help and information wiki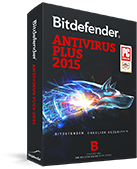 The most probable cause for the below error message ("Bitdefender setup has encountered an error") is corrupted permissions of your operating system. Here ...
Read more
---
Bitdefender gives you the option to exclude specific files, folders or even traffic from being scanned as long as you know they are safe. You can add exceptions forOn-accessandOn-demandscanning ...
Read more
---
In some cases, one might encounter difficulties when trying to install Bitdefender on a computer that is also running the ASUS AI Suite software (the computer might freeze or a BSOD ...
Read more
---
You have saved your online credentials in Bitdefender Wallet and you noticed that the autofill is not working. Usually, this issue appears when the Bitdefender Wallet extension is ...
Read more
---
This article helps you troubleshoot the Bitdefender Services are not responding error. You may encounter this error as follows: The Bitdefender icon in the system tray is ...
Read more
---
---
When Bitdefender 2015 detects an infection, it will take automatic action for the detected malware. Some malware will have to be cleaned when Windows starts and for ...
Read more
---
When going online, if you get pop-ups on the pages you browse, you probably got on your computer some intrusive applications/toolbars. The same thing applies if your homepage got ...
Read more
---
In order to manually remove an infected item from your computer you need to perform the following steps: 1. Restart the computer in Safe Mode. You can do that, by following ...
Read more
---
In Bitdefender 2015, you can schedule a scan periodically. It is recommended to run a scan once or twice per month. In order to perform this, please open the main interface ...
Read more
---
First, please update Bitdefender to be sure you have the latest virus signatures: open the main interface using the Bitdefender icon from your desktop. Click the Update panel from ...
Read more
---
---
Here are the steps to install Bitdefender 2015 using the offline installation kits: 1. Use our uninstall tool in order to uninstall/delete any previous Bitdefender ...
Read more
---
1. If you installed another Bitdefender product than the one you have the license key for, Bitdefender will notify you that you have the wrong product installed 2. Bitdefender ...
Read more
---
If you need to remove your Bitdefender 2015, follow these steps: In Windows XP: 1. Click Start, go to Control Panel and double-click Add / Remove programs. 2. Find Bitdefender ...
Read more
---
Installing the latest version of your Bitdefender product is an important step to ensure that your computers are protected by Bitdefender. Important: If you ...
Read more
---
Make sure that the computer where you plan to install Bitdefender 2015 meets the minimum system requirements. If the computer does not meet all the minimum system requirements, Bitdefender ...
Read more
---
---
If you have purchased a license key for more than one computer, you can use the same license key to register a second PC. To install Bitdefender correctly on a second computer, ...
Read more
---
To repair your Bitdefender 2015 product follow these steps: 1. Press the Windows Key and the R key together on your keyboard. 2. Type appwiz.cpL in the command ...
Read more
---
Bitdefender Safepayis a secured browser designed to protect your credit card information, account number or any other sensitive data you may enter while accessing different online ...
Read more
---
By default, Bitdefender detects when you navigate to an online banking site or online shop in any browser on your computer and prompts you to launch it in Bitdefender Safepay. In ...
Read more
---
Bitdefender Wallet is the password manager that helps you keep track of your passwords, protects your privacy and provides a secure browsing experience. Using a single master ...
Read more
---
---
To successfully use another account, follow these steps: 1. Open the Bitdefender window. 2. Click MyBitdefender at the top of the window and then select Account settings ...
Read more
---
You have created a MyBitdefender account using an e-mail address you no longer use and now you would like to change it. The e-mail address cannot be changed, but you can use ...
Read more
---
To find out the remaining number of days from your license key, follow these steps: Open the Bitdefender window. A link that indicates the number ...
Read more
---
When your Bitdefender protection is about to expire, you must renew your license key. Follow these steps to visit a website where you can renew your Bitdefender license key: Open ...
Read more
---