How to scan your system for vulnerabilities
Bitdefender automatically checks your system for vulnerabilities and alerts you about them. To fix them using the Vulnerability Scan, you will have to:
1. Click the Protection icon on the left sidebar of the Bitdefender interface.
2. Click the Vulnerability Scan action button.
3. Wait for Bitdefender to check your system for vulnerabilities. To stop the scanning process, click the Skip button at the top of the window.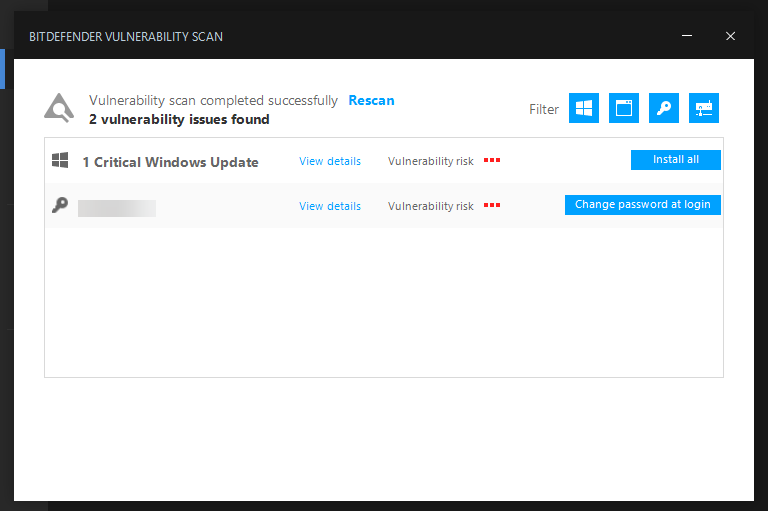 During the scan, Bitdefender will look for:
Critical Windows updates
Click View details to see the list of critical Windows updates that are not currently installed on your computer.
To initiate the installation of selected updates, click Install updates.
NOTE: It may take a while to install the updates and some of them may require a system restart to complete the installation. If required, restart the system at your earliest convenience.
Application updates
If an application is not up to date, click the Download new version link to download the latest version.
Click View details to see information about the application that needs to be updated.
Weak Windows account passwords
You can see the list of the Windows user accounts configured on your computer and the level of protection their password provides. Click Change password at login to set a new password for your system.
Click View details to modify the weak passwords. You can choose between asking the user to change the password at the next login or changing the password yourself immediately. For a strong password, use a combination of uppercase and lowercase letters, numbers and special characters (such as #, $ or @).
Weak Wi-Fi networks
Click View details to find out more about the wireless network you are connected to.
If it is recommended to set a stronger password for your home network, click the corresponding link. When other recommendations are available, follow the provided instructions to make sure your home network stays safe from the hackers' prying eyes.
Related Articles
Was this article helpful?