In an increasingly connected world, smartphones and mobile devices have become an integral part of our lives. They provide convenience, productivity, and connectivity on the go. There are more than 6.8 billion smartphones in use around the world, with many people relying on them not only for personal use, but also in their professional jobs to access company applications, networks, and files. Unfortunately, with this increased reliance comes increased risk as cybercriminals shift their focus to exploit vulnerabilities on these devices. The growth of cybersecurity threats targeting mobile devices and operating systems such as iOS and Android highlights the growing need for businesses to have strong mobile threat detection (MTD) capabilities.
To provide organizations with strong, multi-layered security for a mobile world, Bitdefender today launched GravityZone Security for Mobile. This new offering is designed specifically to provide organizations with advanced Mobile Threat Detection (MTD) and security for Android, iOS and Chromebook devices, including Chrome extensions. It enables enterprise businesses, managed service providers (MSPs) and their customers to gain deep visibility into their mobile footprint in order to prevent, protect, detect and respond to cybersecurity threats targeting mobile devices, applications and operating systems.
Why businesses need Mobile Threat Detection (MTD)

Three main challenges are driving the growing need for mobile threat detection for businesses: the growth of mobile threats, the need to maintain regulatory compliance, and the growing adoption of Chromebooks.
Growth of mobile security threats
As smartphones and tablets have become ubiquitous, cybercriminals have recognized the potential for exploiting vulnerabilities in these devices. Phishing attacks – where attackers impersonate legitimate entities to deceive users into revealing sensitive information – have become more prevalent on mobile devices. These attacks can take various forms, including fraudulent emails, text messages, or even malicious applications. Fraudsters take advantage of the fact that users are often on-the-go when checking their mobile devices and may not stop to notice the small clues that would indicate it may be a phishing attempt.
Likewise, zero-day attacks, which exploit previously unknown vulnerabilities, are also increasingly targeting mobile devices and operating systems. Attackers exploit vulnerabilities in iOS and Android operating systems to gain unauthorized access to mobile devices, compromising user data and potentially allowing them an entry point for further access to business networks.
Bad actors may attempt a Man-in-the-Middle (MiTM) attack to intercept and redirect traffic to a URL that delivers a malware payload or to capture login credentials. The consequences of credential theft are a threat to data security and can result in significant financial losses for individuals or organizations.
Regulatory compliance
Cybercriminals are also increasingly targeting the mobile channel because businesses rely on their employee's mobile devices as a multifactor authentication tool, sending push notifications or one-time passcodes via SMS when employees need to access company applications. This practice raises important regulatory compliance considerations.
To comply with regulations like the General Data Protection Regulation (GDPR) and the California Consumer Privacy Act (CCPA), businesses are required to have a comprehensive understanding of the privacy and security posture of applications running on their employees' mobile devices. This includes evaluating the risk associated with using third-party apps, ensuring proper data encryption, and implementing robust mobile threat detection capabilities. By having these security measures in place, businesses can better protect themselves and their customers' data from potential breaches, while also maintaining regulatory compliance.
Increased adoption of Chromebooks
In recent years, the adoption of Chromebooks, particularly in the education sector and among task-driven professions has introduced additional security challenges for some businesses. Because Chromebooks can run Android applications, organizations must be prepared to protect against mobile threats targeting the Android OS. Going beyond traditional endpoint security solutions to deploy strong MTD capabilities will enable these organizations to strengthen their cybersecurity resilience.
GravityZone Security for Mobile - Strong threat detection for businesses
Leveraging Bitdefender's industry-leading antimalware and advanced threat intelligence solutions, GravityZone Security for Mobile enables organizations to vet applications, monitor device status, protect against malicious apps and phishing attacks and more, to strengthen their mobile security posture.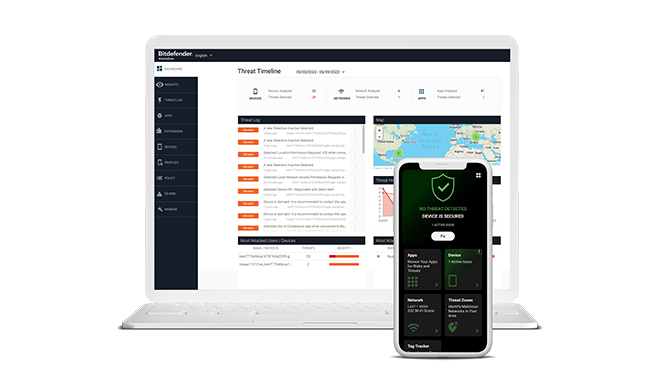 Key Features and Benefit
Powerful Security for Mobile Devices – Powerful antimalware technologies and real-time threat intelligence detect malicious applications and known and unknown (zero-day) threats. Businesses can vet mobile applications and monitor mobile endpoints to ensure they meet compliance with designated security policies. On-device anti-phishing technologies protect against phishing attacks without causing slowdowns, and web access controls prevent employees from visiting compromised or malicious websites.

Network Protection – Prevent, detect and respond to network-borne threats to the mobile channel such as reconnaissance attempts (where an attacker covertly gathers information about an organization's information systems), weak security connections, and man-in-the-middle attacks, where attackers attempt to intercept multi-factor authentication codes sent to mobile devices.

Device Assessment and Protection – Monitor devices for vulnerabilities, missing encryption, jailbreaking, root access, and outdated devices that are no longer receiving the latest security updates.

Integration with Existing Mobile and Enterprise Security Solutions – GravityZone Security for Mobile integrates with the unified Bitdefender GravityZone console, enabling customers to extend security beyond traditional endpoints while enjoying centralized management from a single platform. GravityZone Security for Mobile is complementary to an organizations' existing Mobile Device Management (MDM), Enterprise Mobility Management (EMM), Unified Endpoint Management, and Security Information and Event Management (SIEM) solutions, providing strong protection and easy deployment across all mobile endpoints.

100% Cloud-Based – Cloud-based, easy-to-manage security for any type of mobile workforce. Zero-touch enrollment enables mass deployments of mobile devices without end-user intervention, making employees' mobile devices more secure by default.

Deep Visibility for Regulatory Compliance – Organizations in regulated industries must understand the privacy and security posture of employees' mobile devices and the applications running on them. GravityZone Security for Mobile provides real-time visibility for application vetting, identifying abnormal behavior in apps, application version control, user warnings for denied applications, and risky actions such as isolating applications, disabling WiFi/Bluetooth, or disabling or uninstalling extensions.
As the use of mobile devices continues to grow, so do the cybersecurity threats targeting them. Businesses must invest in strong mobile threat detection capabilities to protect themselves, their employees, and their customers.