With Bitdefender Anti-Theft included in Bitdefender Mobile Security, you can remotely locate, lock, wipe or send a message to your device in case of loss or theft. Plus, your Android phone is capable of self-defense: it snaps a mugshot of anyone who tries to tamper with it in your absence, and emails it to you.

Click the corresponding link below to learn how you can activate and use Anti-Theft on an Android device.
Activating Anti-Theft on your Android
To enable Anti-Theft features, simply complete the configuration process from the Anti-Theft card available in the Dashboard.
Alternatively, you can activate Anti-Theft by following these steps:
1. Open Bitdefender Mobile Security and tap More on the bottom navigation bar.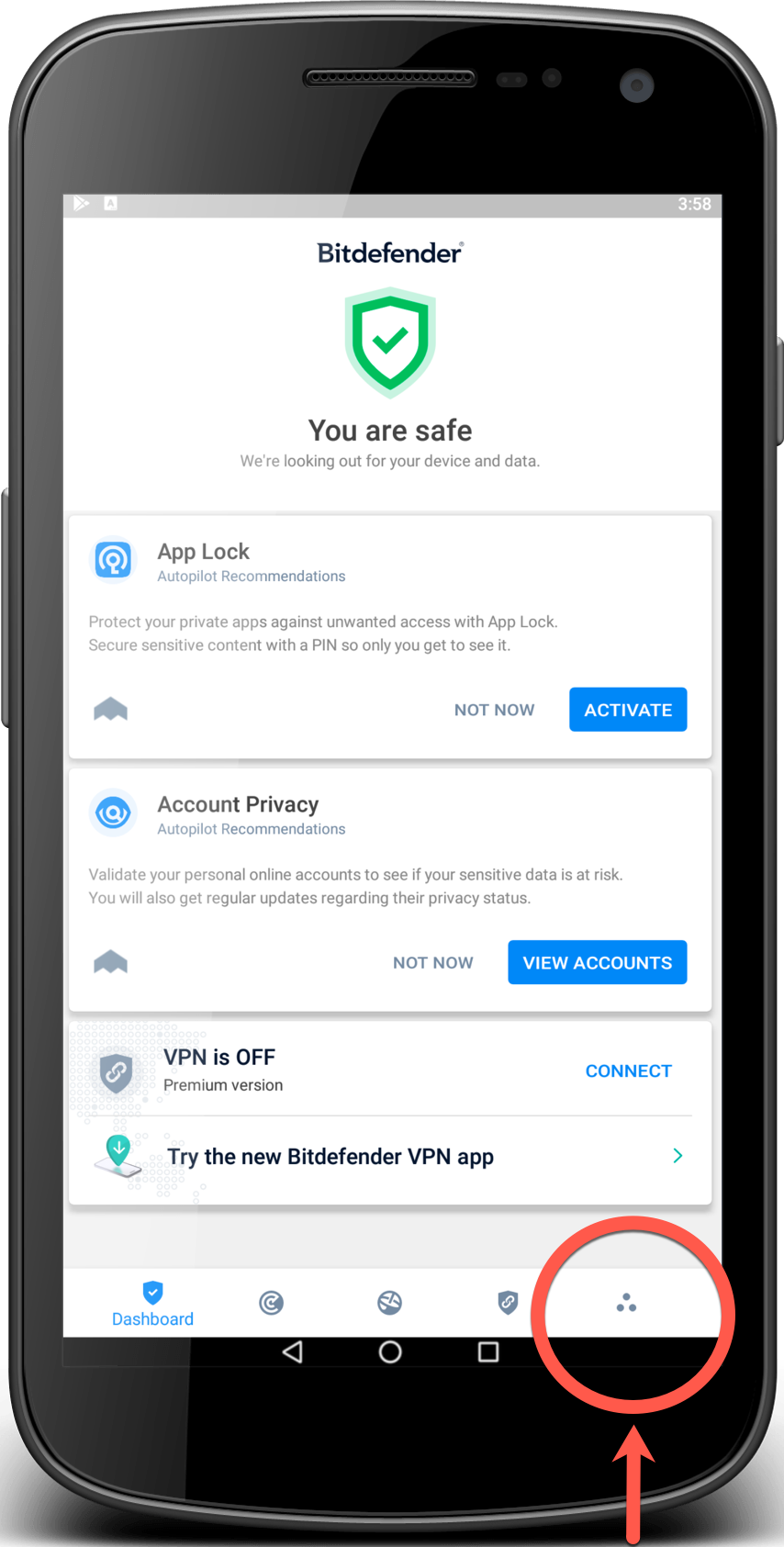 2. Choose Anti-Theft.
3. Tap TURN ON.
4. Grant Admin Privileges.
These privileges are essential to the operation of Anti-Theft and therefore must be granted to continue.
NOTE: Additional permissions are required on Android 6 for the Anti-Theft feature. To enable it:
• tap Activate Anti-Theft, then tap TURN ON
• allow permissions for Antivirus to access your device's location
5. Set Application PIN
To prevent unauthorized access to your device, a PIN code must be set. Every time an attempt will be made to access your device, the PIN will have to be entered first. Alternatively, on devices that support fingerprint authentication, a fingerprint confirmation can be used instead of the configured PIN code. The same PIN code is used by App Lock to protect your installed apps.
6. Activate Snap Photo
Each time someone will try to unlock your device without success while Snap Photo is turned on, Bitdefender will take a photo of him. More exactly, every time the PIN code, password, or fingerprint confirmation you set to protect your device is entered wrong three times in a row, a photo is taken using the front camera. The photo is saved together with the time-stamp and reason and can be seen when you open Bitdefender Mobile Security and access the Anti-Theft window.
Alternatively, you can view the taken photo in your Bitdefender account:
• Go to https://central.bitdefender.com and sign in to your Bitdefender Central account.
• Tap the menu in the upper left-hand corner, then select My Devices.
• Select your Android device, then Anti-Theft.
• Tap Lock device, then View snapshots to view the latest photos that were taken. Only the two most recent photos are saved.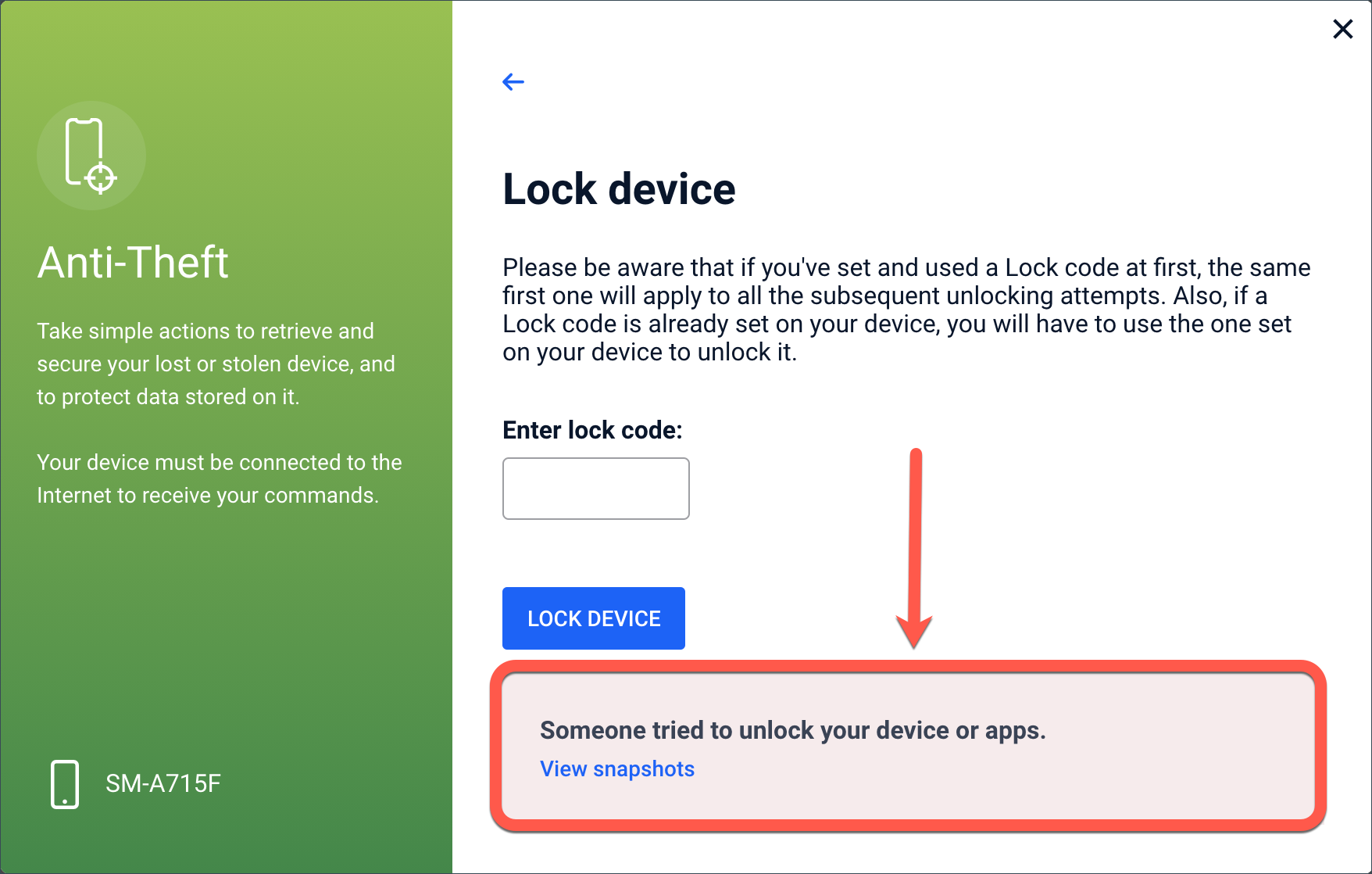 Once the Anti-Theft feature is activated, you can enable or disable Web Control commands individually from the Anti-Theft window by tapping the corresponding options.
NOTE: If the snapshots do not appear here, click your username in the upper right corner of the Central page, then select Settings.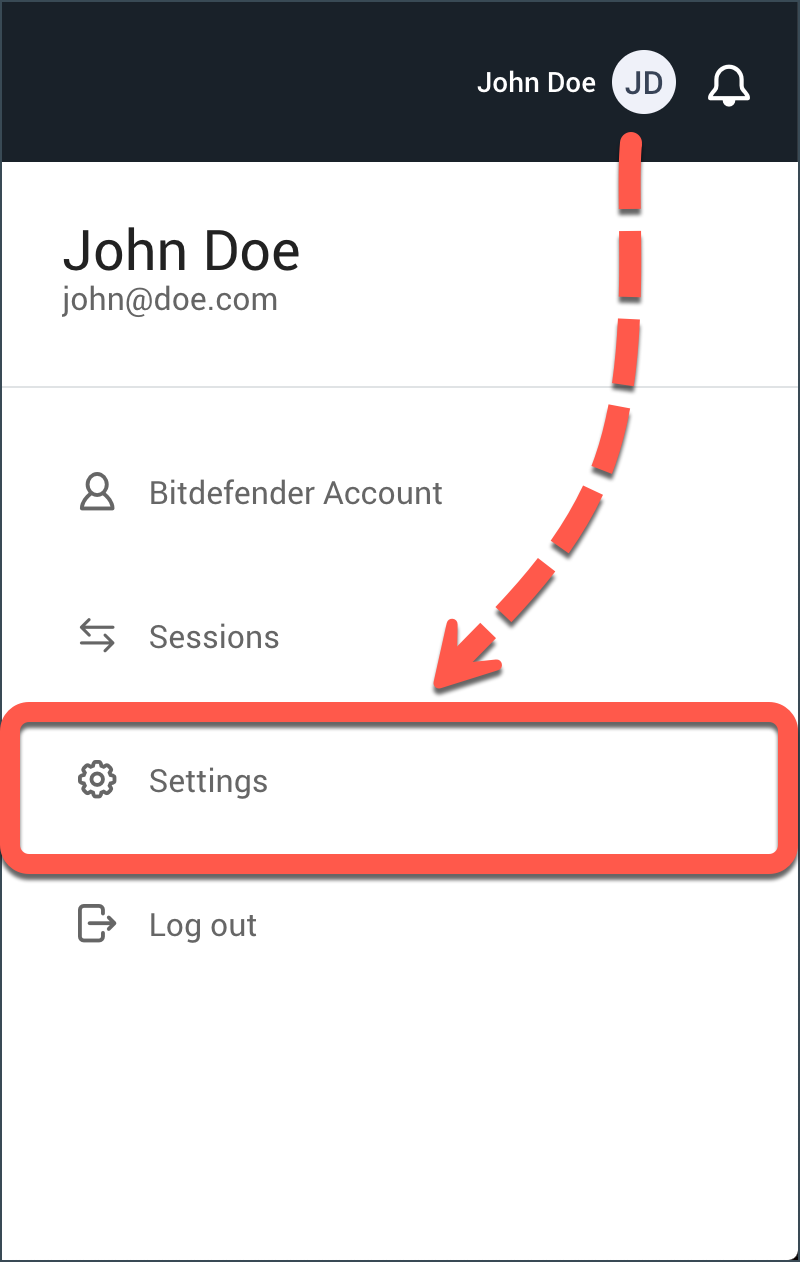 Here, enable Show snap photos taken on your devices.

Managing Anti-Theft from Bitdefender Central
All Anti-Theft features require the background data option to be enabled in your device's data usage settings. To access the Anti-Theft features from your Bitdefender account:
1. Access Bitdefender Central.
2. Select My Devices on the sidebar.
3. In the My Devices window, select the desired device.
4. Select Anti-Theft.
5. In the new window, click the button corresponding to the feature you want to use:
• Locate device – display your device's location on Google Maps
• Lock device – lock your device and set a PIN code for unlocking it
• Play sound – type a message to display on your device's screen and/or make your device play a sound alarm
• Erase device – delete all data from your device. After you erase a device, all Anti-Theft features cease to function.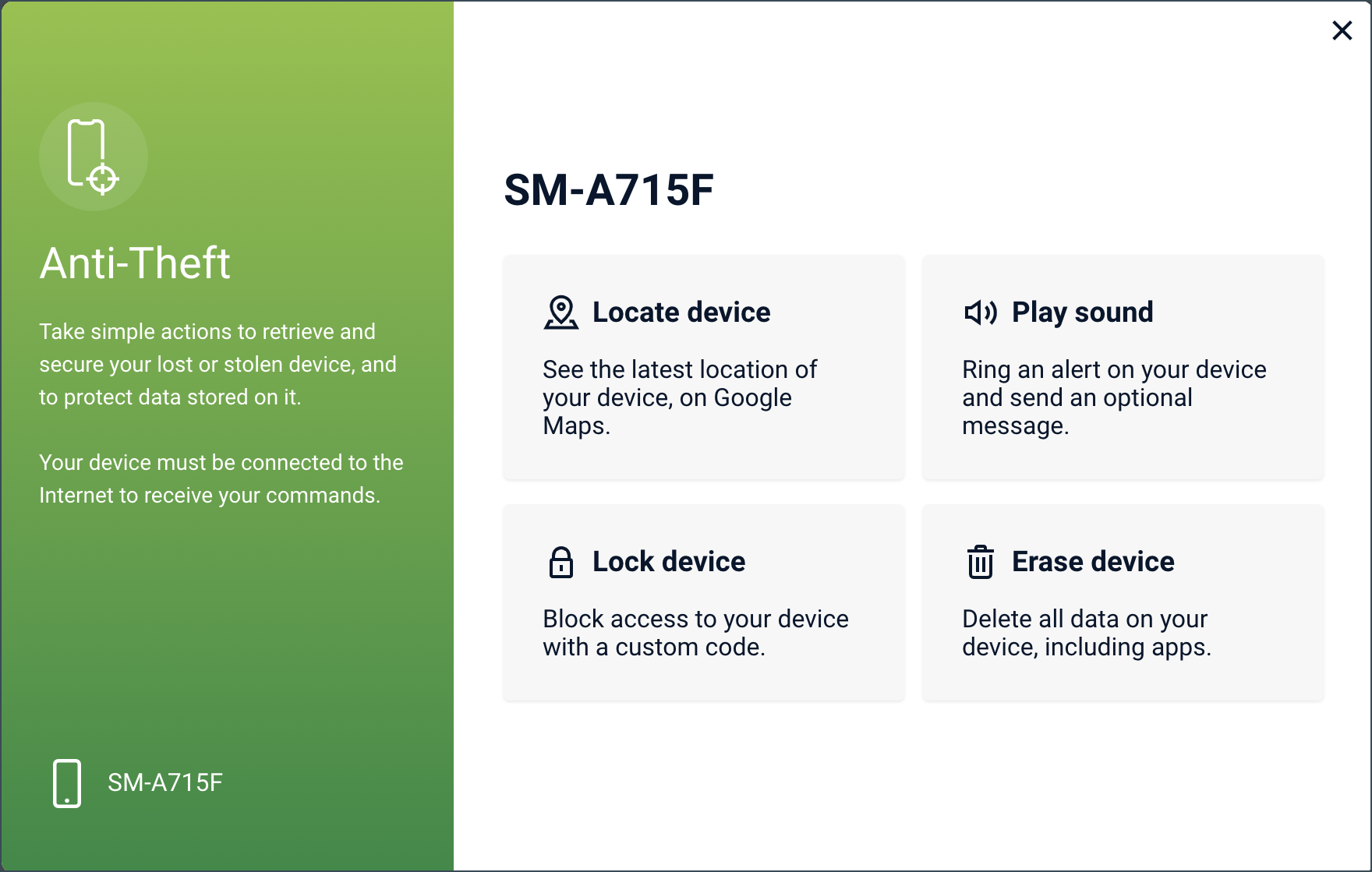 Anti-Theft Settings
If you wish to enable or disable the remote commands:
1. Open Bitdefender Mobile Security and tap More on the bottom navigation bar.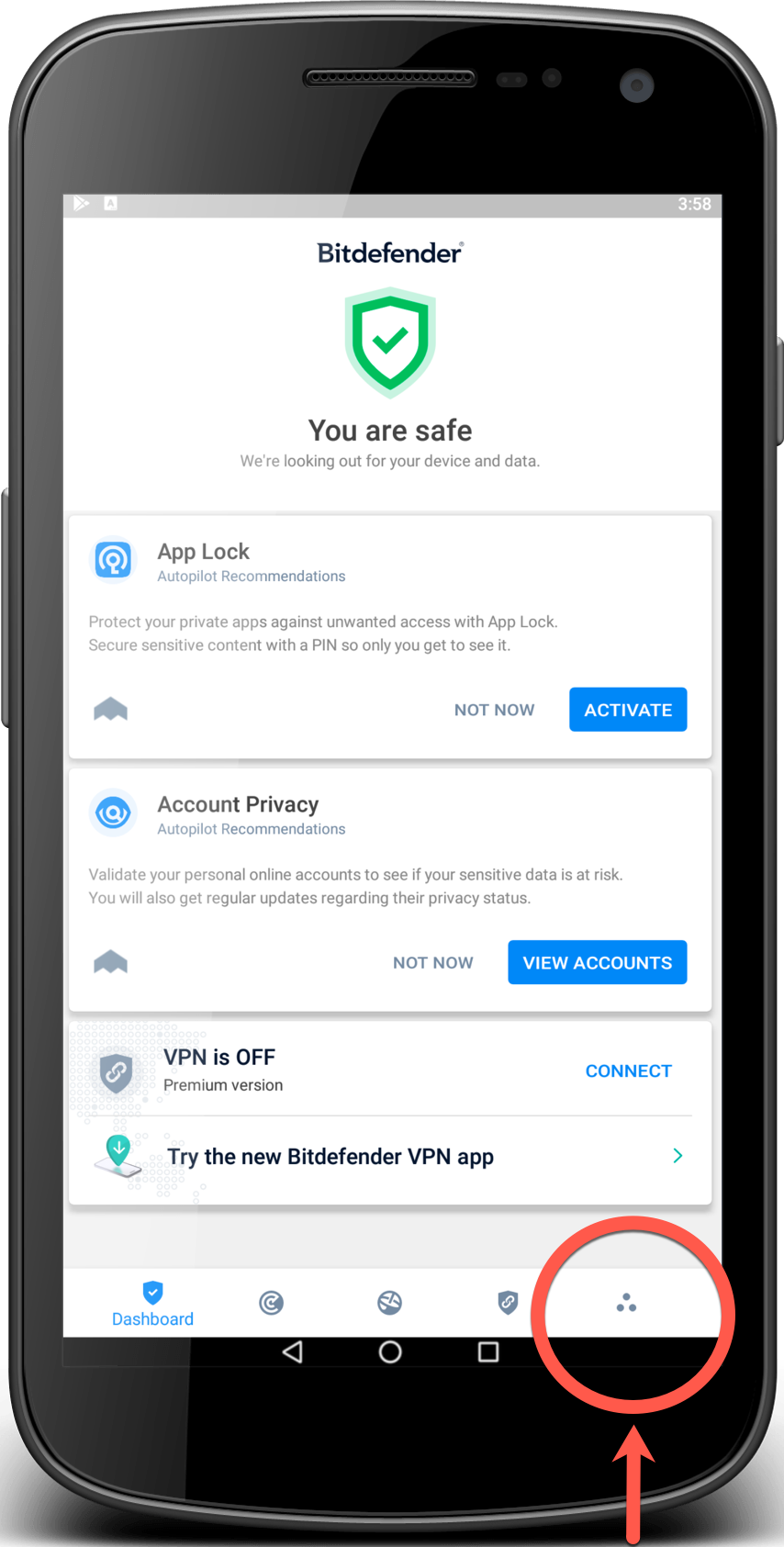 2. Choose Anti-Theft.
3. Enable or disable the desired options.