Did you know that your NETGEAR Armor subscription includes Bitdefender Total Security software for your Mac, PC, iOS, and Android devices? In this article, we'll show you how to install Bitdefender Total Security, so you're protected across all your personal devices from cyber-threats and malware.
Only with NETGEAR Armor, you get additional features like regular vulnerability scanning, remote device location, and data theft protection for all your smartphones and computers. With NETGEAR Armor and the included Bitdefender Total Security software, you'll be protected from Internet threats whether you're at home or on-the-go.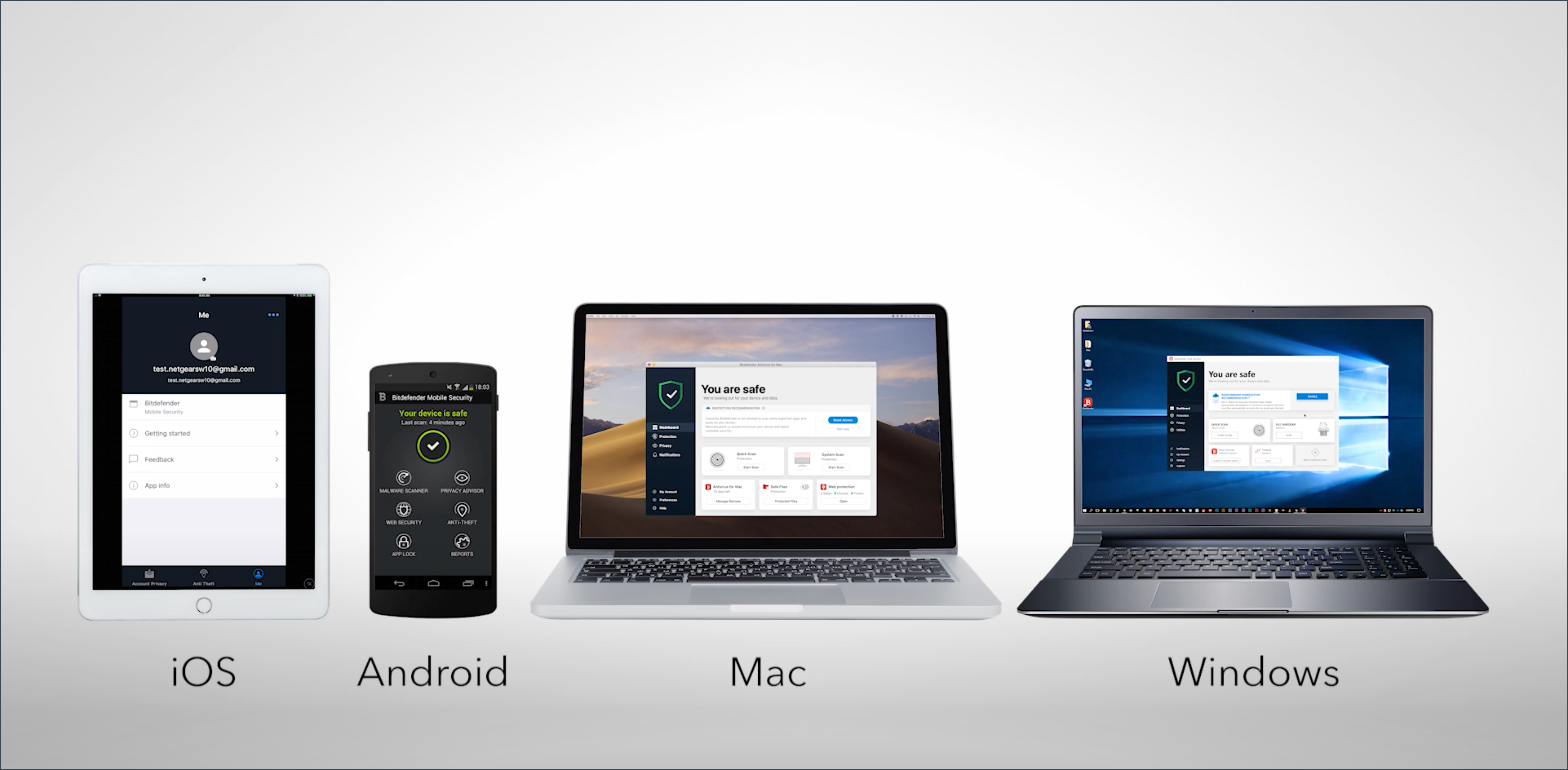 To install Bitdefender from your NETGEAR Armor account
1. Access your NETGEAR Armor account > go to Devices (left side of the portal) > click on Install Bitdefender Total Security
2. In the Install window:
Click Download if you want to install Bitdefender on the device you are currently on.
Click On another device if you want to install Bitdefender on one of your other devices (in this case you'll receive an email which you can open on the other device – the one you want to install the product on).
3. When clicking Download, the Bitdefender install agent will be downloaded. Run it and follow the on-screen installation steps.
To install Bitdefender from the Orbi app
1. Connect to the Orbi network, then open the Orbi app and log in using your credentials.
2. Scroll down and tap on the Security tab, then tap on Launch Armor Portal.
3. Click on the hamburger menu in the upper-left corner and select Devices.
4. Click on the INSTALL BITDEFENDER button.
5. A new window will pop up. You have two options:
To install Bitdefender on your current device
Click Choose product.
Select Bitdefender Mobile Security.
Then click on Go to Google Play | Go to App Store and install the app.
To install Bitdefender on another device
Click Want to protect other devices?
Select the operating system of the device you want to protect, then tap on CONTINUE.
Type an e-mail address accessible from the intended device, then tap on SEND.
An e-mail with a download link will be sent to that address. Click on the link, download the installer, run it, then follow the on-screen steps.
That's all! Your devices can now be protected from digital dangers!