Having two or more security solutions installed at the same time can have a negative impact on your computer. The symptoms may include but are not limited to degraded performance, system crashes, and software errors.
Before you install antimalware software, check to make sure you don't already have an antimalware product on your computer. If you do, be sure to remove the product you don't want before you install the new one. It can cause problems on your computer to have two different antimalware products installed and running at the same time.
---
During the setup, Bitdefender identifies other security products that were previously installed. To ensure these different security solutions will not cause difficulties, you will be advised to uninstall them.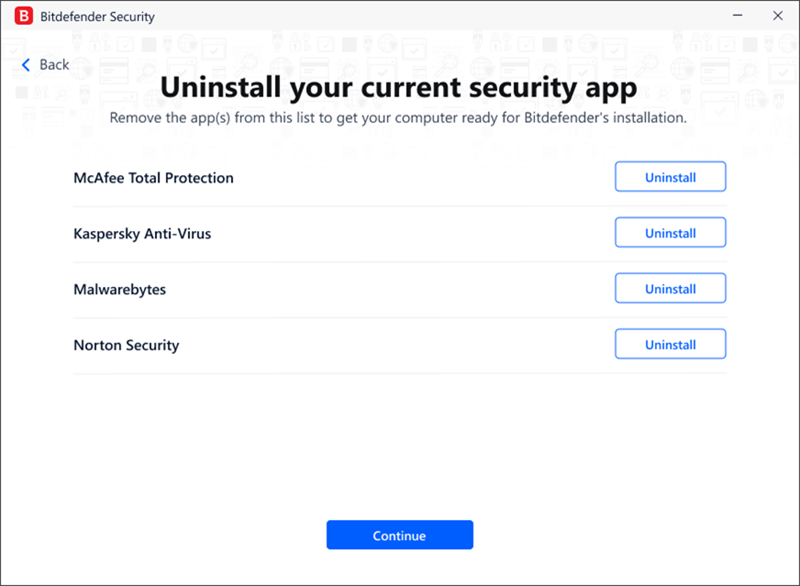 At this point, you may be tempted to keep all security solutions as a multi-layered defense mechanism.
In some cases, Bitdefender allows you to operate two or more security solutions on a single computer by loading only a stripped-down version: Bitdefender Security Lite. Those features that cannot work in parallel with another security solution will not be functional, though. This way you can use all security apps without system overkill. Bitdefender Security Lite will provide a minimal scanning, reserving your other security apps for actively monitoring the system.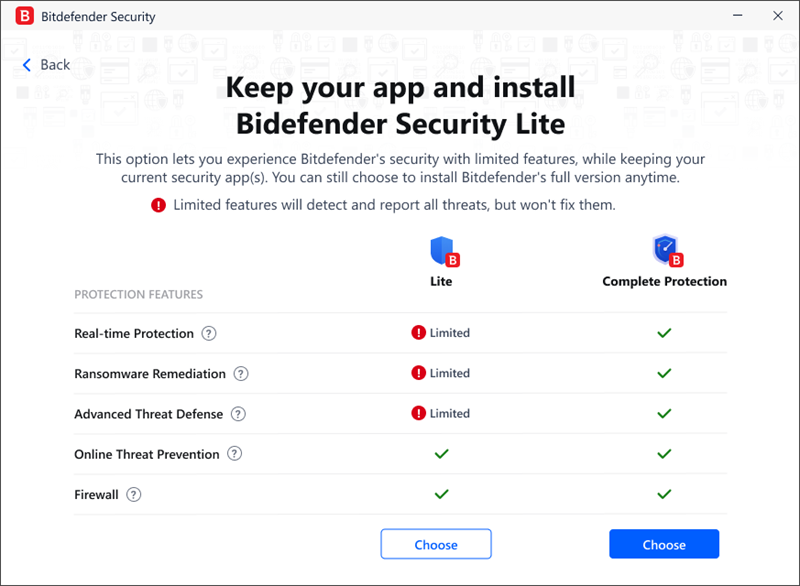 If you decide to keep the existing app and opt for Bitdefender Security Lite, the main Bitdefender interface will be marked with a label highlighting the fact that your device is not fully protected by Bitdefender as long as it's installed alongside another security product.
To unlock the missing features simply activate the protection directly from the product:
1. Click Activate Protection on the right-hand side of the Bitdefender interface.
2. Choose Continue in the Activate Complete Protection screen.
3. Select the Uninstall button next to each incompatible application from the list. 
Then follow the on-screen steps.