This step-by-step tutorial walks you through each section of the Bitdefender Identity Theft Protection dashboard to show you how to use all the features available.
To check your dashboard, start by logging into your Bitdefender Central account. Then click Bitdefender Identity Theft Protection in the left-hand navigation column, and you'll get to your dashboard homepage. The Hub is where you will see your latest alerts and get up-to-date information on how your services are working for you.
Quick access to a Dedicated Resolution Specialist is just a click away on the right-hand side of the Bitdefender Identity Theft Protection dashboard. As is Lost Wallet Assistance.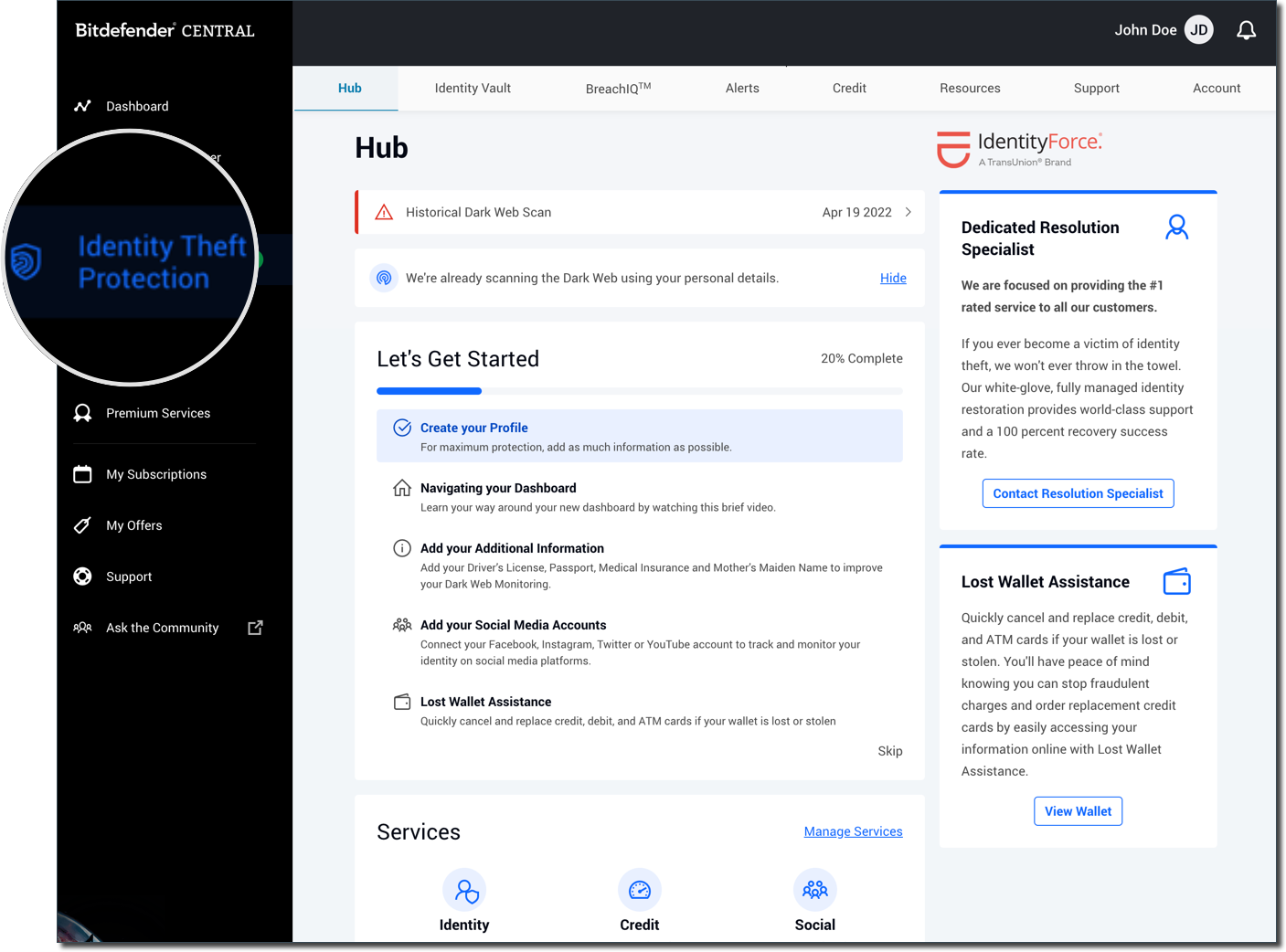 To clear alerts from your dashboard, simply view the alert details and click on the Archive button.
It's that simple! To drill down further into your dashboard, navigate to the top menu options:
IDENTITY VAULT houses information for Dark Web monitoring such as your Personal Information, Address as well as other items like your driver's license, passport, and financial accounts. Items can be added in your Lost Wallet file for easy access, including documents and images.
BREACHIQ is continuously monitoring your data for breach exposures. Here you can find out if your personal data has been leaked in a security breach together with an action plan to reduce your composite breach risk score.
ALERTS shows new and archived alerts, provides quick access to open a case with a resolution specialist, and gives details of any open or resolved cases. When activity involving your monitoring information is detected, you will receive a prompt alert via email and mobile push notifications. It is very important to pay attention to these alerts. If something looks out of place, it's the first indication that action must be taken to protect your identity.
You can view your alerts at the top of the Bitdefender Identity Theft Protection dashboard or by clicking the ALERTS tab at the top of the page. By clicking on an individual smart alert, you will see the details that prompted the alert, along with recommended actions to take under What Should I Do?
If you recognize the activity in the alert, you can select Archive, and it will be saved. If you do not recognize the activity or have concerns about the alert, click Open a case. Once you open a case, you can contact a resolution specialist who will work with you to alleviate any issues.
Bitdefender Identity Theft Protection alerts monitor:
Your Social Security number (SSN). Smart SSN Tracker intelligently alerts you to all of the names, aliases, and addresses associated with your SSN. If anything looks unfamiliar, it may be an indication of fraud. These smart SSN Tracker Alerts are delivered just like any other alert, which you can view from your Bitdefender Identity Theft Protection dashboard or under the ALERTS section. When you open your Smart SSN Tracker alert, it will show you everywhere and every one your Social Security number is associated with. It will also provide tips and actions you should take if something looks suspicious. For instance, if an unknown alias shows up in your alert, you should notify the credit bureaus immediately.
Change of Address. Criminals typically change the physical address of your mail to gain access to your personal information. They're after your credit card statements, bills, and other financial documents. For this reason, it's very important to monitor for change of address. We monitor and alert you if your mail has been redirected through USPS without your authorization.
Court Record. Our advanced technology has the power to search millions of criminal, court, and public records to make sure your identity is not being used by unauthorized individuals.
Fraud. We can help you place a fraud alert on your credit file. If your identity is at risk, this can prevent thieves from opening new lines of credit in your name.
Identity. Our online lifestyles leave us more vulnerable than ever to identity theft. We scour thousands of websites, black market chat rooms, blogs, and other data sources to detect the illegal trading and selling of your personal information.
Identity Threat. We keep you updated on major data breaches, identity theft incidents, and new identity theft laws. For example, if a department store has a breach due to theft, your information can be used to open credit cards, apply for loans, and worse.
Payday Loan. Sometimes a criminal will obtain a payday or quick cash loan using your social security number. These loans have incredibly high-interest rates and can really damage your credit and finances.
Fraud. You are promptly notified if your identity is being used to apply for a new credit card, wireless device, utility payments, check reorder, mortgage, or car loan application. This gives you the power to stop fraud attempts rather than having to react after the damage is already done.
Sex Offender. Bitdefender keeps a close eye on sex offender registries to monitor for illegal use of your identity. We conduct in-depth searches to find out if a sex offender fraudulently used your personal data as their registration information, or if a sex offender moves into your neighborhood.
CREDIT provides a breakdown of all areas that impact your credit as reported by the credit bureaus. This can include credit scores and reports. The credit score simulator estimates how your credit score might change based on potential financial actions. Using the simulator does not affect your actual credit score, so you can experiment with different actions to see the impact. Here you can also place a freeze on your Credit Reports
Our RESOURCES page offers several built-in calculators to help you analyze and project the impact of important financial decisions.
Our Education feed provides quick access to expert articles, webinars, and infographics filled with actionable tips and insights.

The Breaches & Scams tab highlights the latest data exposure you need to know about.

You can access standardized Forms and resources to help manage your identity.

Additionally, you'll also find useful resources for opting out of junk mail and telemarketing calls.
ACCOUNT stores your personal account information divided into 3 sections: My Account, Protection Plan, and My Services.
Go to the My Account section to edit your full name, primary email, and primary phone number. Down below, the Preferences area allows you to customize notifications. Your alerts are sent to the email shown there. You can also add your mobile number for alerts via text message. Here, you can also disable Alert Notifications and/or ID Crime & Breach News.
Finally, the SUPPORT page is where you'll be to access frequently asked member questions as well as our 24/7 support phone number. Useful if you suspect your identity has been compromised or have questions about your protection.