Dubai Police deploys real-life Robocop – "It won't ask for any sick leave or maternity leave"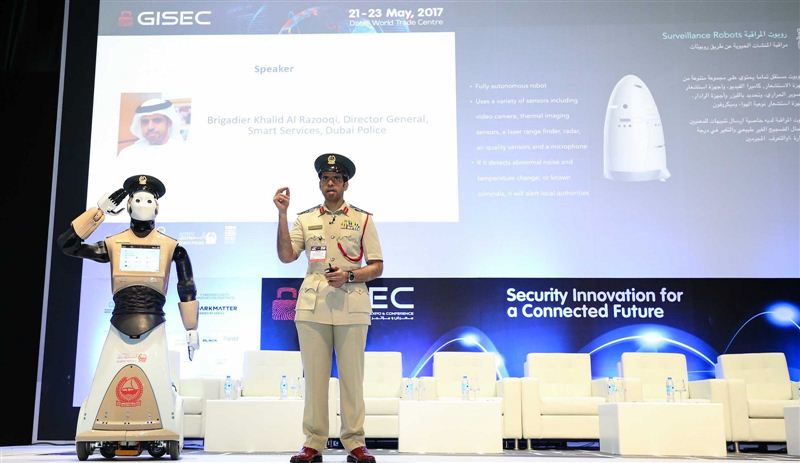 Dubai has deployed a real-life Robocop, instating a human-sized robot as lieutenant, with the mission to report crime, issue fines, and conduct friendly chats in Arabic or English.
Dubai law enforcement presented the robot at the Gulf Information and Security Expo and Conference last week, when it promoted the machine from cadet to lieutenant. Wearing a name tag reading "Dubai Police Robot" and one star on its shoulder strap, the robot was the main attraction on day one of the conference, according to the Government of Dubai Media Office, with "people crowded around, asking questions and taking selfies."
"This is the official launch of our first Robocop," said Brig Khalid Al Razooqi, Dubai Police director general of smart services. "Now most people visit police stations or customer service, but with this tool we can reach the public 24/7 and it won't ask for any sick leave or maternity leave."
Thanks to several built-in cameras, Dubai's Robocop will broadcast its surroundings in real time directly to the command and control center. Right now, the robot can only speak Arabic and English, but it will soon be able to chat in Russian, Chinese, French and Spanish, according to those familiar with the plans.
A manager with a telecommunications company who chatted with the robot was shocked when the "lieutenant" called him by name, without ever being acquainted.
"I was really surprised when it looked into my eyes and said, 'Hi, Mohamed'," said Mohamed Elnakib. "It was creepy but it is also the future. Then I realised it had read my name tag. This will be a fantastic addition because everything is moving towards doing more with fewer people."
The robot is a customized REEM, a full-size humanoid robot developed by PAL Robotics, a company specialized in biped humanoid robots based in Barcelona, Spain. On its website, the company, which refers to REEM as a "she," says the robot can be operated with an Android tablet, but can function properly without one. The machine can make a map and navigate autonomously, avoiding obstacles and finding the shortest path using its own judgment.
Dubai law enforcement plans to soon adopt robots that are even more advanced, including one measuring 3 meters (roughly 10 feet) in height that can carry heavy equipment and travel at up to 80 km/h (50 mph). It will reportedly tackle crime and misdemeanors. Unlike the REEM, this machine will have an occupant's seat, so it will be maneuvered by an actual police officer seated inside.
Such news usually sparks fears that robots will eventually replace people, costing jobs and dehumanizing society. However, Brig Al Razooqi assured everyone at the conference that, despite plans for 25% of the force to be robotic by 2030, the aim is to "relocate police officers so they work in the right areas and can concentrate on providing a safe city."
android
dubai
humanoid
IoT
robocop
robot