A predominantly Black college, based in Illinois, USA, is closing its doors after 157 years - citing the challenges it faced due to the Coronavirus pandemic, and the aftermath of a ransomware attack.
Lincoln College explained that it had managed to survive multiple catastrophes and challenges, including economic crises, a major campus fire, the Spanish flu epidemic of 1918, the Great Depression, World War II, the 2008 global financial crisis, but this time it was different.
The Coronavirus pandemic had forced Lincoln College to make large investments in technology and safety measures, at the same time as many students chose to postpone their education or take a leave of absence.  This, financial burden had come at a time when its fundraising activities were massively impacted.
The college did well to survive until the end of 2021.  But it was in December of that year that Lincoln College fell victim to a ransomware attack that "thwarted admissions activities and hindered access to all institutional data, creating an unclear picture of Fall 2022 enrollment projections."
According to the college's press release, the ransomware attack encrypted important data meaning that "all systems required for recruitment, retention, and fundraising efforts were inoperable."
As Lincoln College president David Gerlach told EdScoop last month, the ransomware attack meant that admissions applications could not be entered onto IT systems, and "you can't recruit students."
And although Lincoln College decided to pay a ransom to its attackers ("significantly" below the initial demand for US $100,000, according to Gerlach), the college's activities were still massively disrupted.
Systems were only finally fully restored two months ago, revealing that the college was mortally wounded:
"Once fully restored in March 2022, the projections displayed significant enrollment shortfalls, requiring a transformational donation or partnership to sustain Lincoln College beyond the current semester."
Efforts to strengthen its finances through a GoFundMe campaign seeking US $20 million, the selling of assets, and changes to staffing, have failed to generate the significant amount of money required to keep Lincoln College open.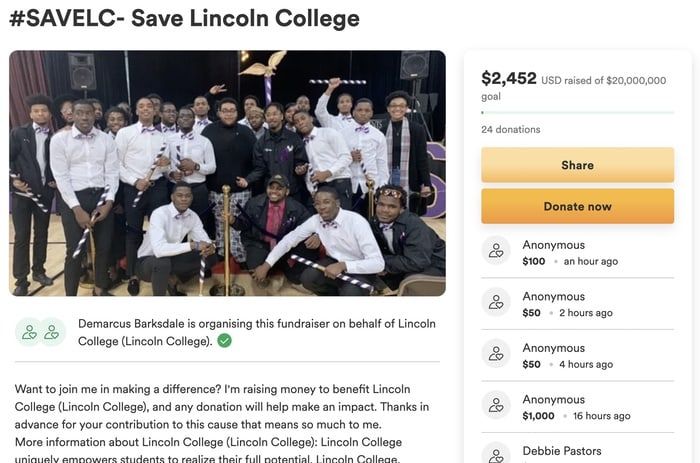 Gerlach said that "the loss of history, careers, and a community of students and alumni is immense."
Once again, ransomware attackers have proven that they care little about who their victims are, doing damage to struggling colleges just as willingly as they might attack a hospital, disrupting the education and careers of innocent and sometimes disadvantaged people.
It would be nice to think that stories like this would make cold-hearted cybercriminals think twice about what they do for a living, and find themselves a lawful job instead.  However, history has shown that many online criminals have no qualms about the damage they do, and who they do it too, just as long as they keep making money through unlawful means.