As Feb. 14 draws near, scammers are out in full force, love-bombing millions of inboxes with bogus Valentine's Day ads, promotions and online dating requests.
Many of the spam emails picked up by Bitdefender Antispam researchers this month offer discounts on luxury perfumes, floral arrangements, jewelry, male enhancement pills or supplements, adult toys and even seafood.
Although the emails may look legitimate at first, the bogus correspondence embeds images in the email body, a popular tactic used by spammers to bypass anti-spam filters that scan for text content.
Bitdefender Antispam Lab has been keeping an eye on Valentine's Day-related spam since the end of January. Here's what we've found so far:
Spam campaigns using this romantic holiday as a lure to scam unsuspecting internet were picked up as early as Jan. 28 by Bitdefender researchers
Despite a modest start at the end of January, Valentine's Day-related spam has increased seven-fold by Feb. 6 (see Fig. 1)

The US tops the spam list as the most attractive target for scammers on Valentine's Day, receiving 54% of the world's Valentine-related spam, by volume between Jan. 28 and Feb. 7, according to our spam telemetry (see Fig. 2). Up next is Australia with 13%, Ireland with 10%, Sweden and Romania with 4% each, the UK with 3%, Denmark with 2%, and Canada, Germany, South Africa and France with 1% each.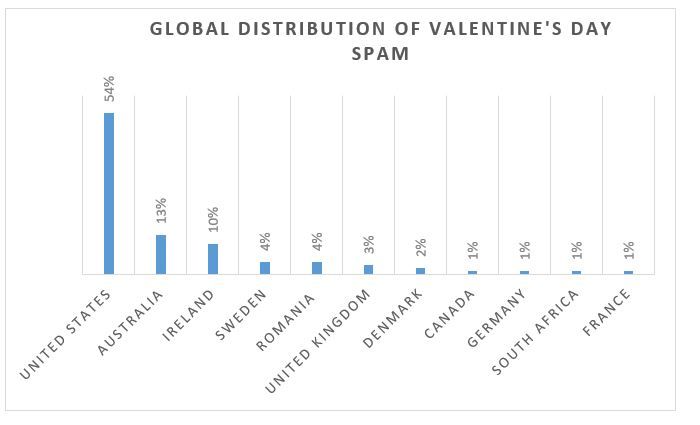 43% of the spam emails originate from IP addresses in Russia, while 37% seem to have been delivered from scammers in the US who are most likely to capitalize on consumer shopping behavior on Valentine's Day – with user spending expected to reach $23.9 billion this year, according to the latest National Retail Federation report.
Here's a list of the most popular shopping-themed spam subjects picked up by Bitdefender anti-spam filters by Feb. 7:
Give your valentine an unforgettable valentine's day gift
valentine's day is coming buy gifts for your wife or sleep on the ground is up to you
the perfect valentine's  day gift is here
show your love this valentine's day with the million roses
get personalized valentine's day gifts fast with 1-2 day shipping
exclusive offer 50 discount on a teddy bear
open your valentine's day gift from bank of America
valentine's  day flash sale up to 60 off
save 15 off your first seafood order this valentine's  day
We expect more and more spam campaigns to crop in the week to Feb. 14, and we urge all users to remain vigilant for phishing attempts via social media platforms and text messages.
Will you be my valentine?
Telemetry has also picked up spikes in online dating spam campaigns targeting internet users seeking a partner on dating platforms and websites. Below is a short subject list of dating email subjects sent by scammers in the first week of February:
will you be metro's  valentine
ukrainian girls are seeking for true love
you could find love this year
you have 87 rewards points will u  be our valentine
show your love for melania
meet your beautiful russian girlfriend today
attractive women looking for love now
fall in love this valentine s day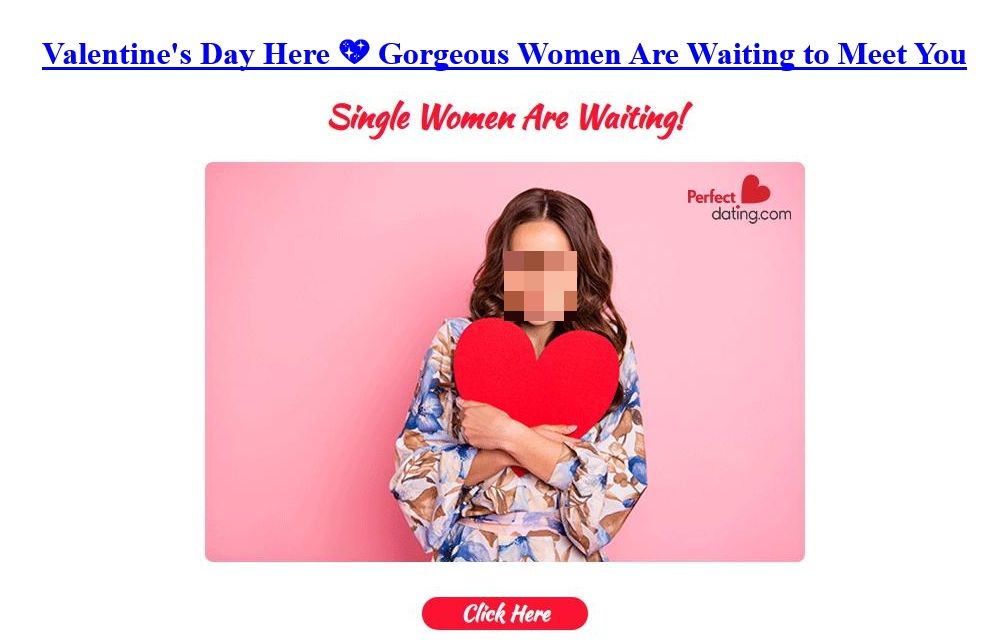 The scammers behind the campaign send out tens of thousands of requests for online dates using revealing photos and adult-themed content among other lures. Users who take the bait can find themselves in a very tight spot. Most often the scammer convinces victims to share sensitive information and photos that can be used in blackmail and extortion attacks or wire them money. However, the risks don't end here. Many of these bogus emails can lead recipients to malicious web pages that infect their devices with credential-stealing Trojans and other nefarious software.
Bitdefender's cyber safety guide for romance seekers and e-shoppers on Valentines
Annual celebrations such as Valentine's Day are highly anticipated events in this year's spam calendar for fraudsters and cybercriminals, and consumers looking for the perfect gift or seeking love online are prime targets. So, before you start searching for the best Valentines promotion or go looking for a date, consider these safety tips:
Don't open email attachments or access links promising you too-good-too-be-true deals or promotion
Research the retailer, brand name or offer online and look for any red flags and negative reviews from other shoppers
Always check for lookalike domains, spelling errors and unfamiliar email senders
Stick to renowned retailers and official webpages when browsing for gifts
Be cautious of people you meet online and don't share personal information
Avoid accessing connections requests from individuals you receive via email at all cost
Use a security solution to keep your devices malware-free
Don't let cyber thieves, heartless crooks and scams ruin your Valentine's day this year. Check out our best-in-class security suite to protect against malicious activity and fraudulent links no matter what device you're using to browse for gifts or look up any last-minute ideas. You can check out Bitdefender Total Security trial free of charge and enjoy 90-day of safe browsing with advanced anti-phishing and anti-fraud filtering systems that safeguard you from malicious links whether your using a PC or smart device.
You can check out our Bitdefender Total Security trial free of charge for 90-days here.
A small taste of Valentine's Day spam this year