Bitdefender Antispam researchers are constantly monitoring spam trends to keep you informed of the latest developments of malicious correspondence that threaten your privacy, identity and financial security.
Since Russia invaded Ukraine, digital citizens have seen their share of unsolicited emails, texts and other messages attempting to exploit the humanitarian crisis in the war-torn country.
In fact, exploitation of the steep escalation of the Russo-Ukrainian war began immediately after the invasion, with cybercriminals reacting quickly to capitalize on efforts to raise money to help Ukrainian citizens fleeing the country.
Now, nearly 18 months after the invasion, unscrupulous individuals still haven't stopped bleeding out the subject.
According to Bitdefender Antispam Lab researchers, the spammers are targeting users worldwide, with a clear focus on the US, UK and Denmark. However, Australia and other countries in Europe and Asia weren't spared.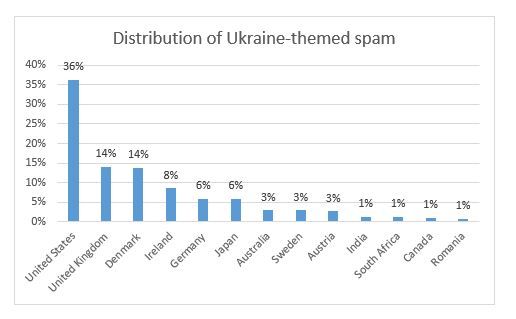 Over half of the fraudulent correspondence appears to originate from IP addresses in the US, with some campaigns also from IP addresses in Japan, the Ukraine, Taiwan, Ireland, Austria and Cameroon.
Here are the latest iterations of Ukraine-themed spam making the rounds of inboxes this July.
'We are very sorry for such spam! But the people of Ukraine need your support'
Charity crypto scams have been among the most dominant types of Ukraine-themed swindles targeting users worldwide during the war. The sample below is similar to previous scams reported by our researchers in previous months – urging recipients to donate crypto (as little or much as they can) to help the armed forces of the country.
A quick analysis of the bitcoin wallet shows a current balance of $506.60, however, the address has transacted over 67 times on the blockchain, receiving approx. $15,000 in BTC since its creation.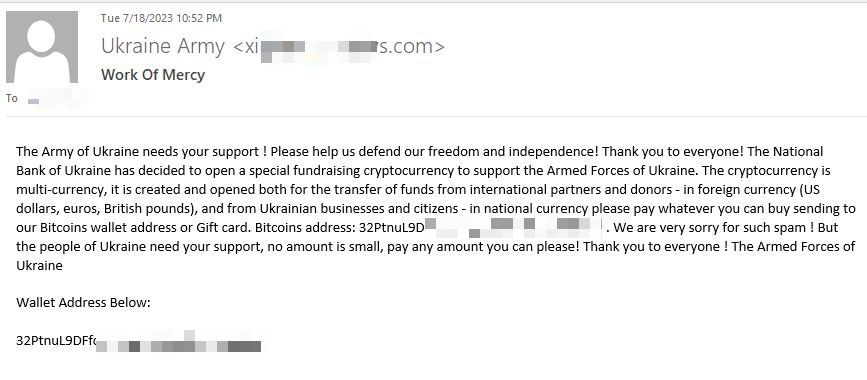 Advance-fee swindles prevail
As fraudsters worldwide continue to exploit the war in Ukraine, our antispam researchers noticed a sharp increase in advance-fee cons this month.
Here's just a small sample of advance fee swindles you need to look out for:
1. Military personnel with an interesting deal for you
In one version of the scam, an army captain based in Ukraine says that he needs help depositing a large sum of money.  Recipients are contacted by a high-ranking official in the Ukrainian army who found a "package containing american dollars in one of the bases" and needs help transferring the sum. The letter does not mention any particular amount, and the 'Captain' urges recipients to keep the correspondence a secret.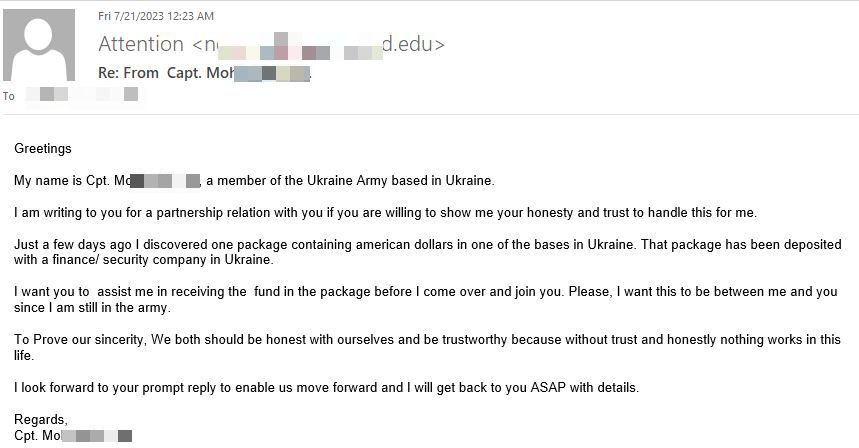 2. The businessman from Odessa
Fraudsters are highly creative in making up heartbreaking stories to con victims out of money and data.
In the version below, the scammer claims he is a businessman from Odessa who was evacuated from his hometown and is currently residing in a refugee camp in the city of Groningen in the Netherlands.
In this letter, he states that he needs a partner to help "transport" his investment capital and "then relocate". He mentions an investment fund of 25 million USD that he wants to invest in real estate properties outside the Ukraine.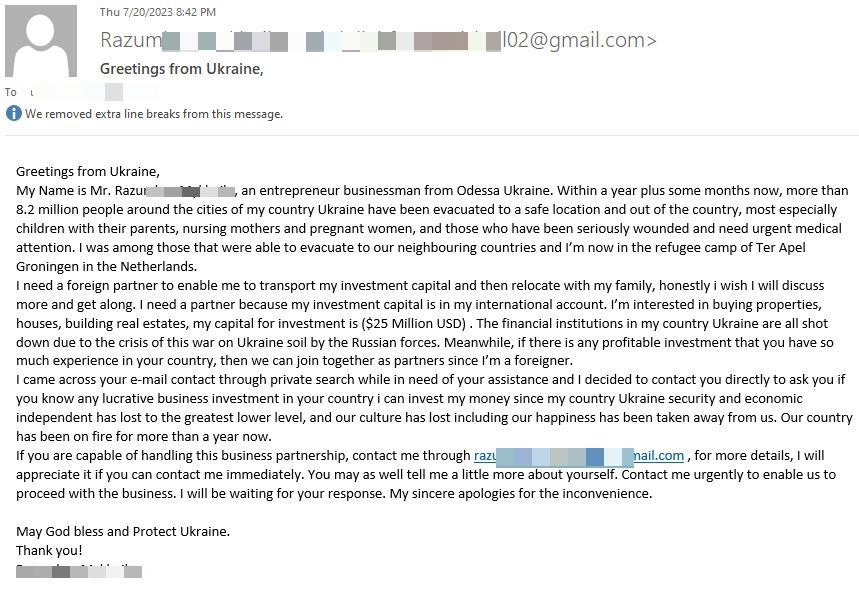 There are multiple versions of this scam, including another heart-rending letter where the scammer states he is very ill and wants your help to deposit his fortune and give it to charity after he passes.
The alleged merchant who is writing to you from his deathbed in Saudi Arabia also says he is contacting you because he no longer trusts his family after they refused to donate money to children's charities in Sudan and Somalia.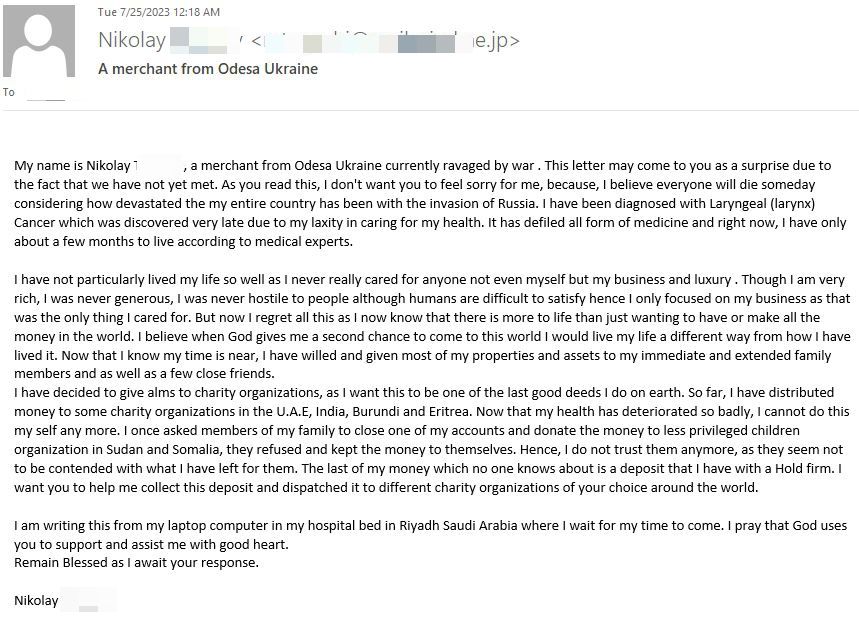 3. A business proposal from a former First Lady of Ukraine
Another swindle mentions an "extremely confidential" business proposal from the personal assistant and accountant of the "ex-wife of the fourth Ukrainian President" that will benefit both parties. Recipients are urged to contact the individual via WhatsApp or email.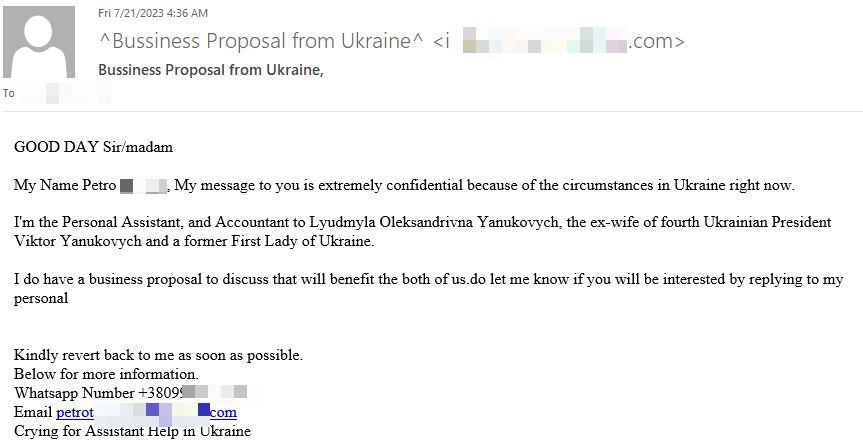 4. You struck gold
Other ruses include scammers telling recipients they need help delivering 100 kilograms of gold bars which can be sold on his behalf. According to the letter, recipients can also invest any proceeds to help the man relocate in their country.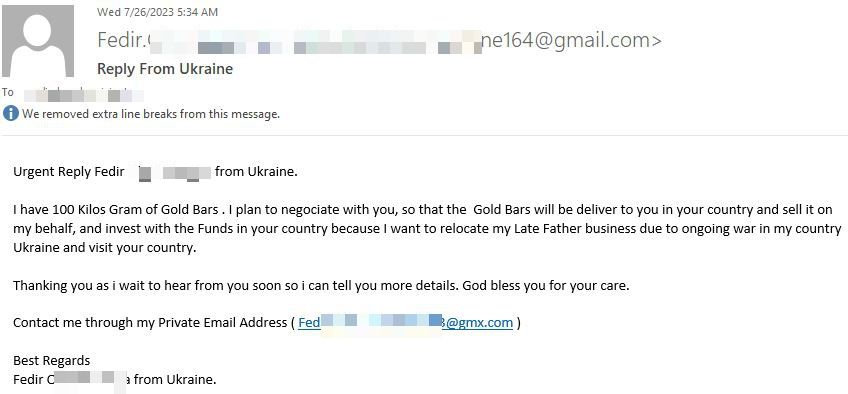 5. The kidnapped heiress
Another spam campaign tells the story of 20-year-old Ivana who lost her family in the bombardment of Severodonetsk. She states that her late father has over 15 million euros deposited in a "Mortgage and Financial Company" which she cannot access until the age of 24. Moreover, she says that she has been kidnapped by higher-ranking Russian officers who demand she give them the details.
Conveniently though Ivanna has access to her "nanny's laptop" and urges you to help her secure her family estates, for she will "surely escape one day."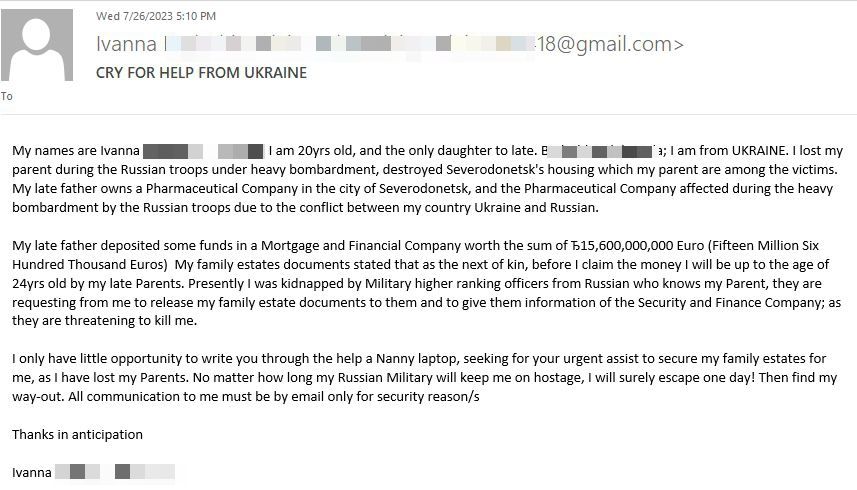 As usual, we encourage all internet users to closely inspect all communications regarding charitable organizations before making any donations and avoid paying in crypto, gift cards or wire transfers. If you don't know the sender, it's best to immediately delete the message and mark it as spam in your inbox.
For more tips, please check our dedicated guide.
Remember to stay tuned for more spam and scam trends on our blog!