As Russian state TV broadcast a military parade as part of Victory Day celebrations in Moscow, viewers of some channels were greeted by a message that certainly wasn't approved by Putin's propaganda machine:
"On your hands is the blood of thousands of Ukrainians and their hundreds of murdered children.  TV and the authorities are lying. No to war."
Programme guides shown online and on smart TV sets were compromised, by unknown parties thought to be hacking under the banner of Anonymous, to display the same repeated message.  A nuisance if you were trying to remember when the next episode of your favourite TV show was airing, and a nightmare for the Kremlin attempting to control what the Russian people hear about its invasion of Ukraine.
In addition, the names of Russia's three biggest TV channels (Rossiya-1, Channel One, and NTV-Plus) were changed in the programme guide by the hackers to reflect the anti-war slogan.
Even children watching TV were impacted, as one parent in the Siberian city of Tyumen reported:
"The [TV] provider 'delighted' my child with such a message on children's channels, and then it turned out that the same thing happened on the other channels. The message appears in the description of any programme."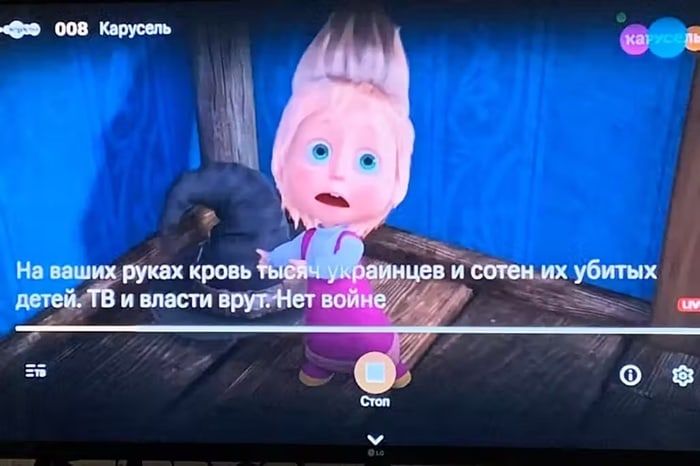 Even TV Zvezda, the TV channel run by Russia's defence ministry,  was said to have been impacted for those watching via Yandex.
One viewer described how the hack had lasted hours:
"The same s*** is happening there on every channel. It is not on all MTS channels but on many for several hours. I switched on the TV at 7am, it was already like that, and stopped only at 11."
Provider MTS acknowledged that hackers had caused the unauthorised anti-war message to appear on TV screens and listings:
"A cyberattack was carried out on Russian TV broadcasting channels, because of which subscribers could have extremist inscriptions in the broadcast grid. Now our IT specialists are promptly eliminating the consequences of hack so that subscribers can receive services and watch TV programs and movies as quickly as possible."
You can't help but feel that someone is likely to pay dearly as a result of this hack. In all likelihood it won't be the hackers who infiltrated the system and distributed the anti-war message, but whoever was responsible for securing the TV listings infrastructure.