CardioComm, a Canadian company which provides heart-monitoring technology to hospitals and consumers, has revealed that it has been forced to take its systems offline following a cyberattack.
The firm, which sells solutions for recording and analysing ECGs of cardiac patients, posted a curt message on a temporary landing page on its website.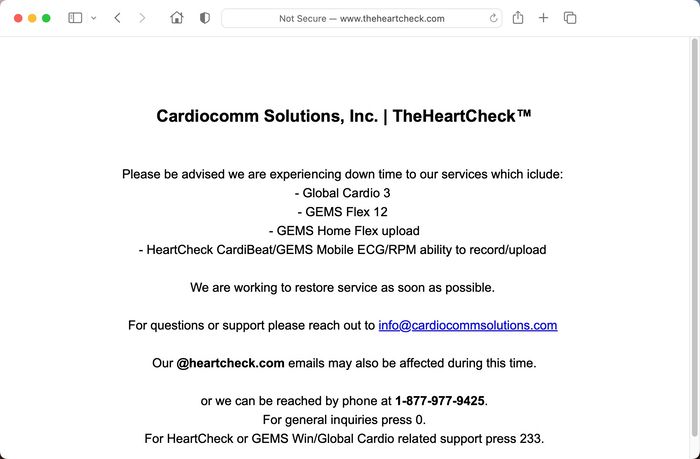 Cardiocomm Solutions, Inc. | TheHeartCheck™
Please be advised we are experiencing down time to our services which include:
Global Cardio 3
GEMS Flex 12
GEMS Home Flex upload
HeartCheck CardiBeat/GEMS Mobile ECG/RPM ability to record/upload
We are working to restore service as soon as possible.
The note goes on to explain that its email systems may also experience problems.
In a press release issued by the firm, CardioComm acknowledges that the cybersecurity "incident" it experienced will impact its business operations for "several days and potentially longer" as it attempts to restore its data and re-establish secure production servers.
CardioComm say as much in its announcements, but all the signs point towards the firm being the latest in a longer line of businesses to have suffered a ransomware attack. If that's the case then it's very likely that the reason CardioComm's systems are down is because the business itself decided to take itself offline in an attempt to contain the attack.
Of course, users of CardioComm's heart-monitoring services will be most worried about whether there is any chance that their personal information is now in the hands of malicious hackers.
According to CardioComm there is no evidence that any customer health information has been compromised by the hackers behind the attack, and that it does not collect patient health information from its clients.
It is, however, putting in place precautionary identity theft protection in case any personal data belonging to its employees has been compromised. LinkedIn currently lists 12 people as being employees of CardioComm.
The cyberattack comes at a bad time for CardioComm, which recently had trading in its shares suspended, and was ordered to cease trading by the Ontario Securities Commission. The company says that it will still apply to be reinstated for trading on the TSX Venture Exchange, but says that its filings will be delayed by the unexpected security breach.