Hackers hit White House staffer's Gmail account, raises security concerns by leaking sensitive emails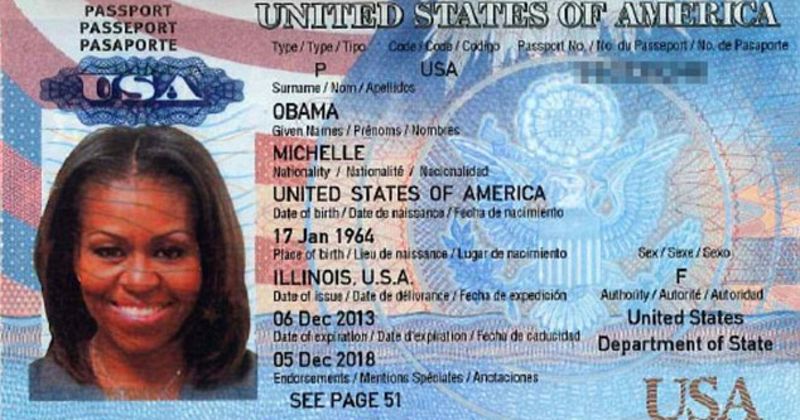 Is this a genuine scan Michelle Obama's passport that has been published on the internet?
DC Leaks, a site which has made the headlines in recent months by publishing the leaked email archives of high profile figures including billionaire George Soros and former US Secretary of State Colin Powell, has seemingly struck gold again – compromising the personal Gmail account of part-time White House worker Ian Mellul.
Why should that make headlines?
Well, Mellul has been actively working on Hillary Clinton's campaign to be the next US President, and has organised travel and events for – amongst others – First Lady Michelle Obama and Vice President Joseph Biden.
In one of the leaked emails there are 24 photographs of passports, including what appears to be Michelle Obama's passport, revealing her passport number, date of birth and other information.
Now, because Mrs Obama is such a high profile figure it's not as though it's any mystery what her date and place of birth is… but it's a vivid depiction of just how much harm could be caused if a hacker breaks into an email account.
Other documents released by DC Leaks show PowerPoint presentations outlining past trips by the Vice President, describing his planned route, who he will be meeting, and details of who we will be travelling with.
The big question on my mind is why is such potentially sensitive information about VIPs being glibly emailed via a free webmail service like Gmail?
You would like to think that anyone working in close proximity to the First Lady, the Vice President, and the potential next President of the United States, would be instructed to only use secure communications under the control of the White House's IT security team, encrypt sensitive conversations, and have their accounts hardened with technology such as two-step verification.
Quite how this Gmail account was hacked is currently a mystery, but it wouldn't be a huge shock if it was determined that its owner was duped by a phishing email or made the classic mistake of reusing a password that they use elsewhere on the net.
Users of Gmail – whether working for the White House or not – should enable two-step verification and check that their accounts are not forwarding messages to another account without approval.
It is also sensible to check that your Gmail account has not been set up to delegate access for someone else to read your emails on your behalf.
But really, when it comes down to it, your IT department probably wouldn't be happy seeing you using your personal Gmail account for work.
Some have speculated that DC Leaks might have links to Russian intelligence agencies, but as yet we seem to be no closer to confidently identifying who is taking such an interest in emails sent by White House staff.
tags
---
Author
---
---
Right now
Top posts
FOLLOW US ON
SOCIAL MEDIA
---