A nasty glitch hit ChatGPT this week, resulting in a number of chat titles leaking out to other users.
OpenAI's hugely popular chatbot is very upfront about its functionality, including the fact that it collects some user input to continue training the model.
Users are promised a sandbox to privately enjoy ChatGPT's impressively coherent conversational skillset and knowledge, complete with a chat history log. The model automatically generates titles to individual chats based on context. Users can return to those individual conversations and continue where they left off at any time.
Although an account is required to use it, ChatGPT has no access to personal information or account details. However, chat titles bear hints to the substance of the chats themselves.
On Monday, ChatGPT glitched and shared some users' chat histories with strangers – that is only the individual chat titles, not the content of the chats themselves.
An OpenAI spokesperson told Bloomberg that the titles were visible in the user-history sidebar on the left-hand side of the ChatGPT interface.
"The substance of the other users' conversations was not visible," the news network reported.
Users quickly took to social media to report their findings.
"One affected user shared a screenshot on Reddit depicting titles like 'Chinese Socialism Development,' as well as conversations in Mandarin," the BBC reported.
OpenAI shut down the service Monday morning immediately after learning of the reports.
"We had a significant issue in ChatGPT due to a bug in an open source library, for which a fix has now been released and we have just finished validating," OpenAI CEO Sam Altman tweeted. "A small percentage of users were able to see the titles of other users' conversation history. We feel awful about this."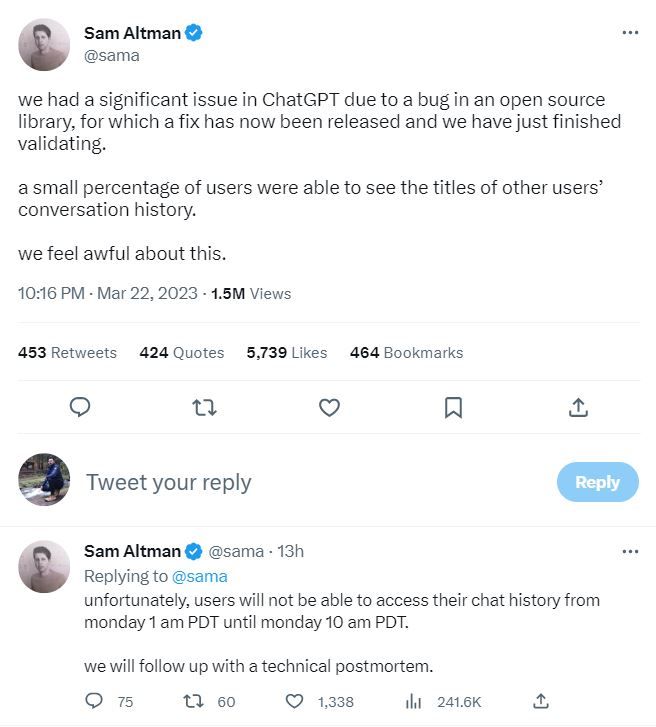 The OpenAI boss pledged to follow up with a "technical postmortem," but didn't say when this update might drop.
ChatGPT is now fully operational again, complete with chat history functionality.
OpenAI is reportedly still investigating to determine the root cause of the error.