AV-TEST, a leading independent tester of cybersecurity solutions, has just ranked Bitdefender as the top recommended choice for consumers for the second year in a row.
Every year, experts at AV-TEST evaluate all current Windows, macOS and Android security products, pitting them against each other in categories such as protection, performance and usability.
The cyber-test lab sits on a massive collection of malware samples so it can carry out accurate, non-biased tests against zero-day exploits, drive-by attacks, malicious downloads, malware-infected email, and other nasty threats. After12 months of individual testing, the experts compare the results and give each a score.
"When the AV-TEST Institute puts security products to the test in its lab, only hard facts and convincing results count," the institute said. "After evaluating all test findings from 2021, the results are now in for the best IT security products for consumer and corporate users."
Bitdefender takes home the gold
The institute notes that, while malware is only one of many tactical weapons cybercriminals use, it remains one of the most damaging – and security vendors must fend it off without fail.
Malware threats registered a 33% jump from 2020 to 2021, one of the sharpest increases of the past decade, according to the independent test lab.
Just like last year, Bitdefender's AV arsenal for consumers nabbed two prestigious awards this year:
Best Protection for Consumer Users: Bitdefender Internet Security
"For their exceptional performance in the category of protection against malware under Windows for consumer products in the test period of 2021."
Best Android Security for Consumer Users: Bitdefender Mobile Security
"For the best all-round protection of private mobile Android devices."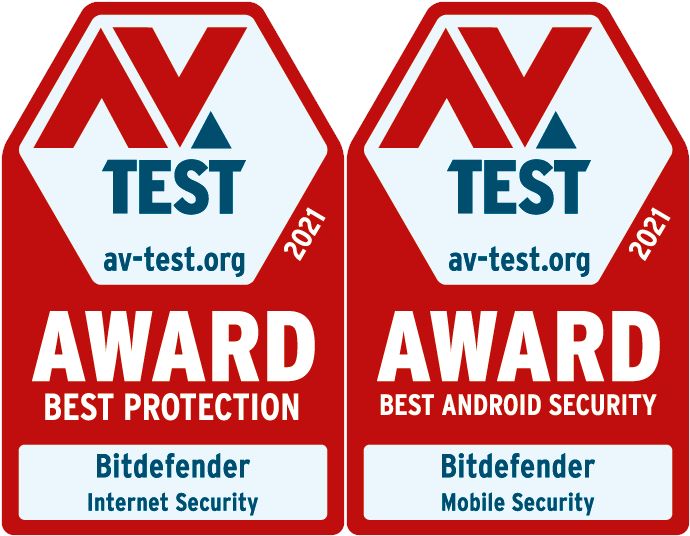 "The protection of Android systems has become much more important in recent years. After all, it has occurred to attackers that mobile Android devices are available around the clock and are thus a worthy target," the institute said.
Also for the second year in a row, the institute recognized Bitdefender as the go-to vendor for prospecting corporate buyers, giving GravityZone Ultra the Best Protection for Corporate Users award.
"Thanks to extremely reliable and outstanding threat prevention against malware in the category of corporate security solutions for Windows."
To learn more about Bitdefender's offering and to try our solutions for free, visit https://www.bitdefender.com/solutions/.
Stay safe!