The Internet of Things (IoT) is host to almost every type of device imaginable as long it's connected to the internet. Unfortunately, some hardware will always be less secure than others and will be vulnerable in a smart home. Our latest IoT report reveals a worrying trend about a group of devices that people won't immediately consider vulnerable: smart TVs.
Many people mistakenly believe they're not living in a smart home, imagining some futuristic house that talks back. The advent of smartphones, smart speakers, streaming devices, IP cameras, and many other devices has slowly turned traditional homes into smart ones without us even realizing it. And not knowing is what makes it even more dangerous.
For the past few years, some of the most vulnerable devices in modern smart homes have remained the same, with the list of vulnerable devices always topped by routers, IP cameras, network-attached storage (NAS), TVs and a few other products. In the past two years, two different device types have emerged from the pack. They are now likely the most vulnerable in our homes.
With great power comes great responsibility
While this sounds cliché, it is also true. In 2022, the most vulnerable devices in smart homes are smart TVs. The reason is simple: power. Smart TVs have become increasingly powerful, with lots of memory and capable CPUs, not to mention the switch to modern operating systems, which also hold some personal information because numerous online accounts are linked to them.
Attackers can use vulnerabilities to make TVs part of large botnets, launching DDoS attacks on companies and other organizations. Criminals can also use them to steal information or get a foothold into your home network.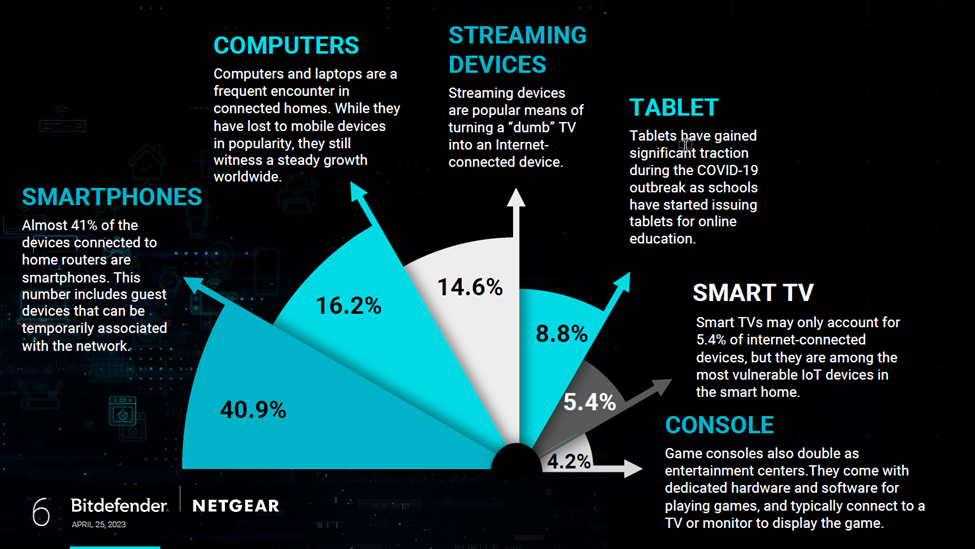 While smart TVs account for only 5.4% of the devices connected to networks protected by Bitdefender security solutions, they are responsible for 52% of all identified vulnerabilities. When such a small fraction of devices generate so much trouble, it becomes clear that the TV manufacturers have not prepared as they should for the wave of possible problems.
Smart plugs are the second type of devices that have become increasingly unsafe. It's easy to see why people might not consider them intelligent. In many cases, consumers connect them to networks and never recheck them, let alone perform updates to cover any potential vulnerabilities discovered in the meantime. There are less numerous than TVs, but they also account for 13% of all identified vulnerabilities.
These findings, and many others, are detailed in our free-to-download report that underlines many of the issues found in the Internet of Things ecosystem, including types of attacks and possible threats.