Some 47% of IT professionals are unable to monitor workloads across clouds, while 44% agree or strongly agree there is insufficient network control and monitoring in the cloud, according to a Bitdefender survey on US IT decision makers.
Main security issues after migrating to a hybrid infrastructure are: lack of visibility (51%), lack of policies (41%), and access from unauthorized devices (34%).
Accessing any type of data, whether stored in the private or public cloud, needs to be done via multiple authentication mechanisms, Bitdefender's security specialists recommend. These should involve a lot more than just usernames and passwords. For access to critical data, two-factor or even biometric data could offer additional control and authorization of qualified and accepted personnel.
Only authorized personnel needs access to critical and sensitive data, and only by adhering to strict security protocols and advanced authentication mechanisms. Besides two-factor authentication, even two-person authentication could be set in place for critical systems, similar to financial institutions where large transactions must be authorized by two or more individuals.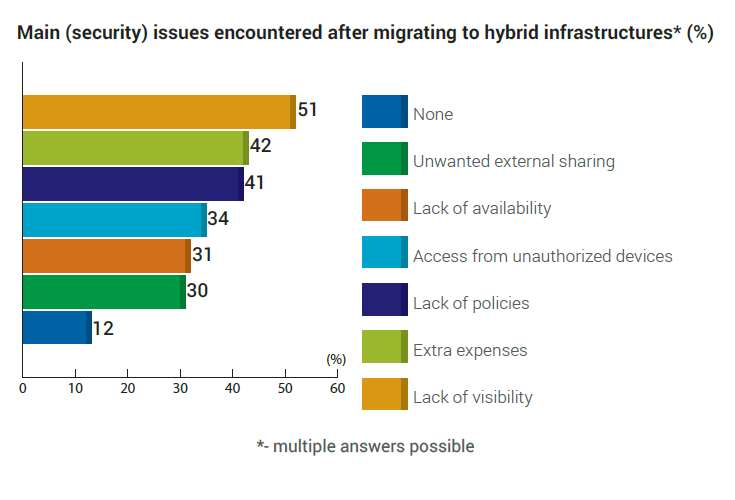 Surprisingly, extra expenses are also perceived as a security issue, despite a lack of direct connection between the two, but many IT decision makers fear their budget is insufficient to fight, detect, or prevent all cyber threats or that it could not accommodate future expansion, while some even admit they are understaffed. This way, extra expenses may soon turn into future security issues.
Gartner recently predicted that the cloud will most commonly be used in a hybrid manner by 2020, according to a report cited by Business Insights, emphasizing that operating entirely off the cloud will largely disappear by the end of the decade.
Previous surveys have shown that:
With cloud adoption becoming a reality for an increasing number of companies, most companies admit having experienced cloud security incidents – almost half of the reported incidents are related to unwanted external sharing and involve access from unauthorized devices.
For many companies the primary reasons for selecting a particular cloud provider are efficiency (41 percent of respondents) and cost (37 percent), followed by reputation and customer service. Security comes only fifth.
Read the full white paper here.
Methodology
This survey was conducted in October 2016 by iSense Solutions for Bitdefender on 250 IT security purchase professionals (CIOs/CEOs/ CISOs – 26 percent, IT managers/directors – 56 percent, IT system administrators – 10 percent, IT support specialists – 5 percent, and others), from enterprises with 1,000+ PCs based in the United States of America.
More than half of the organizations surveyed are from the IT hardware and software / electronic and electrical engineering industries, while 24 percent are from manufacturing, 6 percent from transportation, 4 percent are providers of telecommunication services, 4 percent are utility or public services companies, and the rest come from construction, retail, distribution, media or other industries.
Some 62 percent of the organizations surveyed have over 3,000 employees, 14 percent between 2,000 and 2,999, and 24 percent between 1,000 and 1,999.
Regarding IT infrastructure development in the organizations, 39 percent of the companies have 3,000+ computers, 21 percent between 2,000 and 2,999, and 40 percent between 1,000 and 1,999. The average proportion of employees working on computers in the organizations surveyed is 74 percent.
Geographically, a third of the organizations are in the West, 30 percent in the North-East, 28 percent in the South and 11 percent in the Mid-West.