As one of the most anticipated events in the cybersecurity calendar, Infosecurity Europe brings together professionals, experts, and thought leaders from around the world to discuss the latest trends, challenges, and solutions in the field of information security.
Infosecurity Europe 2023, taking place at ExCel London on June 20th-22nd, aims to address the ever-evolving landscape of cybersecurity threats and offer practical insights to help organizations protect their data and systems. With a comprehensive lineup of keynote speakers, interactive workshops, and panel discussions, attendees can expect to gain valuable knowledge and network with industry peers. We are ready to share the latest insights from the cybersecurity world and arm you with the hands-on information to show you how we can help you improve your cyber resilience.
Meet with Bitdefender product experts
This year's conference will focus on key topics such as cloud security, data privacy, threat intelligence, and incident response. Industry leaders will share their expertise and provide strategies for safeguarding organizations against cyberthreats, ensuring compliance with regulations, and building resilient security architectures. Don't miss the chance to spend some time with Bitdefender security specialists at stand Q20 to learn how to become resilient against evolving threats. 
Bitdefender will have a team of product experts in our stand at the event, giving insightful presentations on a wide range of topics throughout the day. Be sure to sign up for our session, on day 1, Wed, 21st of June, where Richard De La Torre, Technical Marketing Manager, will host a hands-on session on the Top 5 Ransomware Myths.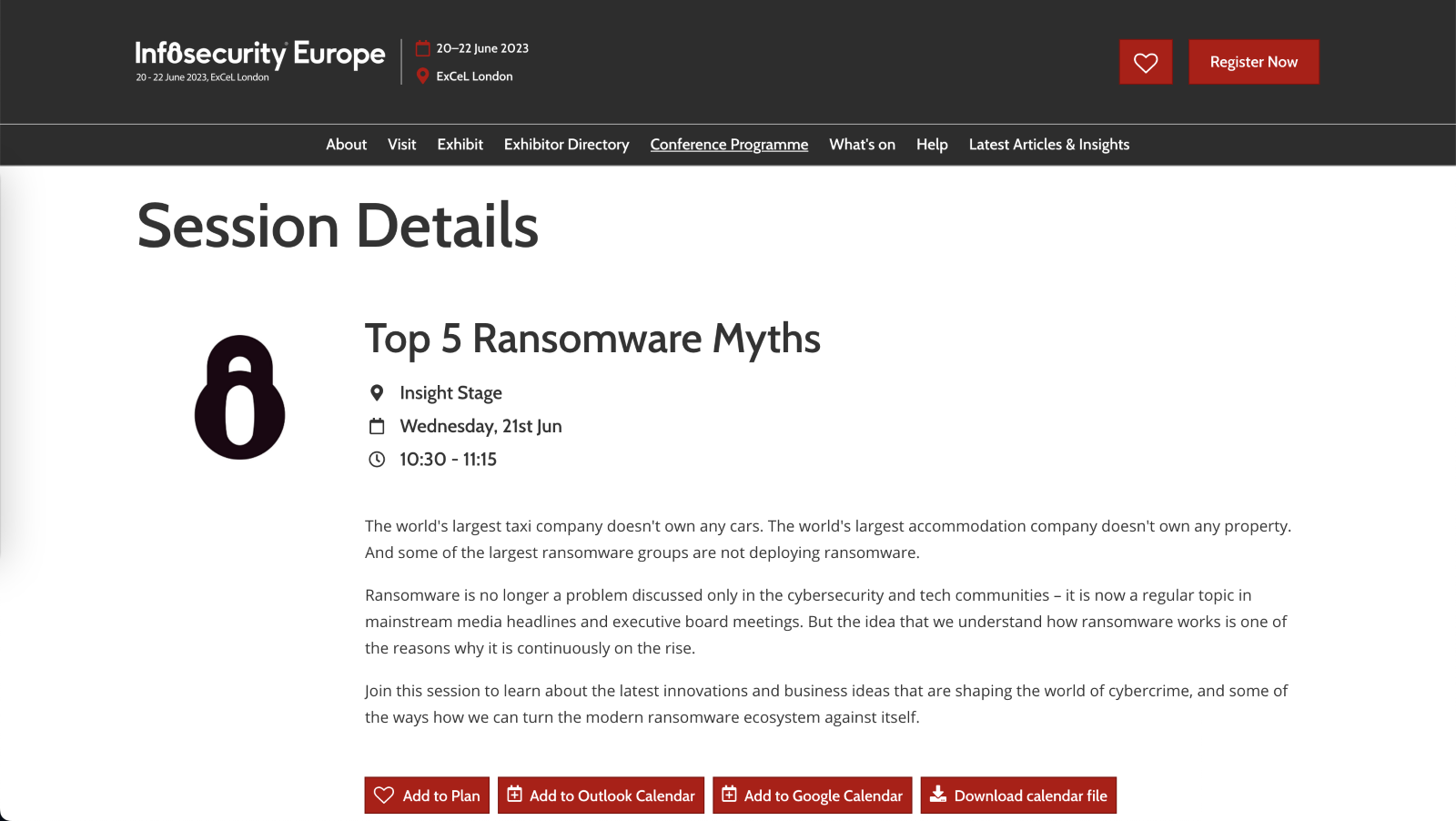 In addition, we'll explore different topics such as "Are Humans Really the Weakest Link?". In this presentation, we'll explore how cyberattacks are becoming a lot more complex and multi-tiered. With the emergence of AI tools, cybercriminals have more weapons at their disposal to launch clever phishing campaigns, double and triple extortion attacks, crippling ransomware, and more. Organizations feel more pressure from regulatory bodies and cyber-insurance requirements to better secure their systems and networks. Our session covers why detection capabilities, specifically XDR and MDR as a service, are paramount to staying secure in the current threat landscape.
Test your skills with a racing simulator!
Infosecurity Europe is not just about thought leadership and the latest technologies – if you would like to test your skills on the track, stop by our stand to drive a racing simulator! Climb into the cockpit, grab the wheel, and feel the vibration of the engine while you race around the track. Experience a 32" curved gaming monitor and a subwoofer under the seat to be immersed with the sound of the car. The only thing missing is the smell of the tires against the asphalt.
Test your racing skills against the performance recorded by Scuderia Ferrari drivers Charles Leclerc and Carlos Sainz on official circuits and make your mark.
Book a meeting with us
Schedules fill up fast, so do not wait to book a meeting with one of our Bitdefender experts in ExCel at stand Q20 to discuss your cybersecurity initiatives and how to make your organization more cyber resilient.