Bitdefender's business security solution continues to receive top independent recognitions. This time, Forrester recognized Bitdefender with the position of a Leader in The Forrester Wave™: Endpoint Security, Q4, 2023. These evaluation results serve as a reminder for us that Bitdefender remains singularly focused on bringing top-rated cybersecurity solutions and services to organizations of all sizes. Readers can access a complimentary copy of the full report via the link at the end of this writing.
Evaluation Methodology
We believe achieving the recognition of being named a Leader speaks volumes about our relentless commitment to excellence in the face of stiff competition. To reach their rankings, Forrester used a 25-criteria evaluation that covered everything from the technical details of each vendor's current offerings to their strategy and market presence. The evaluation focused primarily on each vendor's capacity to deliver strong endpoint prevention results. Forrester noted that having strong prevention allows security analysts to focus time on investigating how the threat penetrated other lines of defenses instead of concentrating their efforts on remediation.
Another area Forrester took into consideration for ranking each vendor is the ability to deliver consolidated tools to security analysts. Managing a number of disjointed tools not only introduces potential security gaps but also amplifies analyst fatigue. Security tools often bring their own learning curve, dashboard, and alert system, leading to an overwhelming barrage of data which teams must manually assemble. This overwhelming burden can obscure critical threats and reduce the efficiency of threat response.
Forrester also considered each vendor's capacity to deliver tools that offer a seamless transition to endpoint detection and response (EDR) or extended detection and response (XDR) for organizations. Though the focus of the evaluation is prevention and protection, Forrester recognizes the importance of threat investigation for organizations. Given the complexity of modern cyber-attacks, EDR and XDR provide invaluable insights for threat analysis. These technologies empower organizations to detect, investigate, and identify weak links in their security stack. As the Forrester report noted, "...buyers should prioritize endpoint security solutions that allow them to easily migrate to an endpoint-centric security analytics platform without reconfiguration or changing the endpoints over solutions that require broad environment changes."
Using these key areas as a foundation for the evaluation, vendors are categorized as one of the following: Leaders, Strong Performers, Contenders, and Challengers. Details of the Forrester Wave methodology can be found on their website.
A Strategic Visionary in an Evolving Industry
In the evaluation, Bitdefender was classified as a Leader. Diving into the evaluation details, readers will observe Bitdefender received the highest scores possible in ten criteria, including malware prevention, and patching remediation. In our opinion, these scores reflect an integrated, holistic approach to endpoint security.
In the report, Forrester acknowledges that "Bitdefender differentiates with its aggressive prevention-first mindset." The report notes our breadth of endpoint control functions, our strong cross-Operating System capabilities, including mobile threat defense, and our integrated patching and vulnerability management capabilities. Forrester also notes that Bitdefender offers one of the most flexible pricing models and reference customers highlighted the excellent personal service.
Bitdefender received a 3.7 out of 5 in the Current Offering category and the highest possible scores in the criteria of Malware prevention, Exploit prevention, Identity protection, Network Threat Detection, Attack Remediation, Vulnerability Remediation, and Patching Remediation. We believe these scores speak to the quality and depth of our consolidated solutions.
Bitdefender also tied for the second-highest score in the strategy category at 3.9. Within the strategy category, Bitdefender received the highest scores possible in the criteria of Innovation, Adoption, and Pricing Flexibility and Transparency. The results underscore for us our dedication to delivering robust, user-friendly, and cost-effective solutions tailored for today's businesses.
Forrester also cited our heavy investments in research and development. These investments, spearheaded by our Bitdefender Labs team, allow Bitdefender to innovate with technology like proprietary tamper-proof Ransomware Mitigation and system-wide Integrity Monitoring.
More than Just Prevention
Beyond Bitdefender's top-tier prevention functionalities, with GravityZone we offer a seamless transition to EDR or XDR, crucial in an era of sophisticated cyberattacks headlined by frequent data exfiltration, spear-phishing, and ransomware attacks. With Bitdefender GravityZone, organizations of all sizes can easily adopt XDR capabilities, providing comprehensive protection across diverse sources of security data. GravityZone XDR extends its reach to safeguard systems, productivity applications, cloud workloads, identity, and network infrastructures. It consolidates defense mechanisms and provides a well-rounded approach ensuring consistent monitoring, rapid threat detection, and streamlined response to cyberattacks. Bitdefender's solutions help foster an environment where businesses can operate with confidence and agility.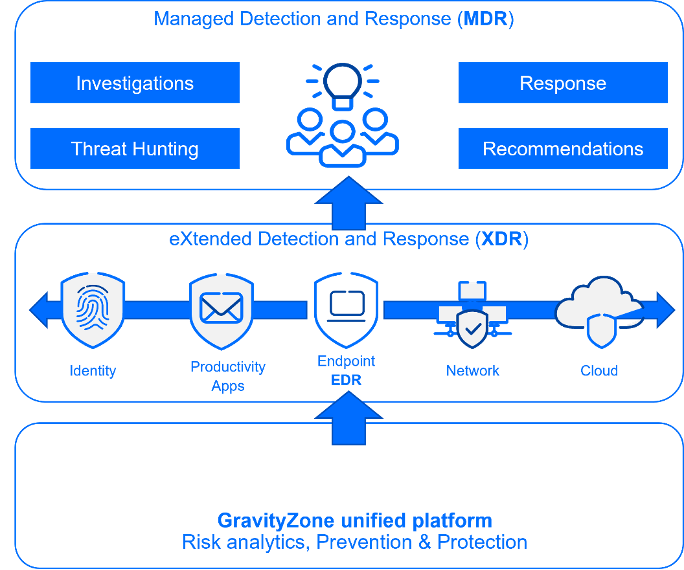 Bitdefender GravityZone offers a robust, consolidated solution to modern security risks.
Conclusion
As you continue to consider your next endpoint security moves keep in-mind that with Bitdefender, you're not just opting for a product; you're embracing a consolidated platform that is future-ready and leverages uncompromising security. Bitdefender, with its recognition as a leader in the Forrester Wave Endpoint Security Q4 2023 evaluation, has for us, showcased its prowess and commitment to these objectives.
We believe the Forrester recognition reasserts Bitdefender's position as a leader in independent reviews alongside other notable achievements such as: being a Strategic Leader in the AV-Comparatives Endpoint Prevention and Response test, achieving the maximum score in AV-Comparatives APT test, achieving analytic detections of all attack steps in the recent MITRE ATT&CK evaluations , or recently being named a 2023 Gartner Peer Insights™ Customers' Choice for Endpoint Protection Platforms in EMEA.
Find out more about how the 13 endpoint security providers that matter most stack up. Download your complimentary copy of the Forrester Wave™: Endpoint Security, Q4 2023 report.
---
As a proud sponsor, Bitdefender invites you to Forrester's Security & Risk event in Washington D.C. on November 14-15—stop by our booth to explore how our industry-leading endpoint security can fortify your defenses.