Bitdefender
Total Security 2015
Product help and information wiki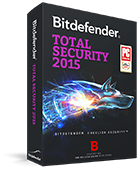 The most probable cause for the below error message ("Bitdefender setup has encountered an error") is corrupted permissions of your operating system. Here ...
Read more
---
Here are the steps to install Bitdefender 2015 using the offline installation kits: 1. Use our uninstall tool in order to uninstall/delete any previous Bitdefender ...
Read more
---
1. If you installed another Bitdefender product than the one you have the license key for, Bitdefender will notify you that you have the wrong product installed 2. Bitdefender ...
Read more
---
If you need to remove your Bitdefender 2015, follow these steps: In Windows XP: 1. Click Start, go to Control Panel and double-click Add / Remove programs. 2. Find Bitdefender ...
Read more
---
If you have purchased a license key for more than one computer, you can use the same license key to register a second PC. To install Bitdefender correctly on a second computer, ...
Read more
---
Installing the latest version of your Bitdefender product is an important step to ensure that your computers are protected by Bitdefender. Important: If you ...
Read more
---
To repair your Bitdefender 2015 product follow these steps: 1. Press the Windows Key and the R key together on your keyboard. 2. Type appwiz.cpL in the command ...
Read more
---
Make sure that the computer where you plan to install Bitdefender 2015 meets the minimum system requirements. If the computer does not meet all the minimum system requirements, Bitdefender ...
Read more
---
In some cases, one might encounter difficulties when trying to install Bitdefender on a computer that is also running the ASUS AI Suite software (the computer might freeze or a BSOD ...
Read more
---
In very rare cases, you might encouter situations when Bitdefender doesn't run perfectly flawless. In order to troubleshoot and solve any issues that may appear with Bitdefender ...
Read more
---
Note: The links below are for removing other security solutions prior to installing Bitdefender on your system. If you experience issues using any of the tools below, please contact ...
Read more
---
This error message may occur on 64 bit operating systems when the Microsoft Visual C++ Redistributable Package is not properly configured. You can find below the procedure for ...
Read more
---
If you receive one of the above mentioned error messages while trying to install Bitdefender 2015 please follow the guidelines below: A.Make sure your computer meets the minimal ...
Read more
---
In some situations, you may need to reinstall your Bitdefender product. Typical situations when you would need to reinstall Bitdefender include the following: you ...
Read more
---
The main reason for using a security solution is to provide protection and safety for your data. But what happens when you have more than one security product on the same system? When ...
Read more
---