Author: Cristina Nica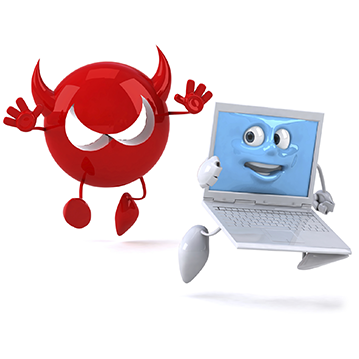 As you may know, a malware is a software that has a bad intention as far as your personal information, computer and even your operating system are concerned. This is why Bitdefender, as well as the Bitdefender Tech Assist geniuses are continuously fighting against it. But let's get a bit behind the terminology and behind how to recognize different types of infection.
Let's say that your IT person tells you that you have a Trojan infection. Or perhaps a Ransomware. What does it mean? In this article we will go around the most common types of malware and let you know a bit about them.
Adware – this type of malicious software is the kind that prompts you over and over again with ads, trying to make you purchase the full version of it or something else.

You know that you have adware on your computer if:


You have no idea how the software that bugs you continuously appeared on the computer since neither you nor other computer users has installed it;
You notice pop-ups and advertisements coming up when you are using an application with which previously you did not encounter such issues;
Your browser has been hijacked with different unknown search engines, different homepages and redirects from normal websites to conspicuous ones;
You cannot seem to uninstall the bad software whatever you do and no matter how many ways you try;


This type of malware is bad for your computer- since it can slow it down drastically, but also for your internet connection since it uses all your bandwidth to download the advertisements. But most of all, it gets right to our nerves! Bitdefender can always help with these types of programs, so if you think you might be infected with such a malware, get Bitdefender installed and get it scanning.

Backdoor Trojans – this type of malicious software can allow its creator or owner to access your computer via Internet without your knowledge or consent. You can only deduct from here why this is a very bad infection to start with.

For starters, you can get this type of infection in many ways: Let's say you access a spam email that carries such infections, or that your long lost friend sent you an .exe image which is actually an executable. Ex: cute_kitty.exe is definitely not an image since it is not saved as a .jpg, .jpeg or any other accepted image format extension, but as an .exe – executable file.

Once the Trojan is accessed and ran, it adds itself as a startup item on your computer and is loaded each time Windows starts. In consequence, as soon as the computer hooks itself to the Internet, the person who created the Trojan can take full control of your computer and uninstall programs, get activation information, get license keys for paid programs, access your private information and so many more other bad actions.

To make sure that you are fully protected from this type of malware you need to ensure that all your systems are up-to date (Windows, Java and any other program that provides vulnerability to exploits) but also run a stable antivirus that contains a Firewall. A Firewall can prevent the Trojan to access the Internet, thus getting rid of the main fear that this type of infection brings.

Fake-Antivirus Malware – an infection that tricks you into believing that your security solution has found a bunch of malware and needs more money to clean it.

It can look like an antivirus, it can even sound like an antivirus, but as sure as air, it is not an antivirus. Let's say that the free antivirus that you got online and that swore to protect you at no additional cost is now jumping up and down on your screen asking for registration and additional fees. This is most commonly known as a Fake-Antivirus or scareware. Its purpose is to trick you into believing that your computer is infected beyond hope so that you purchase their full version to clean it up.

It actually isn't. When a well-recognizes antivirus software provides you with a free version of it (careful FREE, not TRIAL) then it is bound to be free forever after. So when you see that this is not the case, then you might as well get worried.

Usually this malware gets installed from malicious websites and gets the form of an antivirus scan that prompts you that there are many infected programs that need cleaning. Usually, this is just an .exe that start when Windows starts up and if you disable it you can simply delete it and that's it. But nowadays, fake antivirus malware can also be joined by Trojans for a better exploitation.

Make sure to have an up-to-date antivirus on your computer and you will be just fine.

Ransomware – this is a type of infection that does not allow you to access your files or computer until you pay a "ransom" for it.

Unlike previous types of infection that can only corrupt or delete data from your computer, the ransomware simply holds it captive under a password until an amount of money, usually referred to as a "fine" is paid. Once you pay, you can be within the lucky few who actually get a password and retrieve their data, or just like the majority with a whole in your pocket as well as in your data files.

The password for this malware is usually stored in the code of it. It can be retrieved my malware analysts after an inspection but more and more ransomware that use an asymmetric encryption (there is one password to encrypt the data – which is stored in the code, but a completely different one to decrypt it) are released.

There can be many types of ransomware that could ask different things of you in exchange of the data. Make sure to never pay for these scams but contact your antivirus provider.

Rootkits - these types of infection are widely-spread and usually act as a cover for bad processes that are running.

The whole purpose of a rootkit is to hide the malicious programs that are running and performing bad activities on your system (data collection, identity theft and so on). This is why, when you get infected with different types of malware, you most likely also have a rootkit that hides their activity on your system. If you do not have an antivirus installed, you'll most likely never know that you are infected until it is too late.

For this reason, as well as all of the above, we suggest that you keep an updated antivirus installed on your computer as well as feel free to contact your antivirus provider whenever you feel that some illicit actions are done on your computer.

When your PC is acting up, call Bitdefender Tech Assist. We are a team of computer experts, always available to give full personal attention to your PC needs. Tech Assist is available 24/7.

Ps: If you like this post, you might also like How to remove a fake antivirus infection and How to remove the "Police-themed" Ransomware.