Preventing Downadup infections - best practices
1. Make sure the operating system is updated. To check for the latest Windows updates and patches please use the link below:

http://update.microsoft.com/windowsupdate/v6/default.aspx?ln=en-us
2. Make sure the Bitdefender product is updated (both product update and signatures update).
3. Set a strong password for all your Windows accounts. More information available here:
https://support.microsoft.com/en-us/instantanswers/9bd5223b-efbe-aa95-b15a-2fb37bef637d/create-a-strong-password
4. Make sure the Bitdefender is set to scan all the files. To do so please go to the Antivirus module, select the VShield tab and click the "Custom Level" button. The "Scan all files" option under the "Scan accessed files" option should be checked as shown in the screenshot below: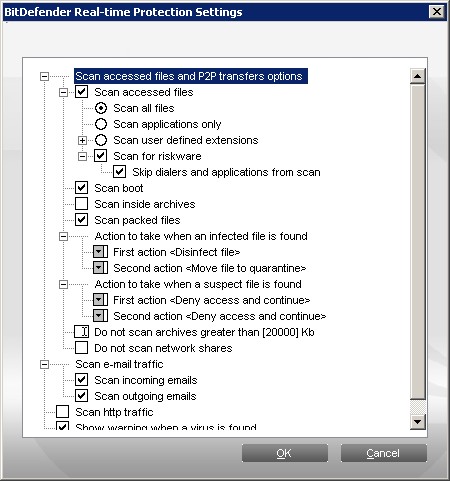 5. Schedule a system scan at least once a week and restart the computer after it is completed.
6. If you have configured the real time protection or the on-demand scan to except any sub-folder of the "My Documents" or the "C:\WINDOWS" folders perform a contextual scan at least once every 2-3 days.
7. Make sure the patch available at this Microsoft KB article is installed.
8. Make sure to scan any memory stick before attempting to transfer data to or from it.
9. Consider switching the Bitdefender Business Clients in your network to the "Restricted Desktop" mode to prevent users from altering the Virus Shield settings (or disabling it).
If after following the steps above you still suspect your machine is infected with Downadup please try to open the Bitdefender site on the affected machine. If the page can be displayed the computer is not infected.
Can't find a solution for your problem?
Open an email ticket
and we will answer the question or concern in the shortest time possible.