How to troubleshoot time-out error when browsing
Bitdefender Security for ISA Servers allows organizations to protect their Microsoft® ISA Servers to block specific types of websites, scan downloaded files and email attachments from web email services. Ensuring compliance to corporate security policies becomes easier and companies will be able to maintain control of sensitive data that would otherwise leak from inside of the organization;

In order to avoid browser timeouts, you can enable the Browser Comforting option.

Open the Bitdefender Security for ISA Servers console, go to Configuration, then Application Filters and double-click HTTP Filter to configure the time-out interval and the number of bytes sent during this interval.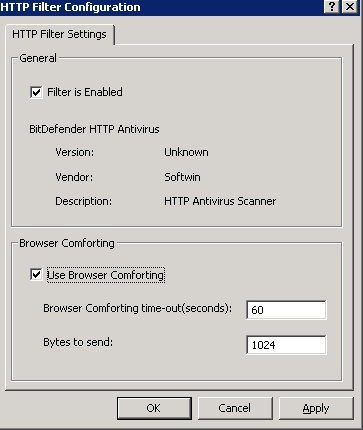 When the Browser Comforting option is enabled and a file is downloaded, small parts of the file will be received by the client before the file is completely scanned and delivered. If the file is clean all remaining parts are sent to the client. When a virus is detected, the connection is closed immediately and no virus alert appears in the browser. The small parts of the file might contain the virus in a non-active state and the file appears as an incomplete download. The client is required to delete these parts.        
Note:
  When the Browser Comforting option is enabled, the transfer rate on the client computer might show fluctuations that do not reflect the actual traffic flow. At the beginning of the download, the traffic showed by the browser will be very low (a few bytes/min) but different from 0 in order to avoid time-out. After the whole object is downloaded and scanned by Bitdefender, it will be transferred to the client computer and it will determine a very high transfer rate.
Can't find a solution for your problem?
Open an email ticket
and we will answer the question or concern in the shortest time possible.