How to sync a file with Safebox
Safebox is a backup and sharing service that allows you to back up your important data on secure online servers. There is no local storage. It only offers online backup, therefore an internet connection is required in order for Safebox to function.
[How to add folders to Safebox]
Open the Bitdefender window.
On the Safebox panel, switchto ON Auto Sync.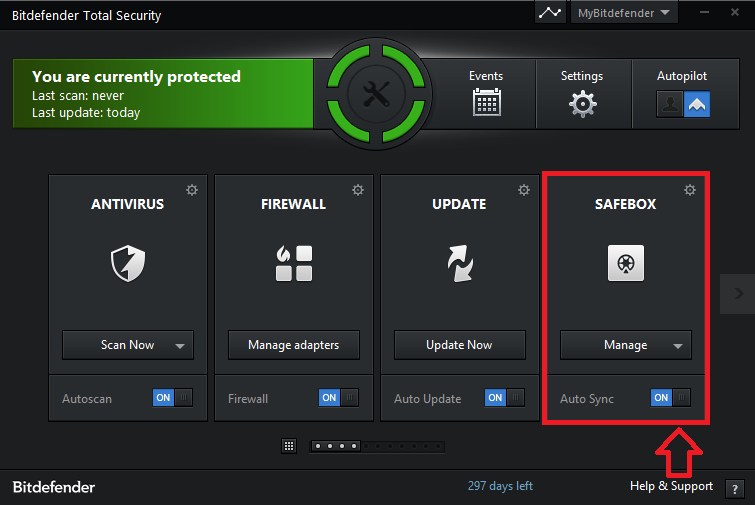 3.    To add a folder to Safebox, right-click its icon or anywhere inside the folder and select Add to Safebox.
4.    A remote folder is created on Bitdefender servers and the entire folder contents are uploaded to it. When the folder synchronization is completed, the Bitdefender icon will appear over the folder icon.
5.    The icons of the files and folders in a Safebox folder will change according to the status of their synchronization with the remote folder:

 the file / folder is synchronized.

 the file / folder is not synchronized.

 the file / folder is being synchronized.
6.    Once a folder is added to Safebox and as long as Auto Sync is ON, the folder contents are automatically synced with the online (remote) folder.
[How to manage folders with Safebox]
Open the Bitdefender window.
On the Safeboxpanel, click Manageand from the drop-down menu select Manage folders. A new window will appear listing the folders added to Safebox from this computer, as well as from other computers or from MyBitdefender: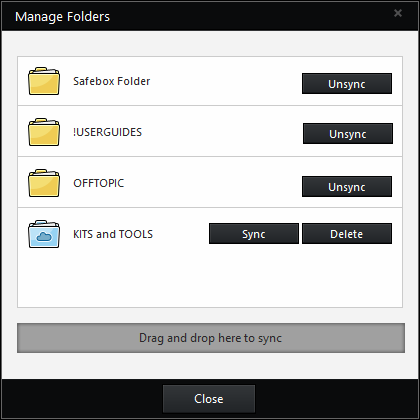 the yellow folders are also on the PC you are working on. To remove a folder from Safebox sync, select it and click the Unsync button.
the blue folders are on the server, but not on the current PC. These can be synchronized (will be downloaded from the server on the computer) and deleted (deleted from the server and sent to the Recycle Bin.)
3.    To add a new folder to Safebox sync, simply drag and drop it in the Manage Folders window.
[How to remove files permanently from Safebox]
To completely remove a file from Safebox, you must remove it not just from the
Safebox folder on your computer, but also from the online folder:
1. Go to https://my.bitdefender.comand log in to your account.
2. Click the Safebox icon.
3. In the Files and Folders tab, select the file and then select Delete from the Actions drop-down menu. The file will be moved to the Safebox Recycle Bin.
4. In the Recycle Bin tab, select the file and then select Remove from the Actions drop-down menu. Click Yes in the confirmation window to completely delete the file.
Can't find a solution for your problem?
Open an email ticket
and we will answer the question or concern in the shortest time possible.