How to configure the RBL Filter
The RBL Filter implemented in BitDefender Security for Windows Servers uses the DNSBL protocol and RBL servers to filter spam based on mail server's reputation as spam senders.
In order to configure the RBL Filter you need to perform the following actions:
Open BitDefender and go to the Antispam module;
In the right-hand side of the MMC console click Global Filters...;
Choose Real-time Blackhole List;
Enter your organization DNS server in the DNS IP or address field;
Choose the desired query timeout;
Click Add Server... to add the RBL servers; you will be prompted for the server information and the trust level for each server;
Click OK to finish adding the RBL server.
Enable the RBL filter by opening Bitdefender Security for Mail Servers and going to Antispam -> Policies, then double click the current rule. Go to Antispam Engines -> Enable RBL Filter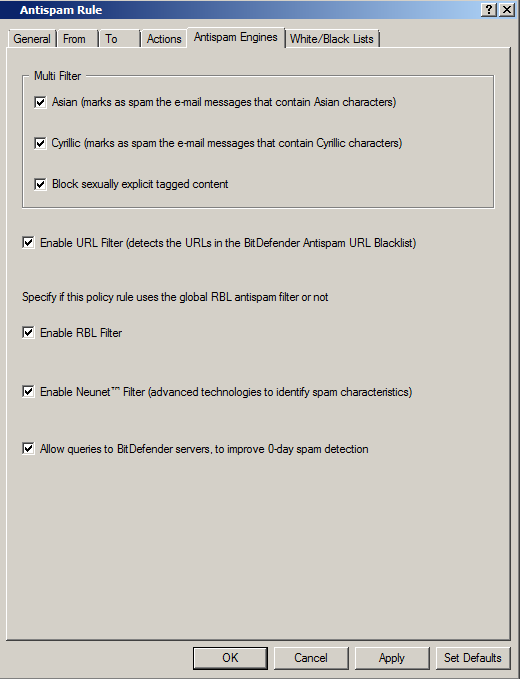 We recommend the following RBL servers with the mentioned trust level:
zen.spamhaus.org <> 90
cbl.abuseat.org <> 90
bl.spamcop.net <> 55
dnsbl.sorbs.net <> 60
For details on additional RBL servers, check this Wikipedia page
.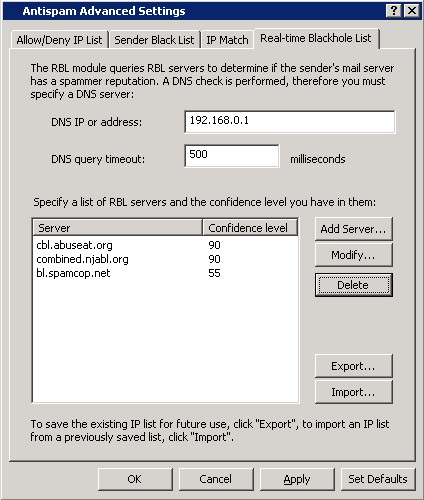 Can't find a solution for your problem?
Open an email ticket
and we will answer the question or concern in the shortest time possible.