How to configure the Network Audit module
Bitdefender Client Security is an easy to use business security and management solution, which delivers superior proactive protection from viruses, spyware, rootkits, spam, phishing and other malware. It offers the following components: Bitdefender Management Server (with/without add-on), Bitdefender Local Update Server, Bitdefender Business Client and Bitdefender Management Agent;

The Auditing module from Bitdefender Management Server Network Tools, helps you get information about your network by collecting snapshots of the software and hardware configuration. The software snapshots provide historical change management reports to track all installed or uninstalled software within the network within a specific time period. You can choose from a list of predefined reports or create your own custom reports.

Before you can create network audit reports, you must configure collection of necessary audit data. You can configure network audit in the Network Audit Configuration pane.

To display this pane, do one of the following:

In the tree menu, go to Network Tools > Auditing > Network Audit Configuration.
 In the Network Tools pane, click the link provided.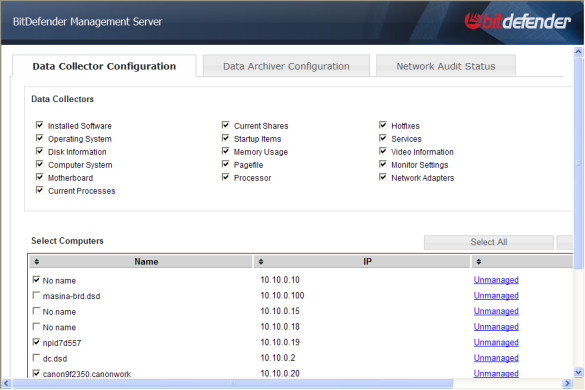 1. Configuring the Data Collection Module


Open the Network Audit Configuration pane and click the Data Collector;
Select the check boxes corresponding to the data types you are interrested in. You will be able to create network audit reports for the selected data types only.  


Choose from the list the computers on which you want Data Collector to run. Audit data will be available for the selected computers only.The computer list contains all computers from Computers Directory, except those in the Excluded Computers group. You can sort computers by name, IP address or the group they belong to, by clicking the corresponding column header.For fast selection, you can use the Select All and Clear buttons. You can also click a group's name to select all computers in that group.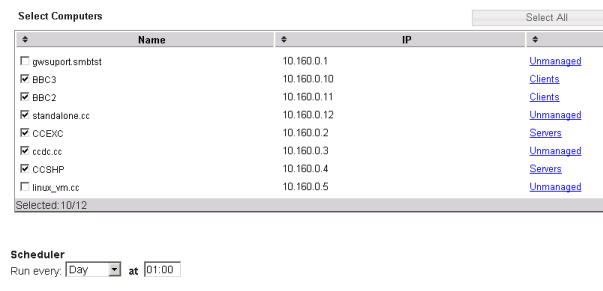 Configure data collection schedule;Specify data collection frequency using the menu, then set the time of day when audit data should be collected. Choose a time of day when most computers are online.
        Note: When specifying frequency, consider the situations when you might or will create network audit reports. If you need current information at all times, set a daily data collection routine. If you will create network audits every now and then, you can set a less frequent schedule.


Click Save Collector Configuration. You will be able to create network audit reports only after the network audit data has been collected.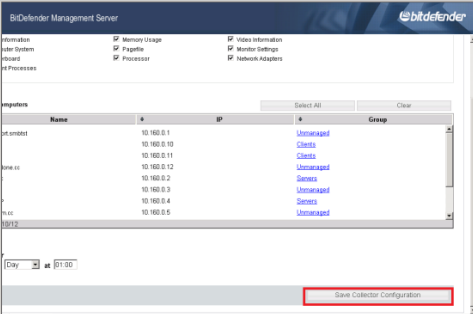 2. Configuring Data Archiving Preferences

By default, network audit data older than 6 months will be deleted every day. In order to configure data archiving you will need to:

Open the Network Audit Configuration pane and click the Data Archive Configuration tab.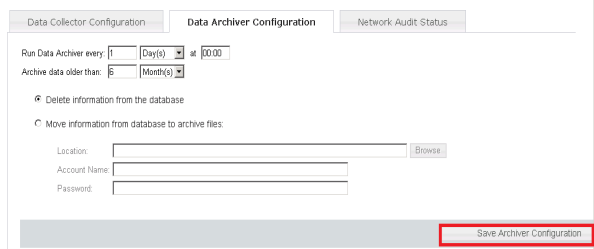 Configure data deletion or archiving schedule; Specify the frequency and the time of day when to delete or archive old network audit data.
Specify what data to archive; Specify the number of days, months or years after which network audit data should be archived.
Select archiving method; Select whether to delete old network audit data from the database or to move it to archive files. If you choose to archive data, click Browse and choose where to save the archive files. If you want to save the archives on a network share, you must also specify a user account and a password that will be used to access archived data.
         Note: Data archived to this location will always be available in the Bitdefender Management Server console as long as you do not move the archive files. To move archived data to another location, move files manually and then set the new archiving location.

Click Save Archiver Configuration

3. Checking Network Audit Status

To check data collection or data archiving status, open the Network Audit Configuration pane and click the Network Audit Status tab. For each operation, you can see the current status and the last and next run.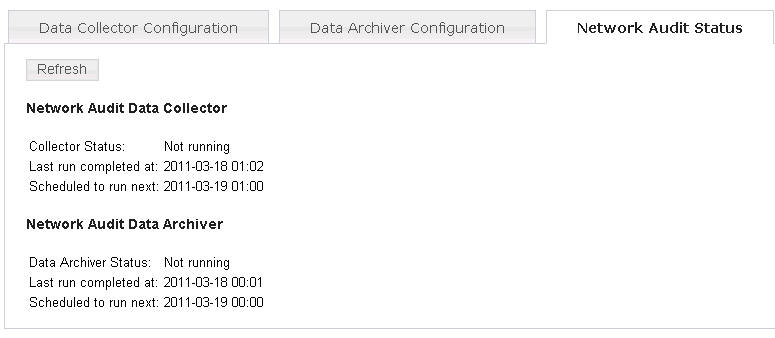 Can't find a solution for your problem?
Open an email ticket
and we will answer the question or concern in the shortest time possible.