GravityZone Kerberos proxy integration with DES type encryption does not work
Bitdefender GravityZone provides full visibility into organizations' overall security posture, global security threats, and control over its security services that protect virtual or physical desktops, servers and mobile devices. All Bitdefender's Enterprise Security solutions are managed within the GravityZone through a single console, Control Center, that provides control, reporting, and alerting services for various roles within the organization.
Integrating GravityZone with a Kerberos proxy server
Bitdefender GravityZone offers integration with proxy servers via Control Center from the root account.
However, the integration with a Kerberos proxy server with the option Use Kerberos DES type encryption enabled does not work.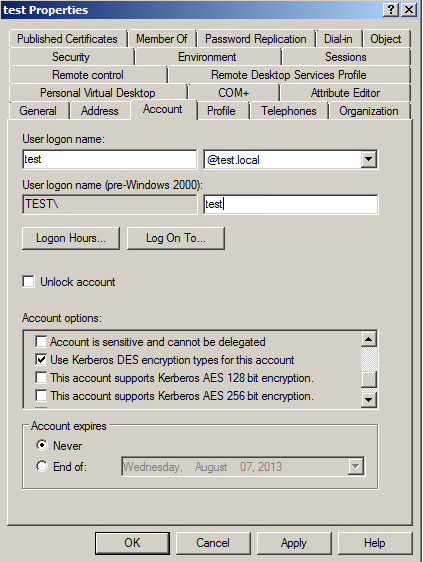 When a domain user with the Use Kerberos DES encryption type for this account option enabled is used to integrate Bitdefender GravityZone with a Kerberos proxy server, the following error will be displayed:
root@ubuntu:/home/bdadmin# cat /tmp/kinit.log
spawn sh -c /usr/bin/kinit -p test@test.local
kinit: KDC has no support for encryption type while getting initial credentials
send: spawn id exp5 not open
while executing
"send -- "xxxxxxxx\r""
(file "/opt/bitdefender/var/tmp/kinit-0NdG3m" line 7)
This is a known issue of Bitdefender GravityZone and will be fixed in a future update.
Can't find a solution for your problem?
Open an email ticket
and we will answer the question or concern in the shortest time possible.