Asking for assistance on Bitdefender Business products
Bitdefender Client Security is an easy to use business security and management solution, which delivers superior proactive protection from viruses, spyware, rootkits, spam, phishing and other malware. It offers the following components: Bitdefender Management Server (with/without add-on), Bitdefender Local Update Server, Bitdefender Business Client and Bitdefender Management Agent;

Bitdefender strives to provide its customers with an unparalleled level of fast and accurate support. If you experience any issue with our Bitdefender Business Solutions, we strongly recommend you to use the below guidelines in order to assure a fast resolution for your issues.

1. For Bitdefender Management Server and Bitdefender Security for Windows Servers issues
      
On your Bitdefender server click on the Windows Start button;
Navigate to "All Programs" menu and expand it;
Look and select the Bitdefender Management Server or Bitdefender Security for Windows Server menu;
Click on Bitdefender Support Tool in order to start the troubleshooting tool;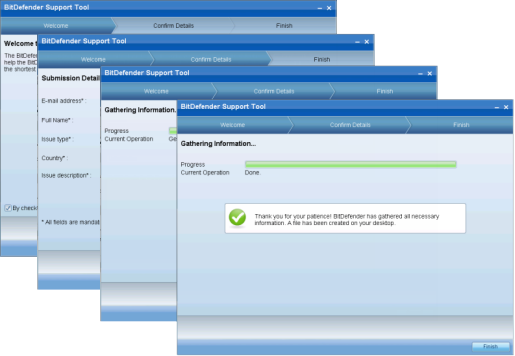 Follow on-screen instructions in order to correctly gather the necessary Bitdefender information;
After Bitdefender Support Tool report was saved on your current user Desktop, do not forget to attach this file to your support query;

2. For Bitdefender Business Client and Bitdefender Management Agent issues

Bitdefender Business Client is part of a complex business security and management solution. It protects company workstations and it is managed from a central location. The network security administrator will remotely install and configure Bitdefender Business Client on all your network computers.

The troubleshooting process will be managed only by the network security administrator, using the below guidelines:
Download and save the Bitdefender Business Client support tool suitable for your Windows platform;
             
For 32-bit Windows operating system press here ;
For 64-bit Windows operating system press here ;
 
Save the file to your target client, and run it; After Bitdefender Support Tool report was saved on your Current User Desktop, do not forget to attach this file to your support query;
Can't find a solution for your problem?
Open an email ticket
and we will answer the question or concern in the shortest time possible.