Bitdefender 2015. OneClick Security™
Unleash Its Power
Bitdefender 2015. OneClick Security™
"More dead-accurate and silent than ever."
30% off pentru orice licenta achizitionata
in perioada 1-14 august
"Cumperi 10 cutii si primesti inca 5 cutii gratuit"
promotie valabila in perioada 1-14 august.
Best protection. Best performance
Winner of both awards. January - December 2013
Independent IT Security Institute AV-Test.
Best Protection. 3 Straight Years.
(on a scale of 0 to 6 and 6 being the highest protection)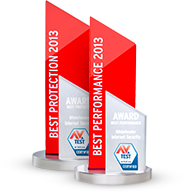 more dead-accurate and silent then ever
CEO Andreas Marx, AV-TEST
Lowest Impact on Performance
(on a scale of 0 to 6 and 6 being the lowest impact)
SECURITY is IN our DNA.
Simplicity is our backbone.
Experience Bitdefender. OneClick Security™
Even the best security is worthless, if it's hard to use. Bitdefender 2015 engages security with a single click.
Install and Forget.

Bitdefender's OneClick Autopilot automatically makes the best security decisions for you.

Smart Profiles.

Bitdefender automatically detects when you Work, Play or Watch movies, and prevents other apps from slowing you down.
Single-Click Tune-Up & Clean-Up.

OneClick Optimizer speeds up your system and frees up disk space.

One-Step Online Payments.

Wallet simplifies purchases by securely autofilling your credit card details.
What Else You Get
Unparalleled Security
leaves your device spotless
CEO Andreas Marx | AV-TEST | Jan 2014
Bank Online Without Worries

Make online transactions from a unique, dedicated browser, that secured your accounts from fraud. Bitdefender Safepay™ can now also automatically fill credit card details in billing fields.

Active Virus Control

Active Virus Control is a proactive, dynamic detection technology. It monitors processes' behavior in real time, as they are running, and tags suspicious activities.

Rescue Mode

If e-threats, such as rootkits, cannot be removed from within the Windows operating system, the computer is re-booted in Rescue mode — a trusted environment which is then used for cleanup and restoration.
Quick Vulnerability Scanner

With a single click, the vulnerability scanner automatically warns of missing or outdated software, missing Windows security patches, and potentially unsafe system settings.

Security Report

Displays your overall security status for the past week, as well as the total issues fixed by Bitdefender since installation. Includes freed up space, optimized apps and remaining available storage.

Security Widget

Enables you to keep track of all of your security-related tasks, plus lets you quickly and easily drag-and-drop files for quick scanning for viruses — right from your desktop!

Online Dashboard

MyBitdefender offers quick online access to your local Bitdefender software, allowing you to run scans, check security statuses for each device, extend your services or easily access support.

Remote Management

Remotely scan and fix security issues on all of your Bitdefender-protected devices from anywhere, using MyBitdefender.

USB Immunizer

Immunizes any Flash Drive from viruses when they're connected to your computer so you never worry again about USBs infecting you or your friends.
---
Absolute Silence
Save time and avoid all hassles -
the Autopilot makes the security-related decisions for you!
Bitdefender Profiles

Bitdefender automatically detects when you Work, Play or Watch movies, and temporarily prevents apps from popping up or slowing you down.

Bitdefender Autopilot™

Provides a hassle-free experience by making optimal security-related decisions with no input from you. This means no pop-ups, no alerts, nothing to configure.
---
Safe Social Networking
You trust your online friends. But do you trust their computers?
Protect yourself, and your friends, from e-threats that attempt to exploit the trust between you.
Social Network Protection

Bitdefender Safego™ filters social-networking specific e-threats by scanning links you receive from your Facebook friends, monitors your privacy settings, and much more!

Fraud warnings. Secure browsing.

Bitdefender tells you if a link is safe even before you click it in Google and Bing search results. Furthermore, it blocks access to infected links that you have already clicked.
---
Total Privacy
Threats to your privacy keep diversifying.
Your e-mail, your messaging, your entire Web presence and activities can be targeted. Bitdefender addresses them all, protecting your data with a range of specialized modules and functions.
Pay Online in One Step

Bitdefender Wallet is a secure tool that speeds up online shopping by autocompleting credit card details within payment fields. Apart from purchase details, Wallet can also safely organize credentials for favorite websites, messaging applications, or frequently-used WI-FI networks.

Personal Data Filter

Prevents critical data (such as anything even resembling your social security number) from ever leaving your computer.

Antiphishing

Analyzes and blocks websites that support various scams or credit card phishing attempts.
---
Full Speed
Bitdefender uses unprecedented scanning speed and eliminates the risk of slowdowns, while detection remains at its best.
Bitdefender Photon™

Innovative, exclusive technology that visibly improves speed and performance in a matter of hours by gradually adapting to each PC.

Tune-Up. With OneClick Optimizer

Your antivirus isn't slowing down your computer. So what is? Bitdefender OneClick Optimizer is a new feature in Bitdefender that automatically speeds up your system and frees up disk space by running every known optimization. All in one click.
---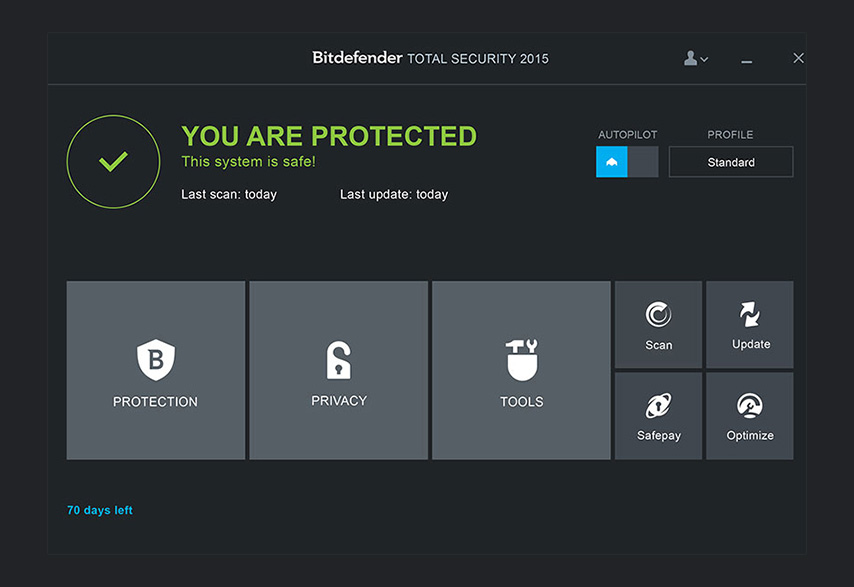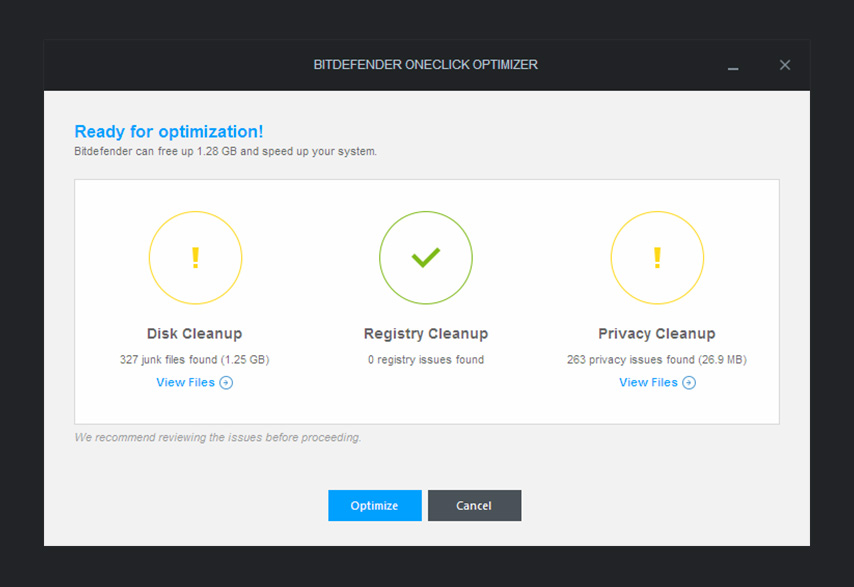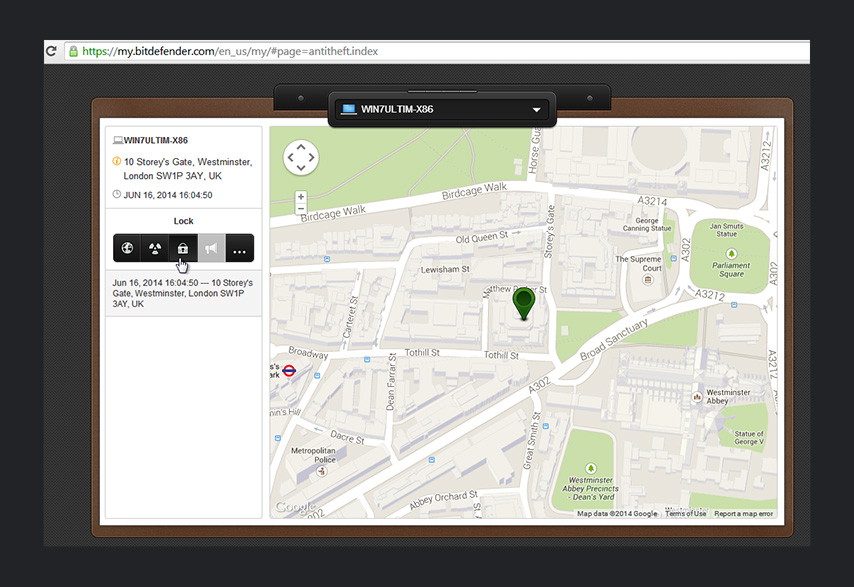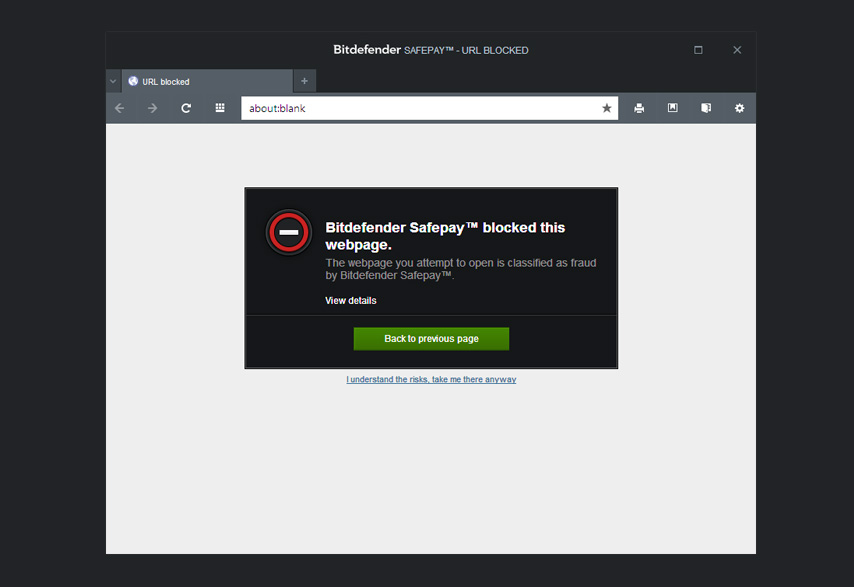 ---
For PC
Minimal system requirements:

Operating system: Microsoft Windows XP SP3 | Windows Vista SP2 | Windows 7 SP1 | Windows 8 | Windows 8.1;
CPU: 1.6 GHz processor;
Memory (RAM): 1GB;
Available free hard disk space: 1 GB free space (at least 800 MB on the system drive);

Recommended system requirements:

Operating system: Microsoft Windows XP SP3 | Windows Vista SP2 | Windows 7 SP1 | Windows 8 | Windows 8.1;
CPU: Intel CORE 2 Duo (2 GHz) or equivalent processor;
Memory (RAM):

1 GB (Microsoft Windows XP),

o 1.5 GB (Microsoft Windows Vista, Microsoft Windows 7, Windows 8, Windows 8.1);

Available free hard disk space: 2 GB free space(at least 800 MB on hard system drive)

Software requirements:

Internet Explorer 8 and higher; .NET Framework 3.5 (automatically installed by Bitdefender if necessary)
.Net framework 3.5 (if missing, Bitdefender installs this automatically)

Supports/Integrates with:

Yahoo Messenger 9 and higher
Skype 6.3 and higher
Firefox 14 and higher
Chrome 20 and higher

Thunderbird 14 and higher
Outlook 2007, 2010, 2013
Outlook Express and Windows Mail on x86

outstanding at neutralizing new threats. January 2014 | AV-Comparatives
Bitdefender

Bitdefender is among the very few products that beat Norton July 2013 | PC MAG
Bitdefender Antivirus Plus
Herausragend bei der Beseitigung neuer Bedrohungen. Januar 2014 | AV-Comparatives
Bitdefender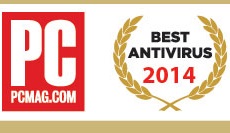 Bitdefender ist der diesjährige Gewinner Januar 2014 | PC MAG Bitdefender Antivirus Plus

outstanding at neutralizing new threats. January 2014 | AV-Comparatives
Bitdefender

Bitdefender is among the very few products that beat Norton July 2013 | PC MAG
Bitdefender Antivirus Plus
Herausragend bei der Beseitigung neuer Bedrohungen. Januar 2014 | AV-Comparatives
Bitdefender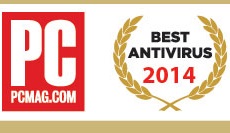 Bitdefender ist der diesjährige Gewinner Januar 2014 | PC MAG Bitdefender Antivirus Plus