Mettez à niveau votre produit
We gladly inform you that Bitdefender 2017 was released and is ready to run on your computer. You can upgrade for free to Bitdefender 2017
Comment trouver ma clé de licence?
Pour retrouver votre clé de licence Bitdefender cliquez sur le lien affichant les jours restants, en bas de la console Bitdefender comme montré ci-dessous.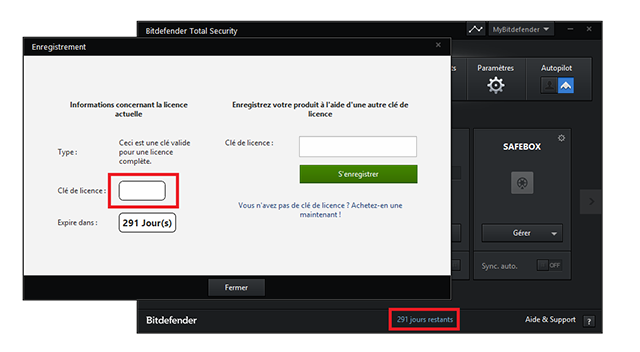 Quel système d'exploitation est installé sur mon ordinateur?
Pour vérifier quel système d'exploitation fonctionne actuellement sur votre ordinateur, faites un clic-droit sur Poste de travail / Ordinateur et sélectionnez Propriétés dans le menu.
Download Tool
You selected a Malware Category. A bdsys log would be helpful. Here's how you can create and send us one:
Download tool
Download tool
For the category you have selected an extra log would help us assist you better. Here's how you can create one and send it to us
Download tool
Contacter l'assistance client
Nos techniciens chevronnés sont à votre disposition 24h/24 7j/7 ! Nous sommes là pour vous aider à résoudre tout problème technique que vous pourriez rencontrer.
---
Ouvrir un ticket électronique
(Les champs marqués d'un * sont obligatoires):
---
Votre demande a été rejetée parce que la clé de licence que vous avez saisi n'est pas valide. Assurez-vous que la clé de licence correspond à celle que vous avez achetée.
Votre requête n'a pas pu être envoyée pour le moment. Veuillez réessayer dans quelques minutes.
Merci d'avoir ouvert un ticket avec le Service Client de Bitdefender.
Mettez à niveau votre produit
Nous avons le plaisir de vous informer que Bitdefender Internet Security 2016 est sorti et prêt à être utilisé sur votre ordinateur. Vous pouvez vous mettre à niveau gratuitement vers Bitdefender Internet Security 2016 (avec votre clé de licence sécurité Windows 8). Grâce aux nombreuses améliorations apportées à la version Bitdefender Internet Security 2016, tous les problèmes que vous aviez éventuellement rencontré avec votre version précédente seront certainement résolus.
Vous pouvez migrer gratuitement vers Bitdefender 2016 ici
Plus d'informations