What to do when encountering update errors in Bitdefender 2015?
Update errors usually appear when there is an issue with the internet connection (the connection temporary failed, you are using a proxy, another firewall blocked the Bitdefender update, etc)
How to troubleshoot Bitdefender update errors:
A. Make sure Bitdefender is properly set up
1. Open Bitdefender and click on the Settings icon in the upper right part of the window 

2. Click on General Settings and go to the Update tab
3. Make sure the update settings are correctly set (the update location is the one displayed in the below image)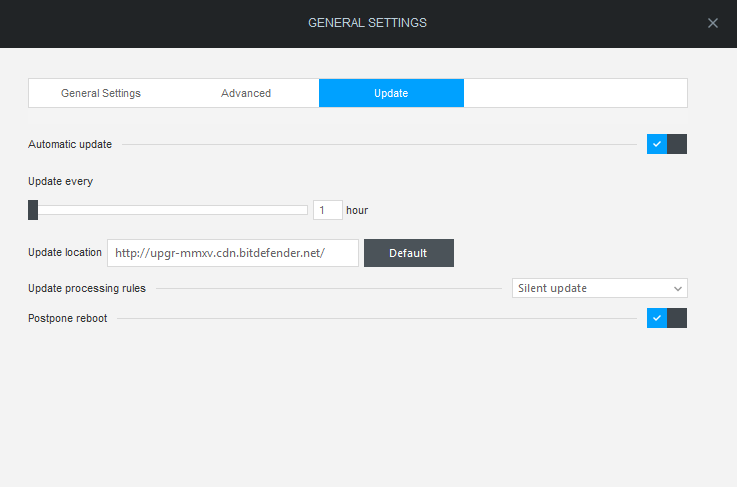 NOTE: If you are using a proxy, please follow the steps from our article, here.
4. If the settings are correct, please go to the Bitdefender Firewall (open the product > Protection > Firewall > Adapters tab). Here, be sure to set up the Bitdefender Firewall:
• Network Type = Home/Office
• Stealth Mode = Off
• Generic = On
NOTE: Bitdefender Antivirus doesn't include the Firewall module
B. If you use another Firewall software, we recommend turning it off or uninstalling it (this also includes the Windows Firewall)
Should the situation still persist after following the above steps, please contact our Technical Support Department by replying to the open ticket you have with us (or create a new ticket) and send us the following logs.
We would also need the exact error message you receive: open Bitdefender > click on the Settings button 

 > Events > select the Update events. Here click on the update error event and you should see in the lower part of the window the exact error message (like in the below image)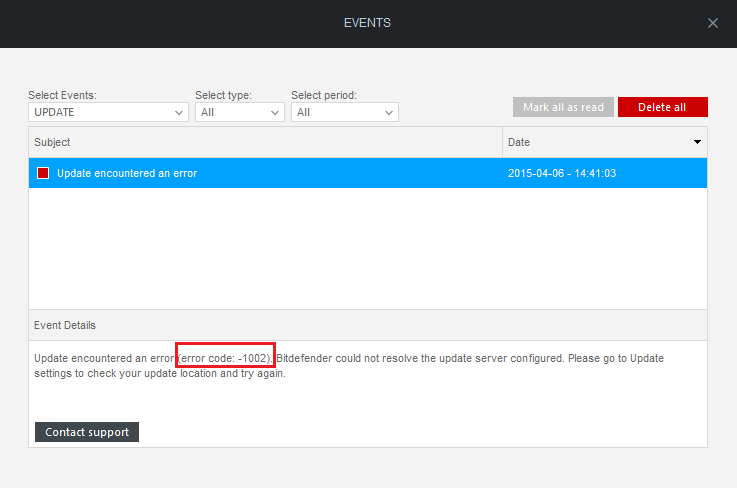 Related Articles
Was this article helpful?