This article will show you how to import & export your Bitdefender Wallet so you can switch PCs, format Windows, etc. without losing all the usernames and passwords stored in the wallet. Bitdefender Wallet simplifies online purchases and relieves you from the burden of remembering sensitive account IDs and passwords. It automatically fills in everything from online shopping payment details to logins for favorite websites.
When should you import & export your Bitdefender Wallet?
The main reason for exporting the Wallet is to create a backup of your important login information. So that you can restore (import) your passwords quickly and seamlessly in the event of data loss. To transfer a wallet to another computer you also need to import & export your Bitdefender wallet. Better yet, enable Sync Across Devices to avoid all the nitty-gritty of manually exporting and importing the Bitdefender wallet.
Why it's a good idea to back up your Wallet in the Cloud?
It is best practice for everyone to keep their Bitdefender Wallet database synced in the cloud to have a wallet backup if a system crash or hard drive failure occurs. It also simplifies the process of sharing all the login credentials across multiple devices.
The Sync Across Devices option is enabled by default when you create a new wallet in Bitdefender. And can be reactivated later on from Privacy → Password Manager settings. Simply click ••• next to the wallet name, choose "Settings" from the menu, and select "Yes, I would like sync across all my devices".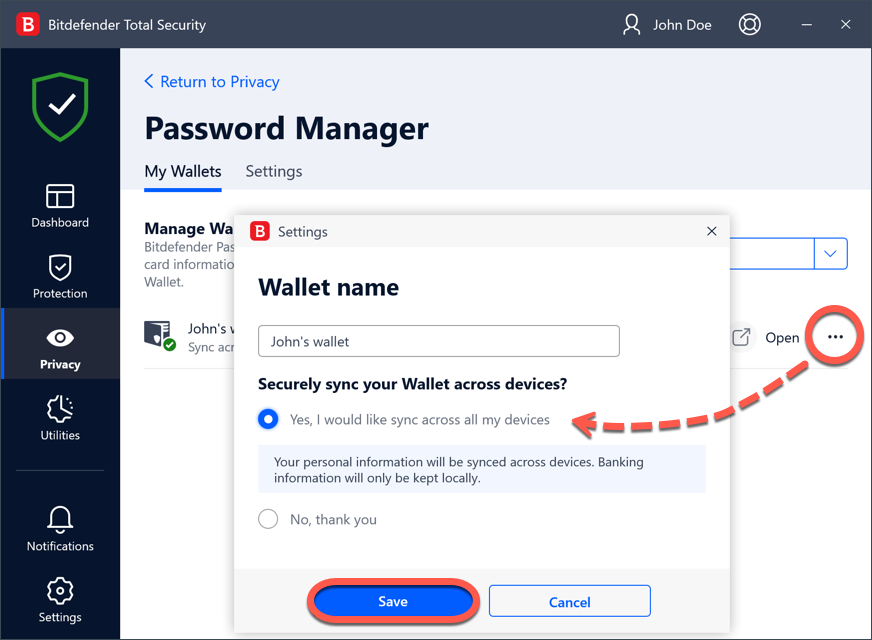 Tip: Back up your Wallet in the cloud!Alternatively, prior to a Windows format, Bitdefender removal, changing computers, etc. we recommend exporting the Bitdefender Wallet database, so you can import it again after this process. Not exporting the Wallet database will result in the loss of the Wallet information after such an unfortunate event.
For step-by-step instructions on how to export and import your Wallet, select one of the following options:
How to Export your Bitdefender Wallet
How to Import your Bitdefender Wallet
ⓘ  Important: In order to create a wallet export that's compatible with our new multi-platform Password Manager, you need to use the tool from the product folder, as detailed in the article – How to transfer your Wallet data to Bitdefender Password Manager. Exporting the Wallet via the Bitdefender security solution interface does not create Bitdefender Password Manager compatible CSV files, and will lead to "Unable to import file" errors when trying to import into Bitdefender Password Manager.