Activity and Notifications windows in Bitdefender 2017
The Bitdefender 2017 egraphical user interface is designed to suit each and every category of users. The interface includes, among others, an Activity window and a Notifications window. In this article, we will take a closer look at these sections.
Activity
• The Activity window allows you to view the product activity in the last 30 days and access the Security Report which is generated every seven days.
• You can check what applications, threats and attacks were blocked during the last month, and if any ransomware attempts were made.
• Furthermore, you can access the Bitdefender Central Activity Dashboard by clicking the corresponding link.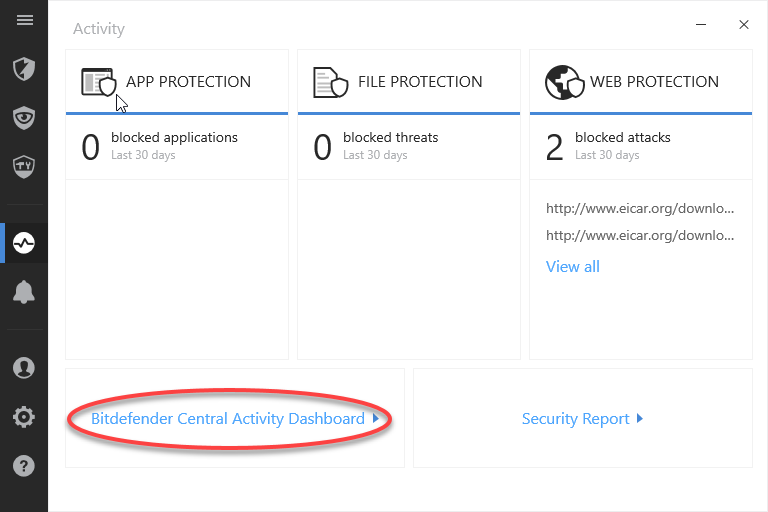 • The Activity of the antivirus is also presented in three panels, situated in the lower right side of the main interface.
NOTE: This should not be mistaken with the Notifications, which replaced the Events log found in Bitdefender 2016.
NOTE: The numbers displayed by the App Protection, File Protection and Web Protection panels will only reset once a month.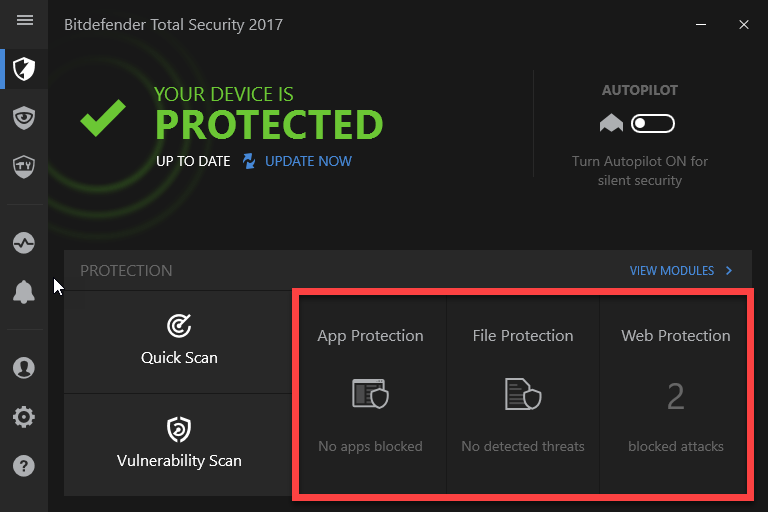 Notifications
• The Notifications log can be accessed in the left-side column of the main interface. It provides you with access to the generated notifications.
NOTE: Bitdefender keeps a detailed log of events concerning its activity on your computer. Whenever something relevant to the security of your system or data happens, a new message is added to the Bitdefender Notifications area, in a similar way to a new e-mail appearing in your Inbox.
• Depending on type and severity, notifications are grouped in three categories:
1. Critical events are the ones you should check immediately.
2. Warning events indicate non-critical issues. You should check and fix them when you have the time.
3. Information events indicate successful operations.
• Notifications are an important tool in monitoring and managing Bitdefender protection, allowing the user to take further action if needed or change actions taken by Bitdefender
• To delete them, you need to access the Notifications log and click on Delete All.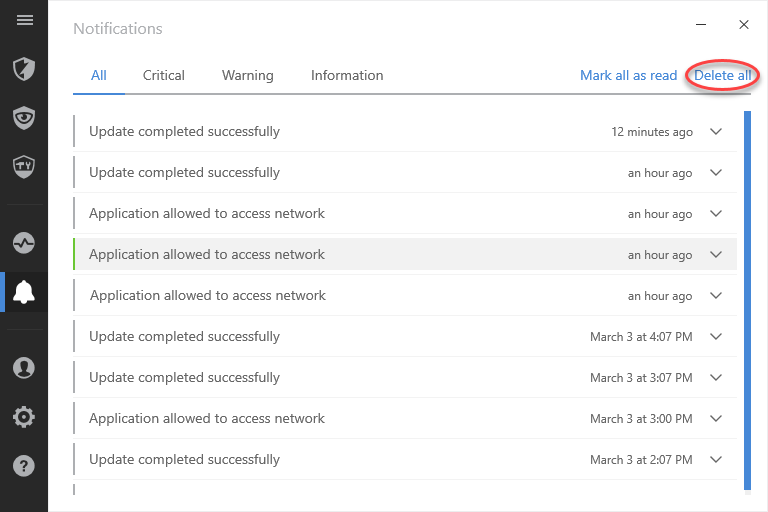 Related Articles
Was this article helpful?